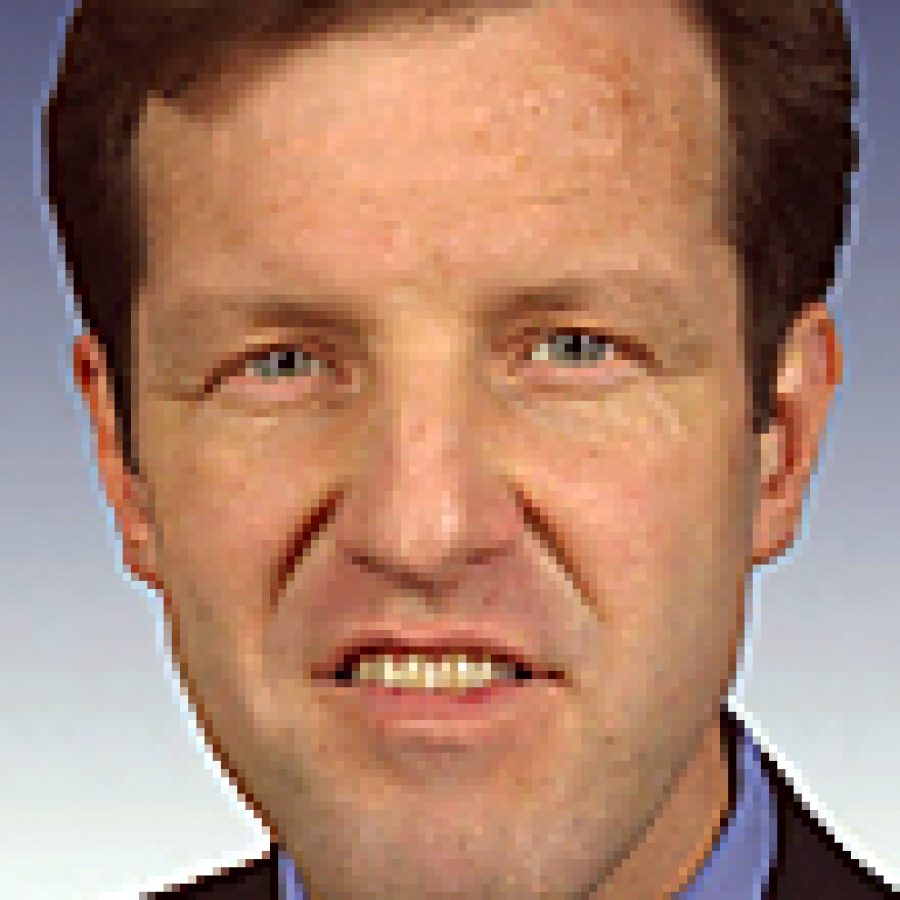 Incumbent U.S. Rep. Russ Carnahan, D-St. Louis, faces three challengers in his bid for re-election to the 3rd Congressional District seat for a fourth two-year term.
Libertarian Steven Hedrick, Constitution Party candidate Nicholas "Nick" Ivanovich and Republican Ed Martin are vying for Carnahan's seat in the Nov. 2 election.
Asked to identify the single most important issue in the race, the candidates responded:
• "Small businesses are the backbone of our economy, and I will continue to encourage innovation and entrepreneurship so we can create jobs here at home in Missouri," Carnahan said.
• "Jobs. For 200-plus years, America has enjoyed growth and prosperity because of our freedom: freedom to succeed or fail, grow a business or work for someone. Our current government is stifling small businesses. They simply cannot take risks and create jobs with so many burdens. Congress needs to cut the red tape and excessive regulations. Jobs aren't created by stimulus money borrowed from China. Rather, less government and more freedom allows Americans to create jobs," Martin said.
Hedrick and Ivanovich did not respond to a Call questionnaire.
Carnahan, 52, 3150 Allen Ave., 63104, represented District 59 in the Missouri House from 2001 to 2005. Before he was elected to the Missouri House, he was an attorney in private practice. He and his wife, Debra, have two children.
Carnahan said he is seeking re-election "because I believe we need leaders who are committed to serving the working families of this state. Getting Missourians back to work is my No. 1 priority. Small businesses are the engine of our economy, which is why I have been working to help them grow so they can hire more workers and start rebuilding our economy.
"I have also worked to cut taxes for 95 percent of Missouri families and 75 percent of small businesses and fought to put an end to tax breaks for companies that send good jobs overseas. My first responsibility is always to the hardworking Missouri families across the district."
Martin, 40, 6427 Devonshire Ave., 63109, is an attorney at Ed Martin Law Firm LLC. He served as former Missouri Gov. Matt Blunt's chief of staff from 2006 to 2008 and as chairman of the St. Louis Board of Election Commissioners from 2005 to 2006. He and his wife, Carol, have three young children.
Martin, who has not held elective office, said he is seeking office "to help ensure a brighter future for my children. The out-of-control spending by our overreaching current Congress is a debilitating burden on our children."
The two candidates gave the following responses to the Call questionnaire:
What is your position on abortion?
Carnahan said, "I believe the decision should be made between a woman, her family, her physician and her faith. I will continue to support a common ground approach that improves access to education, health care and alternatives to abortion, such as tax breaks for families who wish to adopt."
Martin said, "I am pro-life from conception to our natural death."
What is your position on the death penalty?
Carnahan told the Call in an interview, "I support the death penalty. My wife was a federal and state prosecutor. I've always supported the death penalty. I think for the most heinous of crimes that penalty can be appropriate, and I think it's important to have that as an option. There are questions that sometimes come up in the legal system in terms of being sure there's a fair process, and certainly we have to ensure that. But I think in the case of the most heinous of crimes, it needs to be there."
Martin said in the questionnaire, "I support the death penalty in certain instances like murder and terrorist acts."
How do you propose to solve the problems facing Social Security? Do you favor privatizing Social Security?
Carnahan said, "I believe we must protect Social Security from privatization and believe we must protect Social Security so Missouri seniors can continue to retire with a secure financial future. Also, I support fixing the formula for the cost-of-living adjustment."
Martin said, "I oppose privatizing Social Security and oppose any cuts to Social Security. I consider it a top priority – especially since so many Americans have paid into the trust fund. I will defend the program while in Congress and not allow it to be raided in order to pay for other various programs as it has been in the past. There should be a lock box put on this money. I will also work to repeal the trillion-dollar health care reform so as to not have an entitlement program which adds to our national debt and further jeopardizes our seniors' care."
Are tougher gun control laws needed? If so, what do you propose, if not why?
Carnahan said, "I believe the right to bear arms is essential, but it is equally important to protect citizens from senseless crimes that can occur by putting guns in the hands of irresponsible individuals. Therefore I believe reasonable restrictions to keep our communities safe must be in place."
Martin said, "The Second Amendment is clear: It is an individual right and must be respected as law. Gun safety and training, however, is a must."
What do you propose to solve funding problems facing public education? Do you support school vouchers?
Carnahan said, "I believe it is crucial to give our teachers and students the resources they need to succeed. Education is the key to our children's future, especially to ensure success in an increasingly global economy.
"School vouchers are not the solution to improving our children's education."
Martin said, "This year, federal, state and local governments will spend close to $2 trillion on education expenses for prekindergarten to college age youth. The United States spends more than any other nation on earth on education, yet we have lost generation after generation of our young minds to failing schools. We do not face a spending crisis in education. Instead, we face an achievement and performance crisis. Education works best when parents and teachers, exerting local control, have the ability to make the decisions that work best for their children.
"We have a moral duty as a free society to demand that our public schools innovate and perform better through competition with other public schools and charter schools. All parents should have choices of where to send their children in the public education system. I do support vouchers that allow parents in failing public schools to send their children to other public and charter schools," Martin added.