Tess Greenspan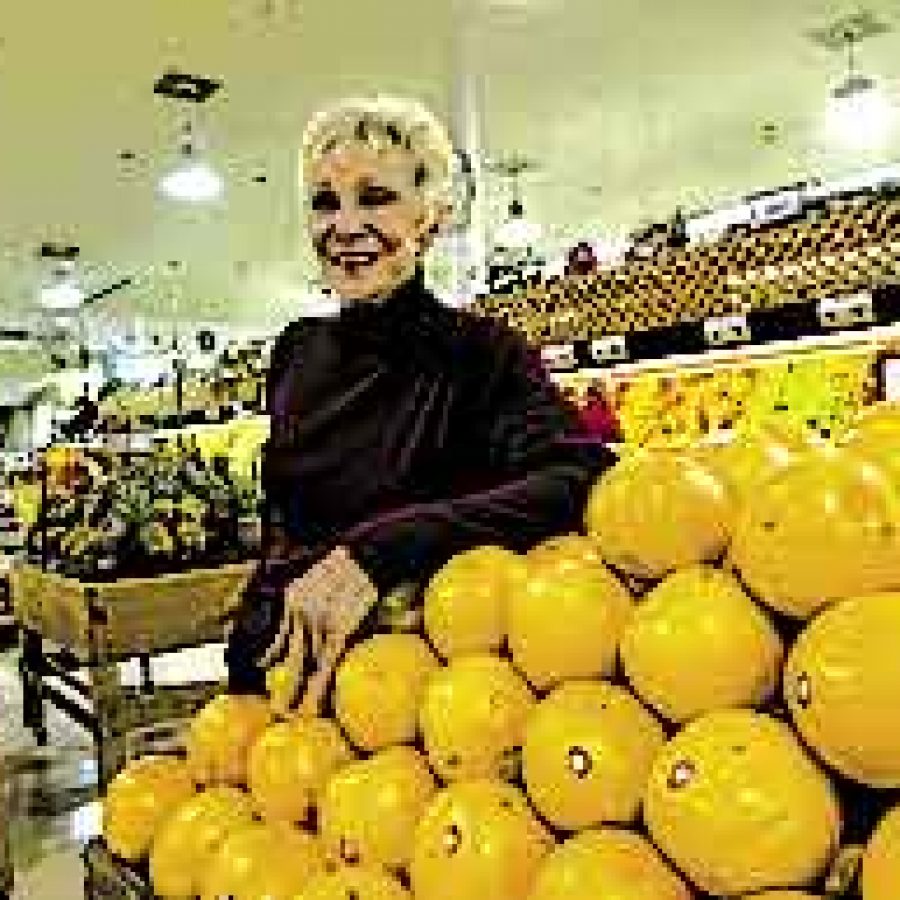 Woman finds niche in grocery industry
Entrepreneur overcomes
a mountain of adversity
in male-dominated field
By BILL MILLIGAN
For the Mail Call
Walking through the Sappington Inter-national Farmers Market seems like a visit with relatives when you're with owner Tes-sa Greenspan.
"Can I help you with that?" Greenspan asks a woman struggling to open one of the plastic bags customers place fresh produce in while shopping.
"I can never get these things open," the lady said. "I'm surprised they've never put me on candid camera the way I struggle with these things."
"It's easier if you work from the top," Greenspan said as she handed back the opened bag.
Greenspan, 61, took over operations at the market in 1986. She designed her current location at 8400 Watson Road in 1995 and has made a mark for herself in the male-dominated grocery industry.
"There are a few women in the grocery business here in St. Louis," Greenspan said. "Nationwide, there just aren't that many. In fact, a produce man said once while I could overhear: 'She'll never make it."'
All that seems so long ago for the woman who spoke March 8 at the International Wo-men's Day "Women in Business" conference in Forest Park.
"That's the fun part for me," Greenspan said. "I would like to help prevent the women who are going into business from making some of the same mistakes I've made. I talk to them about what to prevent and what to watch out for."
She's always been in the produce business. As a young woman she operated a fresh produce stand at the intersection of Highways 111 and 162 in Pontoon Beach.
She and her husband operated a grocery store for a while and then partnered with an Illinois grocer in 1981 at the Farmers Mar-ket near Gravois and Sappington roads.
"I was a silent partner until they came to me in 1986, handed me the keys and said they were declaring bankruptcy," she said.
"They left me a debt of over $415,000. At that point I decided I was going to give my best to try and turn it around and pay off all the debt.
"By the grace of God, little by little my attorney and I developed a plan," Greenspan said. "I just put out fires constantly. It took years, but I paid off every single penny and built up the morale of our workers, many of whom have been with me for 20 years."
Walking past the store's dairy section, Greenspan noticed a cart with a baby seat among the groceries. The baby inside was craning its neck to watch the toy train that circumnavigates above the grocery isles every three minutes.
"Your baby likes the train," Greenspan remarked.
"So does his brother when he comes here," said the young mother.
The train was Greenspan's idea. It travels past scenes that tell a story of how the food came to the supermarket and Greenspan is proud of each panel and the 77-year-old woman who helped her design them.
Greenspan has found a niche in the grocery industry.
"Produce is my niche," she said. "We can give you better, fresher for the best value in town."
Greenspan has her own tractor trailers. She buys produce direct from producers to keep down overhead.
"We can give our customers totally organic fruits and vegetables, I'm so excited about that," she said. "Everyone, if the can, should eat organic because there are more vitamins and minerals."
To Greenspan, helping people make healthy dietary choices is important.
"It is a great joy to be able to educate so many people about these healthy alternatives," she said.
That joy extends to her charity work as well.
Greenspan makes monthly donations to a variety of charitable organizations.
"The secret to life is giving. and the secret of happiness," she said.
Among the beneficiaries are the Special Olympics, Kids in the Middle, Multiple Sclerosis, heart and cancer research organizations and the Edgewood Children's Center.
"Edgewood is my pet charity," she said. "I've put a cookbook together and I hope to raise $10,000 for them."
Edgewood helps children with emotional problems.
"They work with them and are able to turn the children into the world with self confidence and self esteem as fully contributing human beings," Greenspan said. "If they weren't helped, many of them would be in jail, killed or would have killed someone else. It's such a wonderful thing that they do."
The tour of her store constantly was interrupted by customers who were delighted to stop and visit.
"She's a good person, honest, lovable," said customer Will Wild of Sappington. "Write that down in your story. You can get everything you need in this store."