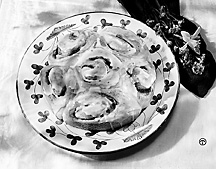 Children can bake these tasty treats and give Mom a well-deserved break
Whether it's Mother's Day, her birthday or any other day of the year, why not show Mom how special she is by putting together some easy-to-make treats that will de-light her and the rest of the family?
For example, transport Mom to a tropical island with an abundance of fresh fruit in a light and airy Caribbean Parfait. Or, for a not-too-sweet treat that can be prepared the night before and baked fresh for the morning, try a batch of Apple Cinna-mon Rolls, made with rich, fruity applesauce.
Caribbean Parfaits
1 can (14 oz.) fat-free
or low-fat sweetened condensed milk (not evaporated milk)
1 container (8 oz.)
nonfat strawberry yogurt
2 Tbsp. lime juice from concentrate
1 container (8 oz.)
light frozen non-dairy
whipped topping, thawed (3½ cups)
5 cups assorted
cut-up fresh tropical fruits (banana, kiwi, mango, papaya, orange,
pineapple or starfruit)
In large bowl, combine condensed milk, yogurt and lime juice. Fold in whipped topping. Layer mixture and fruit into individual serving dishes. Garnish as desired.
Refrigerate leftovers.
Serves 10.
Apple Cinnamon Rolls
3 to 3¾ cups all-purpose flour
¼ cup sugar
½ tsp. salt
1 package active dry yeast
1 cup applesauce
¼ cup margarine or butter
1 egg
Filling
¼ cup margarine or butter, softened
¾ cup regular, cinnamon
or chunky applesauce
¼ cup firmly packed brown sugar
¼ cup chopped nuts
1½ tsp. cinnamon
In small bowl, combine 1 cup flour, sugar, salt and yeast; blend well. In small saucepan, heat applesauce and margarine until very warm — 120° to 130°F.
Add warm liquid and egg to flour mixture. Blend at low speed until moistened; beat 2 minutes at medium speed. Stir in 1¾ to 2 cups flour to form a stiff dough.
On floured surface, knead in ¼ to ¾ cup flour until dough is smooth and elastic, about 5 to 10 minutes.
Place in greased bowl; cover loosely with plastic wrap or cloth towel. Let rise in warm place until light and doubled in volume, about 30 minutes.
Grease 13-inch-by-9-inch pan. On lightly floured surface, roll dough into 15-inch-by-12-inch rectangle.
Spread ¼ cup margarine evenly over dough. In small bowl, combine rest of filling ingredients; spread evenly over margarine.
Starting with 12-inch side, roll up tightly, pressing edges to see. Cut into 12 (1-inch) slices; place cut-side down in prepared pan. Cover with plastic wrap; refrigerate overnight.
When ready to bake, uncover rolls; let stand at room temperature 30 minutes. Heat oven to 350°F. Bake 25 to 35 minutes or until golden brown.
Cool 5 minutes; remove from pan. If desired, drizzle with powdered sugar glaze.
Serves 12.