Sunset Hills Police detective recipient of state's highest public safety award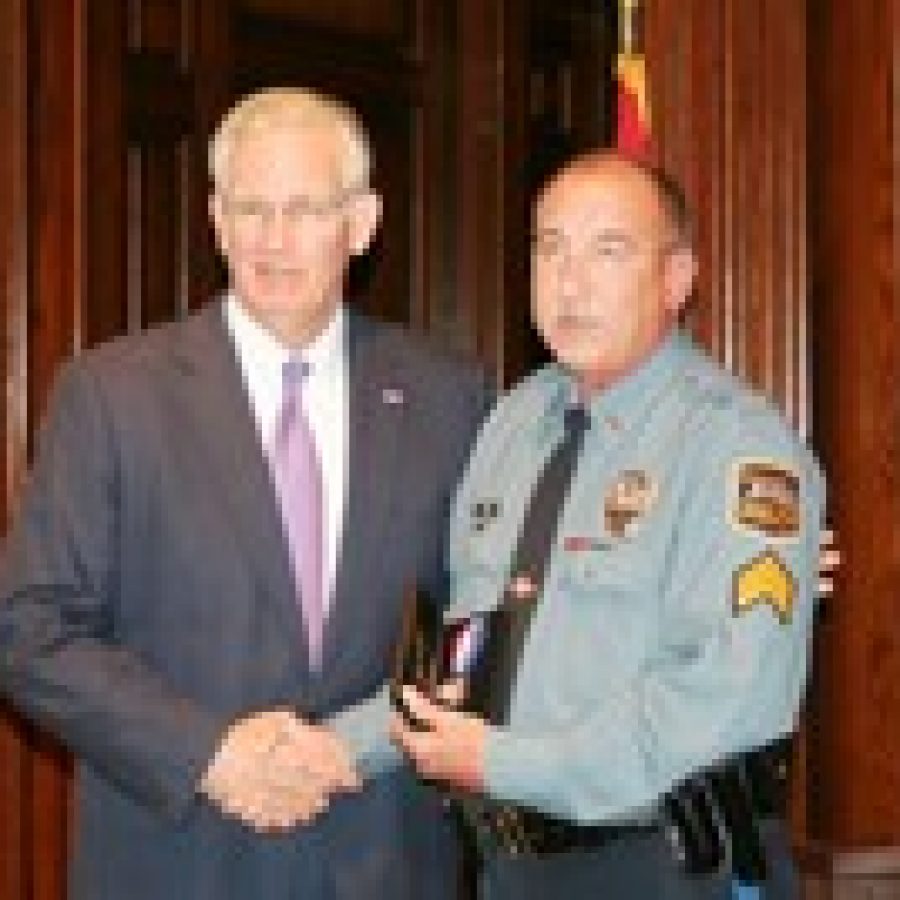 JEFFERSON CITY — Gov. Jay Nixon last week presented the Missouri Medal of Valor to eight public safety officers from across the state, including a member of the Sunset Hills Police Department, for their exceptionally brave and heroic acts in efforts to save lives and protect the public during 2011.
Among those receiving the Medal of Valor was Detective Sgt. Robert C. Siscel, of the Sunset Hills Police Department. He was honored for his valor in responding to a home invasion last October, according to a news release.
Siscel and Patrolman Dan Thompson responded to a 911 call about a home invasion/robbery in progress. Siscel responded to the rear of the house, where he immediately identified a masked gunman holding an elderly woman hostage, the release stated.
Siscel alerted Thompson and, through the kitchen window, Thompson commanded the gunman to release the victim. The gunman released the woman but moved toward the family room. Siscel ran into the family room through the broken-out glass sliding door as he identified himself as a police officer.
The gunman entered the doorway between the kitchen and family room aiming his pistol at Siscel from a distance of 10 feet. Siscel ordered him to drop the gun.
When he did not, Siscel had no alternative but to use deadly force; he fired a single shot, incapacitating the gunman, who was taken into custody, according to the release.
Soon after, other responding officers arrested a second gunman outside the residence.
Family members and the officers' colleagues were present for the Oct. 11 presentation of Missouri's highest public safety award during a ceremony in the governor's office in the Capitol. Nixon was joined at the ceremony by Department of Public Safety Director Jerry Lee.
Among those honored was the first Medal of Valor recipient to be killed in the line of duty and receive the award posthumously, Officer Daryl A. Hall of the St. Louis Metropolitan Police Department.
"These eight brave officers, each of whom faced dangerous and threatening circumstances, acted without regard for their own safety and instead focused solely on protecting the public by responding swiftly and heroically," Nixon stated in the release. "In the case of Officer Hall, that selfless and steadfast dedication to ensuring the safety of others cost him his life.
"I thank all these outstanding officers for their extraordinary and heroic acts, which exemplify what the Medal of Valor stands for."