Sunset Hills officials honor heroic local moving crew
Furrer and LaGrand present proclamation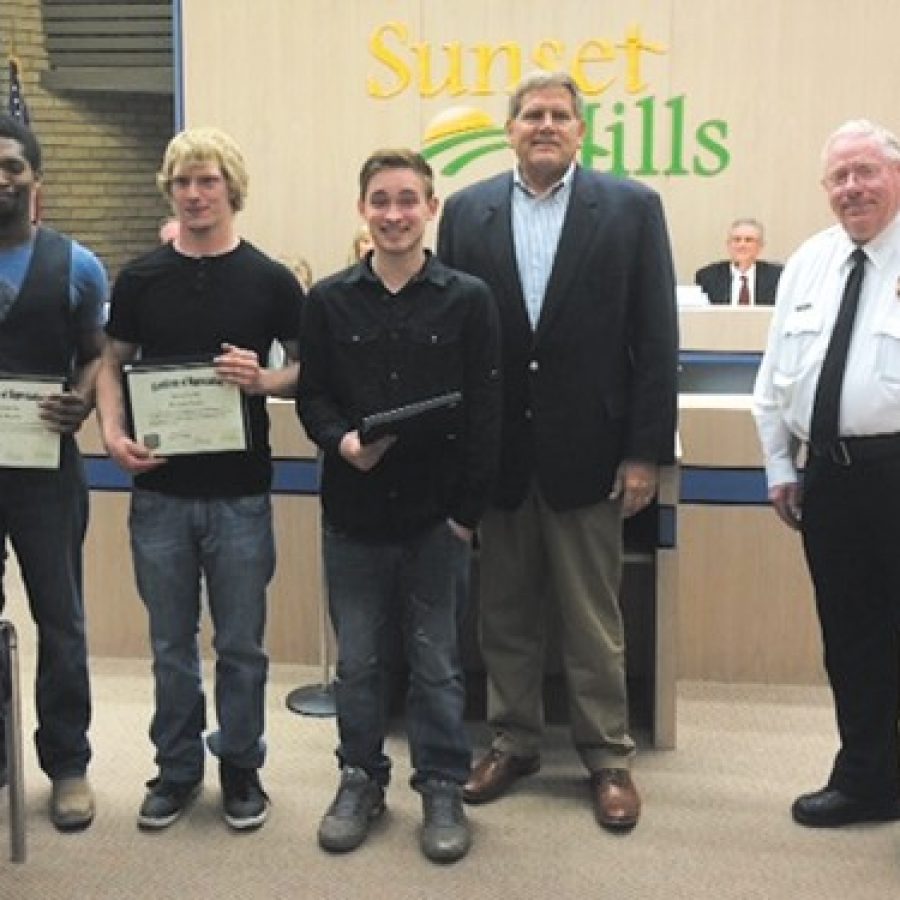 The city of Sunset Hills recently honored a local moving crew who became heroes when they stopped on Interstate 270 to rescue a woman from a burning car.
At the March Board of Aldermen meeting, Mayor Mark Furrer presented a proclamation in honor of Wallace King, Angela King, Brandon Lawler, Brandon Hausler and Darreal Boykin, who rescued High Ridge resident Jessica Apenbrinck Jan. 31 when her car went off the interstate at 270 and Gravois, hit a bluff and overturned. Apenbrinck and three of her five rescuers appeared in person at the meeting to accept the proclamation from Furrer and Police Chief William LaGrand.
"They say when minutes count, seconds matter," Furrer said. "These people really stepped up to the plate, and this young lady is alive because of it."
The car's engine caught fire after it went off the road, and Apenbrinck's five Good Samaritans stopped to help. Lawler, Hausler and Boykin are a moving crew for the Sunset Hills location of Two Men and a Truck and used their moving truck's fire extinguisher to put out the fire and begin CPR on Apenbrinck until firefighters from the Fenton Fire Protection District could arrive, extricate her from her car and take her to the hospital, where she was released after nine days. The Sunset Hills Police Department also responded to the scene.
"Whereas due to the prompt and effective actions of both these civilians and emergency responders the victim is expected to make a full recovery, now, therefore, I, Mark Furrer, Mayor of the City of Sunset Hills, in the State of Missouri do hereby commend the above mentioned subjects for their prompt and selfless acts that contributed to saving the life of an accident victim," the proclamation reads.
In February, the Fenton Fire Protection District also presented awards to the rescuers who helped save Apenbrinck's life.