Stenger honors Outstanding Student Leaders from across county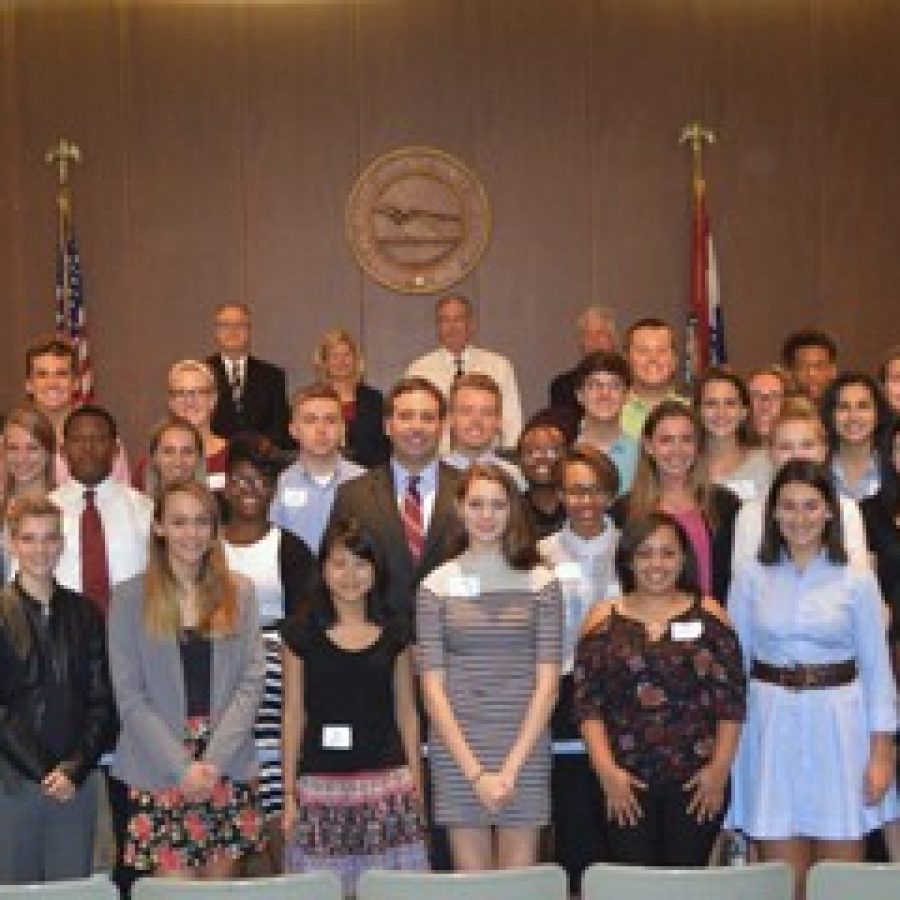 County Executive Steve Stenger honored 54 high school students from across the county with a proclamation in the County Council chambers Tuesday as part of the county's yearly Outstanding Student Leadership Conference.
"These students exemplify the values that make our community great," Stenger said in a news release. "They were chosen for this conference based on outstanding contributions to their schools, their communities and their leadership abilities."
This one-day conference was a collaboration between the county Department of Human Services and Washington University. Students spent the day on the university campus, working with faculty to enhance their understanding of community issues and increase their motivation to continue to contribute to the St. Louis region.
"It's a great opportunity for students from many different backgrounds to come together on this special day. No matter where they live or where they go school, today, they share a common bond," Youth Project coordinator Brian Wieher said. "They are their schools' representative for such a meaningful program."
All student participants are in high school in St. Louis County, and have been nominated by their school administration.
He is Section Leader of the marching band and vice president of the Philosophy Club. He received the Teacher's Choice Award, and placed second in the State Future Business Leaders of America Economics Competition.
She is involved in Student Council, is the recording secretary in the National Honor Society, and is the editor-in-chief of her school's newsmagazine. She plans to study atmospheric sciences in college.
He is a member of Student Council, the cross-country and volleyball teams, the Mentor/Mentee Program, Messengers and is a Kairos Leader. He aspires to be a director of Christian education.
She is the school magazine editor, cast and crew for school shows, and a member of the National Honor Society. She plans to study communications with a minor in theatre at Lindenwood University.
She is the varsity cheerleading co-captain, as well as a member of the National Honor Society, Student Council and Junior Executive Committee. Anna would like to study chemistry on a pre-medicine track.
She is student body president, a member of the National Spanish Honor Society, Health Occupations Students of America, Future Business Leaders of America, and the yearbook staff. She plans to study medicine to become a pediatrician.
He is an Anti-Defamation League Intern, Gateway2Change Student Leader, High School Drumline Leader and Operation Anti-Discrimination Executive Chair. He plans to attend Webster University to study philosophy and religion.
She is a Children's Zoo volunteer and a member of Zoo Alive. She wants to pursue a career as a veterinary assistant.
She is a dedicated ballet dancer and avid artist, as well as editor-in-chief of Pandora. She plans to attend Indiana University to study ballet.
She is senior class vice president, mock trial captain, and a National History Day Missouri Delegate National Competitor. She plans to study biology or business with a minor in English.