Council, Stenger declare opioid epidemic an emergency
Above: County Executive Steve Stenger announces his declaration of a state of emergency around the opioid epidemic June 28, surrounded by health professionals including county Department of Public Health Director Faisal Khan, left.
By Gloria Lloyd
News Editor
glorialloyd@callnewspapers.com
County Executive Steve Stenger and the St. Louis County Council were at odds again last month, this time with dueling plans to attack the opioid epidemic.
Days before Stenger issued an executive order declaring a public-health emergency and unveiling an initiative on opioid addiction in the works for months, the council passed its own emergency resolution June 26 to create a joint task force that would come up with a report on ways to tackle the crisis by August.
Stenger declared a state of emergency June 28, the same day he released a full-scale 32-page action report that he said represented four months of collaboration by the county Department of Public Health with physicians and experts.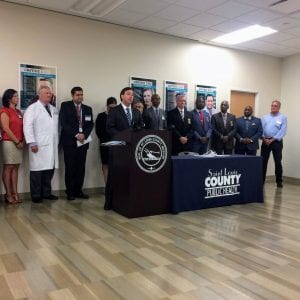 Overdose deaths are a problem across the region and the nation, but have risen in St. Louis County from 119 in 2013 to 203 last year, Stenger said. His nephew, Mitch Stenger, 23, died of an overdose in St. Charles County in 2014.
"This crisis affects all of us and has infected every part of the community, every age group, every socioeconomic class and every section of our economy," Stenger said. "Overcoming a problem this widespread, this deep, this devastating, must involve all of us. Our goal is to engage public attention on an unprecedented scale… To affect change, we must recognize that opioid addiction is a disease rather than a crime or a choice."
Led by 7th District Councilman Mark Harder, R-Ballwin, the council also unanimously approved a resolution that attached $1 million in emergency funding to try to make progress against an epidemic that has touched all corners of the county and every council district.
Other than the most routine county business, it was a rare example these days of something that every council member could agree on.
The resolution passed 7-0, with every council member adding their name as a co-sponsor.
"We're out of ideas I think as a region on this," Harder said. "Everybody is putting Band-Aid fixes on this and doing a pretty good job, but we need to be leaders in this area. And the people of St. Louis County need to know that there's leaders who care about this issue, and it's only going to get worse. And we can do nothing, or we can go forward and come up with some solutions."
But two days later, Stenger stood at a press conference at the county Department of Public Health in Berkeley with more than a dozen health-care professionals behind him to present an action plan.
The plan targets how to raise awareness about opioid addiction, prevent people from becoming addicted, increase the availability of the overdose-reversal drug Narcan to prevent fatal overdoses, increase the number of people connected to treatment, with a focus on high-risk populations, and enable people in recovery to "transition into stable housing, employment and family life," according to the plan.
The county partnered for four months with Barnes-Jewish Hospitals, Mercy, SSM Health, St. Louis University, Washington University, the state of Missouri and other agencies and organizations to develop the plan, said Department of Public Health Director Faisal Khan.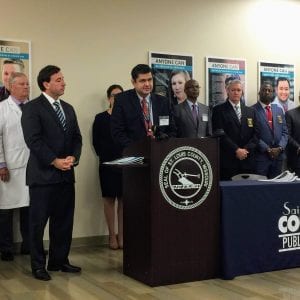 The agency built in metrics to gauge the progress of the plan.
To implement the steps in the action plan, Khan said he would request $1.5 million in his 2019 budget proposal to the council.
Stenger said he welcomed the council's simultaneous focus on the epidemic, but the task force seems similar to what he already accomplished and "the action plan has been created already, but we'd be more than happy to work with them in the future."
Asked how the council didn't know about the extensive regional effort behind the action plan, Stenger said that the council was aware through health officials but had not seen the specifics of the plan until the day it was released.
Both Harder and Stenger noted the success of the council and Stenger's previous collaboration in fighting opioid abuse, the countywide prescription drug-monitoring program, or PDMP.
It has now become the de facto statewide system that 80 percent of the state's population and 92 percent of all medical providers in Missouri use.
Missouri is the only state without a statewide prescription-drug registry.
The council's task force could strive for statewide reach once the group comes up with its solutions, Harder said.
The council doesn't have to spend the $1 million, but it was a way to show the task force that if they come up with comprehensive ways to address the crisis, money will be available.
Council members didn't directly talk to Stenger about their ideas, Harder said.
But they gave him four appointments to the task force, compared to each council member's single appointment.
Harder envisioned the task force including doctors, nurses and experts on drug addiction.
One of the best ways to fight opioid addiction is to recognize that it is a "terminal illness" that can be prevented and treated, the physician in charge of Missouri's federal grants combating opioid addiction, Rachel Winograd, noted at Stenger's event.
An emphasis on treatment medications, which have been shown to reduce the odds of overdose, and getting people into treatment is key to stemming the tide against opioid addiction, she said.
"We have too long viewed addiction as something people can conquer if they just go through enough therapy or prayer or grit their teeth hard enough," Winograd said. "But when it comes to heroin addiction, the old strategies just won't cut it. As we wait for people to want it bad enough, they're dying in front of us."
Stenger acknowledged in a June 25 talk at the Tesson Ferry Democratic Township meeting at Frailey's Southtown Grill that of the 222 times that Narcan has been used by county police officers to revive someone from an overdose, many are repeat cases.
That leads some people to say that Narcan shouldn't be provided to those who don't want to help themselves despite being given chance after chance.
But Winograd said that opioid addiction is so gripping that sometimes it takes giving someone 10 chances before they can recover.
"We do realize that being alive is about more than not being dead, but staying alive is absolutely a requirement for achieving full recovery, so we must remain vigilant about keeping that as our primary goal," she said.
Fifth District Councilman Pat Dolan, D-Richmond Heights, said that he didn't mind that the council came up with a possible competing plan the same week as Stenger unveiled his because of the urgency.
"The crisis needs to be addressed," Dolan said. "If we attack it from one way, two ways, 100 ways, I don't care. We need to do something."
But it did seem to him that while months of planning went into Stenger's plan, Harder came forward with his ideas with "no planning whatsoever — I think it was trying to beat the Thursday press conference, so they did it on Tuesday," Dolan said. "That was very political. It was just so there can be a press conference in my opinion, but as long as they're willing to do something to help the situation, then I'm on board."