State assisting with debris removal in region through 'Operation Recovery'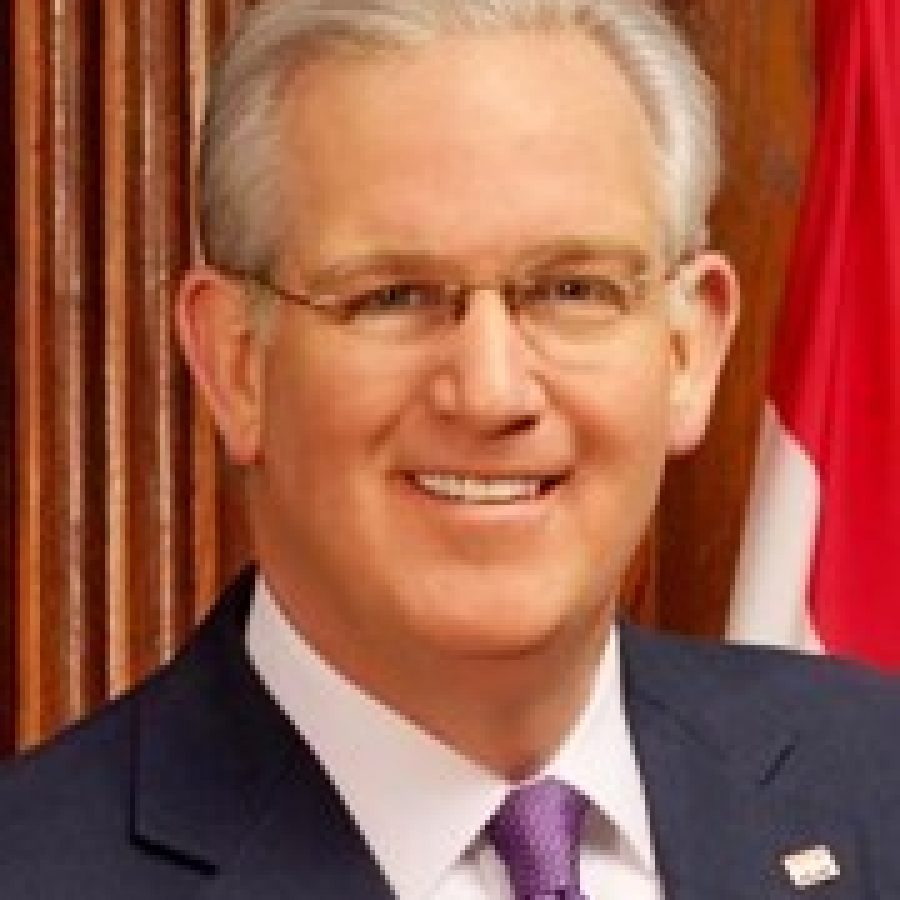 ST. LOUIS COUNTY – Gov. Jay Nixon today — Wednesday — was joined by members of his emergency management team at Jefferson Barracks as he provided an update on debris removal, damage assessments and other aspects of the state's ongoing effort to help communities recover from record-breaking flooding and the trail of debris left behind.
Specifically, the governor provided information about "Operation Recovery," the debris removal program in the St. Louis region being managed at the state level by the Missouri National Guard.
"The historic flooding that inundated thousands of homes and businesses in the St. Louis region in a few short days left behind destruction that could take months or longer for our communities to fully recover," Nixon stated in a news release. "We are focused on directing all the available resources — including of the federal government — to ensure Missouri families and businesses recover as quickly as possible."
The most severe damage from flooding occurred in the St. Louis region where heavily populated communities, including many that had never before been flooded, were inundated by floodwaters from the Meramec, Bourbeuse and Mississippi rivers. The governor said that, based on geospatial imagery of the inundated areas, an estimated 7,100 structures were impacted in Franklin, Jefferson, St. Charles and St. Louis counties, resulting in as much as a half-million tons of debris, according to estimates.
On Saturday, the federal government approved the governor's request for a federal emergency declaration, which made federal resources available, specifically the U.S. Army Corps of Engineers and the Environmental Protection Agency, available to speed debris removal and relieve the strain of response and recovery costs in the St. Louis region.
"Operation Recovery" is facilitating the collection and disposal of both debris left behind by flood water and household debris, including demolition materials, carpeting, furniture and appliances.
Currently, 20 communities in the region have indicated they will participate in the debris collection program: Pacific, Union, Arnold, Byrnes Mill, Herculaneum, Kimmswick, O'Fallon, Portage des Sioux, St. Charles, St. Peters, West Alton, Eureka, Fenton, Kirkwood, Valley Park and Florissant, as well as unincorporated areas of Franklin County, Jefferson County, St. Charles County and St. Louis County.
Contractors in the debris removal program will begin picking up debris next week in participating communities. In addition, the Environmental Protection Agency is responsible for picking up hazardous materials beginning at the end of this week.
The governor said that debris should be placed curbside, without blocking the roadway. For more information about the debris removal program, visit
.
Nixon also announced that damage assessments will begin this week for the purposes of seeking a federal disaster declaration for Individual Assistance.
Assessments for public assistance are scheduled to begin next week. Individual assistance means that eligible individuals and households can seek federal assistance for uninsured losses from severe weather and flooding. Public assistance allows local governments and eligible nonprofit agencies to seek assistance for response and recovery expenses associated with the severe weather and flooding.
The damage assessment teams comprise representatives from the Federal Emergency Management Agency, the Small Business Administration, the Missouri State Emergency Management Agency and local officials.
To further accelerate the debris removal process, Nixon also signed Executive Order 16-02 allowing the Missouri Department of Natural Resources to temporarily waive regulations to facilitate the disposal of debris, while protecting public health and safety.
"While the flood waters may have receded, the recovery effort in many communities has just begun," Nixon stated in the release. "By allowing the Department of Natural Resources to eliminate any unnecessary red tape, this executive order will accelerate the recovery process and help flood-affected communities get back on their feet as quickly as possible."
Executive Order 16-02 is similar to orders the governor has issued following other natural disasters to expedite debris removal and protect public safety. In certain circumstances, these orders can help local officials and residents expedite cleanup efforts after severe storms.