Sperreng Middle School teacher wins Loeb Prize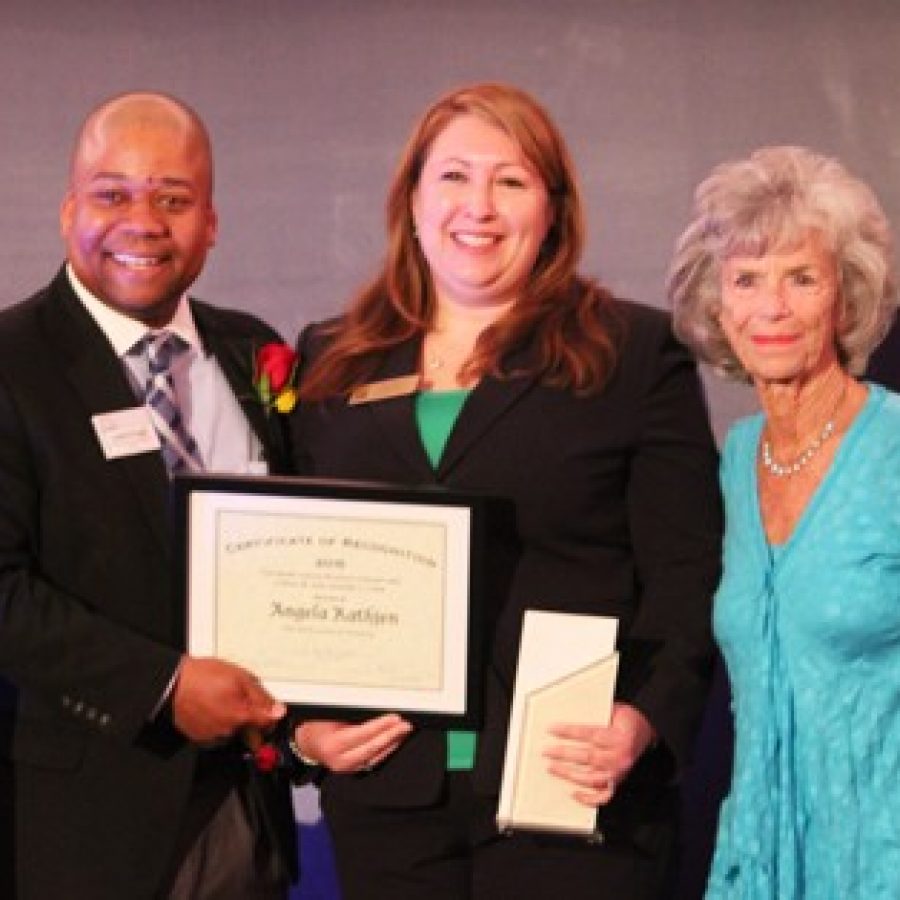 Sperreng Middle School science teacher Angela Rathjen is one of five winners of the 2015 Carol B. and Jerome T. Loeb Prize for Excellence in Teaching Science and Mathematics, an award given in partnership with the St. Louis Science Center.
Rathjen and her students were honored with the second-place prize during a recent ceremony at the St, Louis Science Center's James S. McDonnell Planetarium. All five finalists received cash awards.
"Receiving the Loeb Prize was such an incredible honor and an amazing experience," Rathjen stated in a news release. "I loved being able to share the experience with my students and family. I am extremely thankful to the students, parents and colleagues that wrote letters for my nomination, and to the administrators who continue to support our classroom endeavors."
Rathjen teaches seventh-grade science and is sponsor of the Sperreng Robotics Club. She attended the ceremony with her seventh-grade challenge science class, eighth-grade robotics club members and a few former students who wrote letters of recommendation for her award.
"Ms. Rathjen is a teacher that involves and captures the interest of every student that walks into her classroom," one former student wrote. "She goes above and beyond what is expected of her and never stops trying to make her curriculum more interactive and exciting."
The Loeb Prize, established in 1995 at the Saint Louis Science Center and endowed in 2002 by a gift from Carol B. and Jerome T. Loeb, rewards teachers who significantly enhance their students' performances in the areas of science and mathematics.
"All of our finalists this year demonstrated expertise in their subject areas, innovative teaching styles including the use of technology, and their personal commitment to the overall well-being of their students," Carol B. Loeb stated in the release. "I am grateful for the opportunity to recognize these teachers for the work they do to enable their students to become the STEM (science, technology, engineering and mathematics) leaders of tomorrow."