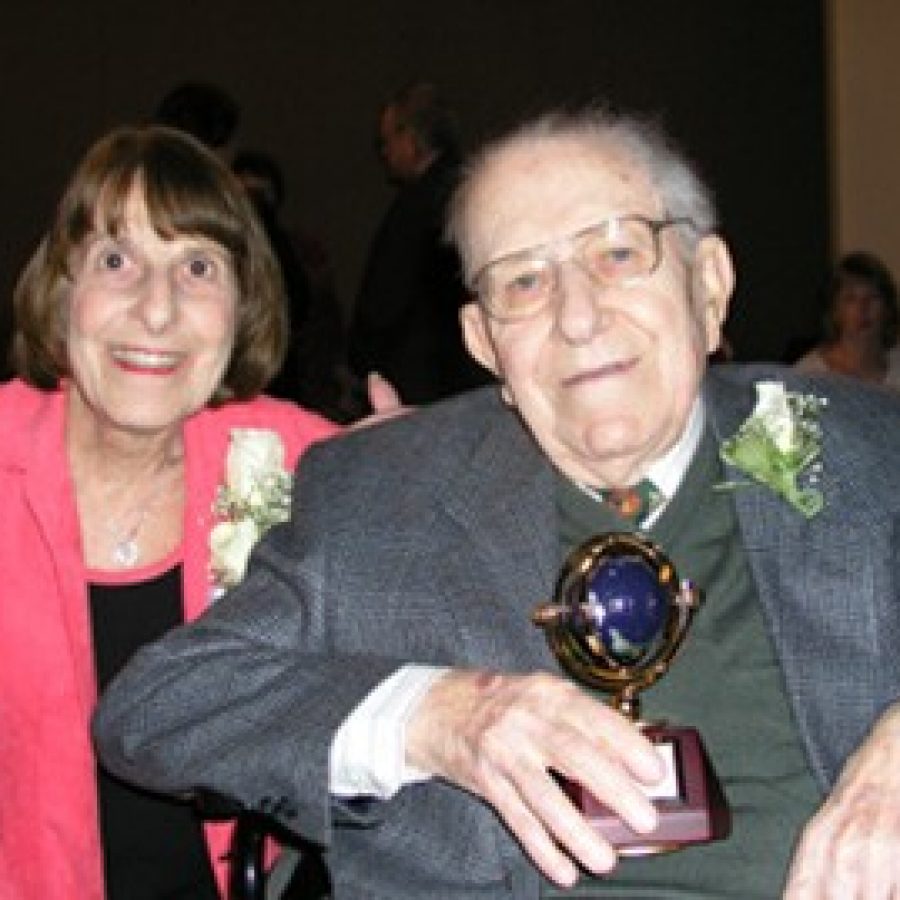 South county lost a great friend and benefactor last week with the passing of William B. "Bill" Nottelmann, 96.
Mr. Nottelmann was born Sept. 2, 1918, and died March 5. He was known throughout south county for his longtime support of the Mehlville School District.
Mr. Nottelmann attended Mehlville High School and participated in the first Mehlville orchestra before graduating in 1936. He then studied at the St. Louis Institute of Music.
Over the next 70 years, Mr. Nottelmann taught music, served as the first band director at Mehlville, opened a pair of music stores, founded the Mehlville/Oakville Alumni Association and helped spearhead the writing of the book "Reflections: a History of the Mehlville School District and Its Communities."
He retired from the music stores in 2000, when he was 81. For more than 20 years, he provided thousands of dollars of financial assistance to music students through the William B. Nottelmann Music Scholarship.
Mr. Nottelmann was honored as the first inductee into the Mehlville/Oakville Alumni Association Hall of Fame in 2006.
In 2013, the Mehlville Board of Education paid tribute to "Mr. Mehlville" by voting unanimously to name the school district's first-ever auditorium in his honor.
During his remarks before the board voted, then-Superintendent Eric Knost said, "William Bernard Nottelmann is widely considered the biggest supporter ever of the Mehlville School District. He is a friend to all and has played a role in bringing music to the lives of so many young people over the years including, none other than, your superintendent …"
Call General Manager Bill Milligan became friends with Mr. Nottelmann when they worked together on "Reflections: a History of the Mehlville School District and Its Communities."
"Growing up in the early 1900s on property that would become Dohack's restaurant and Dave Sinclair Ford, Bill lived at a time when this community began," Milligan recalled. "He remembered a time before construction of the South County mall, a time when Lindbergh Boulevard was a dirt road. He was a walking encyclopedia of south county history."
Mr. Nottelmann was the husband of Charmaine (nee Rothweiler); father of Jan (Dennis) Gerfen; grandfather of Michael (Amy) Gerfen and Jennifer (Jason) Fedak; dear great grandfather of Joshua Gerfen, Nicholas Gerfen and Logan Fedak; stepfather of Dennis (Darlene) AuBuchon and Dale (Julie) AuBuchon; stepgrandfather of Joe (Rebecca Bates) Graves, Jim (Megan) AuBuchon and John (Jacqueline) AuBuchon; stepgreat-grandfather of Elinor AuBuchon and Joey AuBuchon; and uncle of Pat Pope, Charles Pfiffner and George Pfiffner.
Mr. Nottelmann was a member of Peace Lutheran Church, where visitation and services took place. Visitation also took place at Hoffmeister South County Chapel.
Interment was in St. Trinity Cemetery.