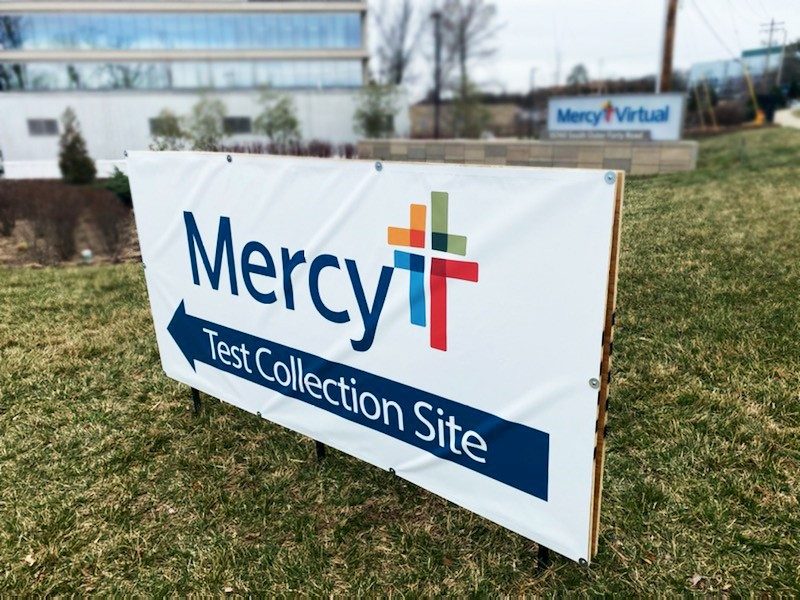 Mercy placed a planned South County coronavirus testing site on hold Wednesday – the day it was set to open – but still plans to open the new site at some point.
Plans for the South County testing were postponed because "we want to make sure we have everyone and everything in place to ensure the site runs smoothly when it does open," a Mercy spokesman said in an email.
With more cases of the novel coronavirus also known as COVID-19 appearing in the St. Louis region, Mercy opened a drive-thru testing site in Chesterfield and plans to open three additional drive-thrus for testing in south St. Louis County, Washington and Hillsboro.
The two Jefferson County sites are still set to open as planned. The Washington testing site opened as scheduled on Monday, and the Hillsboro site is slated to open at 2 p.m. Wednesday with a blessing at 1:30 p.m.
Anyone seeking a test must call Mercy's COVID-19 Clinical Support Line at 314-251-0500 before arriving.
The test collection sites are exclusively reserved for patients who meet the Centers for Disease Control and state health department guidelines for testing. To qualify for testing at the drive-thru site, patients must have a fever of at least 100.4 degrees and respiratory symptoms including cough or shortness of breath, and either recent travel to a high-risk area or contact with a confirmed COVID-19 patient.
"We will only provide screening for those who meet these requirements because testing prior to the appearance of symptoms can result in a false negative," said Dr. Keith Starke, Mercy's chief quality officer, in a news release. "It's critical for our communities that we screen those with the highest risk."
The South St. Louis County site will be located in the parking lot of the MetLife building at 13045 Tesson Ferry Road in Concord, 63128. The opening of this site is currently on hold.
The Hillsboro site is located at the Hillsboro Community Civic Club Jefferson County Fairgrounds at 10349 Business 21 in Hillsboro, 63050.
The Washington test site is located on the Washington Fairgrounds, 6 Fairgrounds Road, Washington, 63090. The site will be near the Mercy First Aid Building and the Motorsports Arena. It opened Monday, March 23.
Mercy's first test collection site opened Saturday, March 14, in Chesterfield at the Mercy Virtual Care Center, 15740 S. Outer Forty Road. In the first six days at that site, Mercy collected samples from 441 patients and is now seeing about 120 patients per day.
The first site opened in the wake of Missouri and St. Louis County's first case of the coronavirus, a college student returning from studying abroad in Italy.
By opening drive-thru testing, possible coronavirus patients can be rerouted away from emergency rooms and not spread the virus to the rest of the population.
"This drive-through testing site will prevent unnecessary exposure to our patients and caregivers in our hospitals and clinics," said Donn Sorensen, Mercy's executive vice president of operations, who is leading COVID-19 response across Mercy. "By directing at-risk people to this site, Mercy will limit the traffic to our hospitals and clinics. The safety of our patients, visitors and co-workers is of the utmost importance."
Any severe weather or severe weather warning will require Mercy to stop drive-thru test collections at its site in Chesterfield to allow patients and co-workers to seek shelter for their safety. Mercy will contact all patients whose appointments are affected to reschedule their test collections.
You can find updates from Mercy regarding COVID-19 at mercy.net/covid19.
Patients seeking a COVID-19 test must first call Mercy's clinical support line at 314-251-0500 to be screened, and if appropriate, they will be given a time to arrive at the test collection site nearest them.
Mercy will collect a sample and send it to a designated lab, either the state health department or a private lab. Results may take a couple days or up to a week depending on the lab conducting the test. There is a cost associated with the testing; most insurance companies along with Medicare and Medicaid have committed to covering the cost.
No one will be turned away from the testing site due to cost.
Mercy is working closely with BJC HealthCare and SSM Health, as well as the state and local health departments, as additional sites are opened across St. Louis.
Mercy also plans to open additional test collection sites across Mercy's four states.
While COVID-19 is spread from person to person, more than 80 percent of the patients who develop it will only become mildly ill. The concern is for patients with underlying medical conditions and the elderly, who are more likely to need hospital-level supportive care.
People with COVID-19 do not have a runny nose or nasal congestion. Symptoms to be aware of include:
4 fever or higher – 90% will have fever.
Dry cough – 70% will have a dry cough.
Shortness of breath – for those who become more acutely ill.
The most important things you can do to protect yourself from any illness also applies to COVID-19:
Practice good hand hygiene all the time. Wash hands with soap and water for at least 20 seconds. If water is not available, use a hand sanitizer with at least 60% alcohol content.
Avoid touching your eyes, nose and mouth.
Practice the 6-foot rule. If you must be in a public space and notice someone ill, keep at least 6 feet away to lessen your risk.
Be considerate when you are sick. Stay home if you are feeling ill. You should be fever free for 24 hours before returning to work or school. Cover your cough and sneeze using the crook of your arm (inside elbow).
Get appropriate rest, eat a healthy diet and exercise regularly.
Consider the "elbow touch" as an alternate to handshaking.