Six Lindbergh athletes commit to college play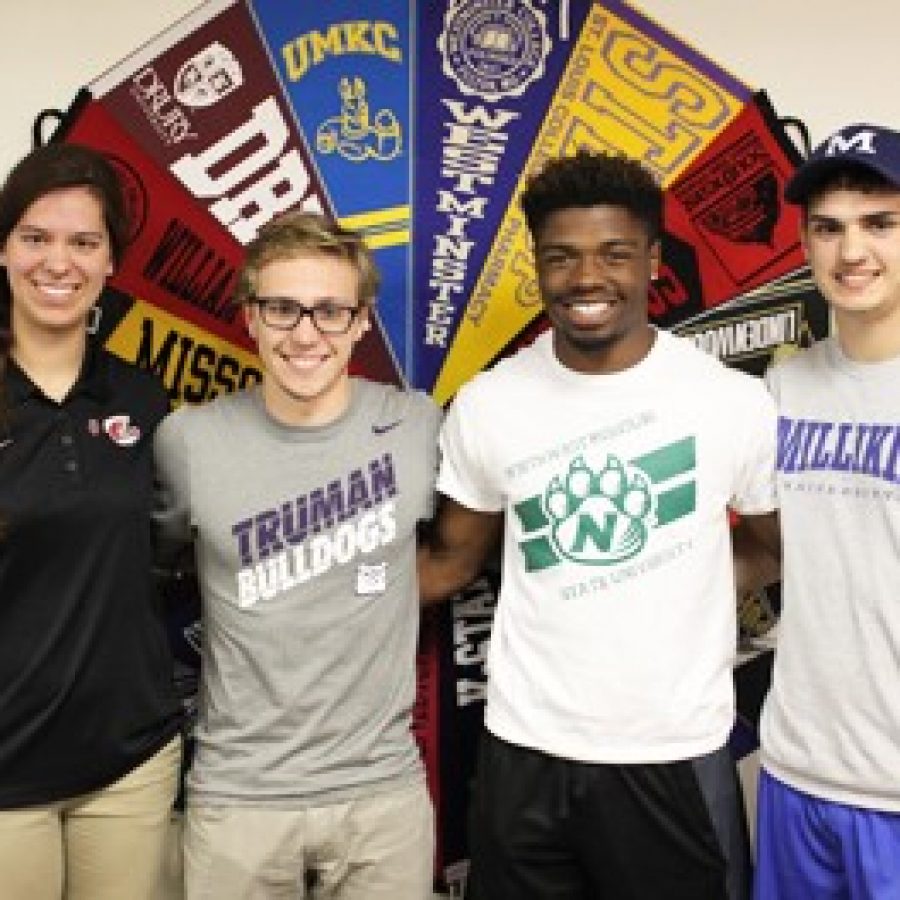 Six Lindbergh High School student-athletes recently committed to college teams and will advance their careers in soccer, wrestling, track, swimming, basketball and volleyball.
LHS Athletics Director Scott Luczak congratulated the seniors, who will represent Lindbergh's high standards of play at colleges and universities across Missouri and Illinois.
Here is what Lindbergh coaches had to say about their athletes headed to college teams next year:
Matthew Dreon, son of Peter and Mary Dreon, has played soccer for 11 years.
As a Flyer, he played center midfield and served as team captain during both his freshman and senior years. Matthew's career highlight was scoring the game-winning goal this year in the final seconds of play against Parkway South. Matthew has been on the honor roll all four years of high school, and is a member of National Honor Society, French Honor Society and Future Business Leaders of America.
"Matt has been an outstanding member of the varsity boys' soccer team for the past two years," coach Mark Giesing stated in a news release. "His consistent hard work and positive attitude earned him a captain's position on the team during his senior year. He was the starting central midfielder for the varsity team, and from this position directed the Lindbergh offense and was critical to the team's success this year."
Matthew will play soccer for coach Tim Mosby at St. Louis Community College-Meramec, where he plans to major in environmental engineering.
Dylan Jones, son of Dusty and Brooke Jones, has been wrestling for 14 years.
During his high school career, he won the Flyer Classic Tournament. Dylan serves on Leadership Committee and has maintained a 3.0 grade-point average, or GPA, in addition to wrestling.
"Dylan Jones was a leader on the football and wrestling team at Lindbergh High School," wrestling coach Ben Smith stated. "He has been one of the best wrestlers in the state of Missouri and a pillar in the community. Dylan has stayed very involved with the Lindbergh community by volunteering as a middle school football coach, as well as a youth league wrestling coach. Good luck at Millikin University, Dylan."
Dylan will attend Millikin University in Decatur, Ill., and plans to major in mathematics education. Dylan will wrestle for coaches Ryan Birt and Erik Hanson.
Malik Johnson, son of Renita and Harold Johnson, has had an exciting career as a Flyer, placing fifth in state in the 100-meter dash, and twice being named All-State in track and field.
In addition, Malik was twice named All Conference football as cornerback, and in 2015 he was the Flyers football most valuable player.
"Malik has been a four-year letter winner and a three-time state qualifier," coach James Petersen stated. "He has been a tremendous asset to the Lindbergh boys' track and field program throughout his entire career."
Malik will run track for Northwest Missouri State University and plans to major in sports marketing.
Austin Mayer, son of Keith and Leslie Mayer, has been swimming for 12 years. As a Flyer, he holds school records in the 500 freestyle, 200 freestyle, 200 IM and 100 freestyle. He has been named All State in swimming for four years. Outside of swimming, Austin is a member of National Honor Society, French Honor Society, Strolling Strings and Symphonic Orchestra, and has a 4.2 GPA.
He will swim at Truman State University for coach Ed Pretre.
"Austin is probably the best all-around swimmer I have had the opportunity to coach here at Lindbergh," said Coach Timothy Lombardo. "Austin is an awesome young man. Truman State got a great one."
Greg Lahm, son of Mike and Malinda Lahm, has played forward for the varsity Flyers for three of his four years at LHS. He started his career playing for the junior varsity team in ninth grade.
Lahm says his most memorable moment as a Flyer was joining the 1,000-career-point club during a matchup against his dad's alma mater, Mehlville High School.
"Greg has set the standard here at Lindbergh of what a student-athlete should be," coach Jason Wolfard stated. "He has improved every year of his high school career and ranks among the top players to ever play basketball at LHS. He is going to be a tremendous asset at Missouri S&T next year with their basketball team, and he will continue to achieve great things in his future."
Off the court, Lahm is a four-year Renaissance platinum award winner, a member of National Honor Society and a district DECA champion.
He will play basketball for coach Jim Glash next year for Missouri University of Science and Technology, where he plans to major in engineering.
Elizabeth Perley, daughter of Brad and Janet Perley, has been playing volleyball for nine years, most recently in the position of middle/right side for the Flyers.
She played on the varsity team for three years, and led the team in blocks her senior year. Lizzie's favorite memory as a Flyer is scoring the winning point on Senior Night and playing alongside her five senior teammates, who have grown up together in the sport. She is a four-time Renaissance award recipient, and a member of DECA, Future Business Leaders of America, National Honor Society, National English Honor Society and Spanish Honor Society.
"Lizzie is a hard worker who does whatever is required of her to make the team around her better," coach Rob Langevin stated. "She played many positions until finding a spot in the middle. She is an aggressive, active player who always finds a way to get into the offensive mix."
Perley will play volleyball at Maryville University for coach Ashlee Brockenbrough. She plans to major in sports business management.