Sculpture to be unveiled next week at Lindbergh High School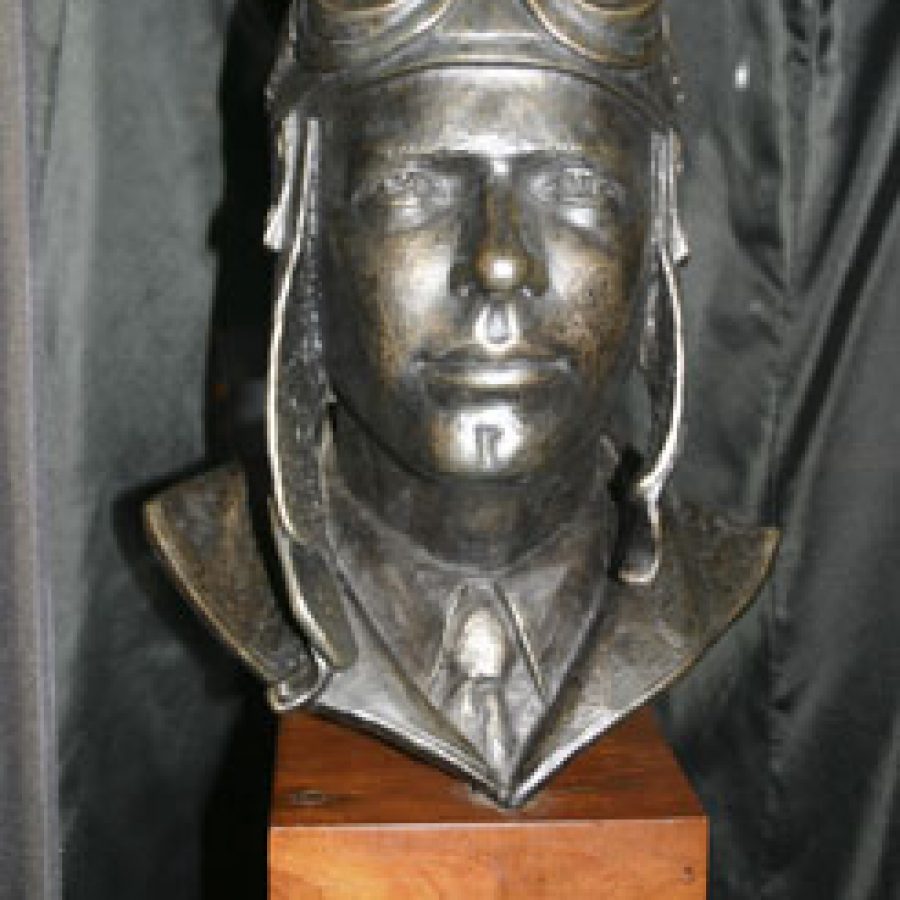 An unveiling of a Charles A. Lindbergh sculpture created by artist Don Wiegand will take place at 7 p.m. Wednesday, Jan. 24, in the lobby of the auditorium at Lindbergh High School, 4900 S. Lindbergh Blvd.
The sculpture depicts Charles A. Lindbergh at age 25. Created in 1981, it is cast in bronze, stands 16 inches tall on a walnut base and is cast number 63 of 100.
The Sappington-Concord Historical Society was the lead donor for the purchase of the sculpture and is donating the sculpture to the Lindbergh School District. The sculpture was purchased with the support of the Fulmer family of Englewood, Ohio, who made it available to the Sappington-Concord Historical Society and the Lindbergh School District in memory of Jim Rindler, the original owner.
During a Board of Education meeting last week, Historical Society President Scott Debandt presented a document to board President Mark Rudoff transferring ownership of the sculpture to the school district.
In remarks to the board, Debandt said Superintendent Jim Sandfort had approached the society after learning of the availability of the sculpture. But Debandt also noted Sandfort told the society no district funds could be used to acquire the piece.
Debandt said, "… These don't come around that often and we were happy to be what turned out to be the lead donor. I will say there is a corollary here. Dr. Sandfort did reach out to some key supporters and influential members here in the area to reimburse us for some of that. He asked me if we wanted to loan it or flat out give to the school district and let me tell you, we've got enough archives and things that — we've got no place to display this.
"So we quickly came to the conclusion of the board that the rightful place for this is in the Lindbergh School District and owned by the Lindbergh School District. So tonight, I have a little piece of paper here that basically we are gifting this and it's where it should be …," he added.
"… The Historical Society without reservation stepped up and fronted all the money …," Sandfort said, noting past and current school board members and other district supporters later donated money toward the sculpture.
But the superintendent added, "It would not have happened without Scott, without the other members of the Historical Society who recognized in an instant that this is something that was worthwhile doing for Lindbergh School, and then to have them turn around and gift the sculpture to Lindbergh School District so it's in the Lindbergh School District name is really just a great gift and Scott, again to you and the Historical Society, we thank you very, very much for being there for us …"