Santa Claus visits Crestwood City Hall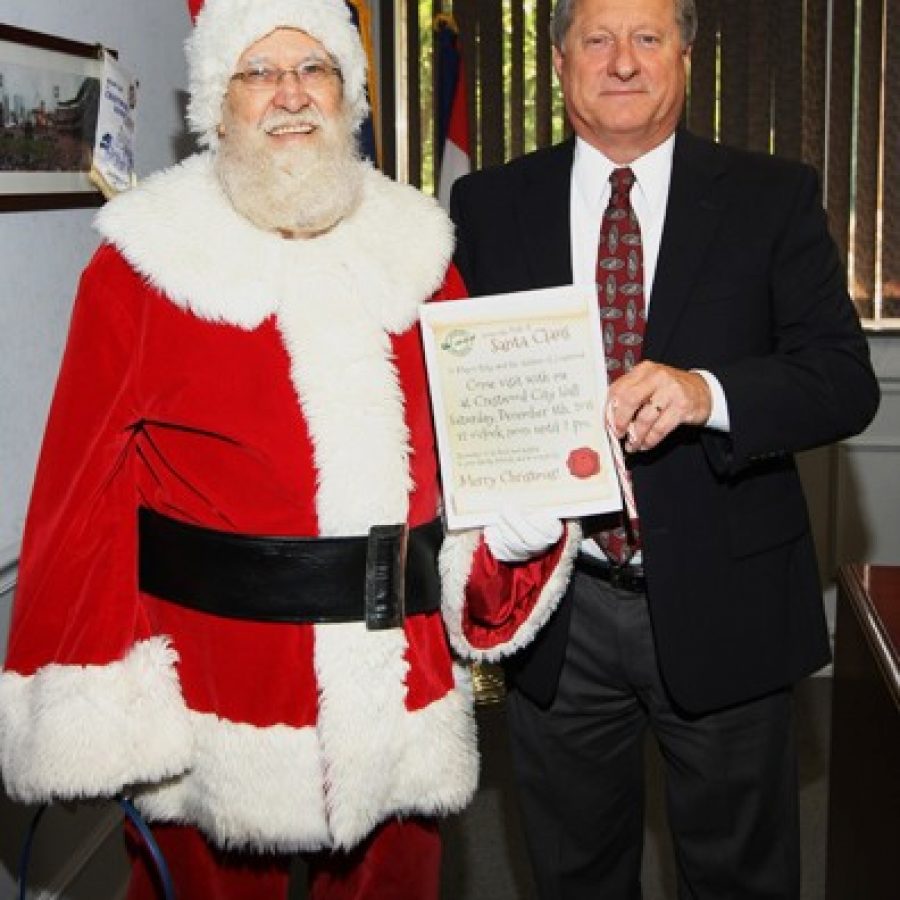 Santa Claus recently came to Crestwood's City Hall to invite the city's children to spend a fun-filled afternoon with him on Saturday, Dec. 5.
Santa also invited the businesses of Crestwood to participate in the second annual Holiday Tree Decorating Contest planned for the month of December. Led by community volunteers, these efforts aim to bring residents together, brighten the Watson Road corridor and boost foot traffic in Crestwood businesses as the city awaits redevelopment, according to a news release.
"While the 43 acres of blighted mall is a challenge to Crestwood, we are focusing on the future as we work to bring our community together and light up the Watson Road corridor during the holidays," Sue Bremehr, a Crestwood resident and community volunteer, stated in the release. "We've got more than 300 businesses and 11,000-plus residents who are eager to see a vibrant Crestwood and reenergized business district. We are grateful to all of the businesses and volunteers who have joined us in our mission to bring color and cheer to our city during the holidays. "
From 11:45 a.m. to 2 p.m. on Dec. 5, area residents can bring their children, grandchildren, nieces and/or nephews to City Hall, 1 Detjen Drive, for a fun-filled afternoon with Santa. Santa will arrive on a fire truck and be available for photos and a chat from noon to 2 p.m.
Decorations at City Hall will be provided by students from Crestwood and Long elementary schools in Lindbergh Schools. Representatives of the Crestwood Animal Shelter will be on hand to showcase pets available for adoption and Missouri Valley Search and Rescue will offer free Kidz Kardz. Children will also be able to tour the firehouse and have their picture taken with Santa Claus.
"This event is free and open to everyone," Mary Berkholtz, a Crestwood resident and community volunteer, stated in the release. "You can buy a photo package for $19.99 with all proceeds going to Toys for School Kids or take your own photo. We also encourage attendees to bring nonperishable food or hygiene items to be donated to the food pantry at Prince of Peace Lutheran Church.
"The food pantry serves those in need in our community. The first 100 children will also get a goody bag that includes coupons from Crestwood Bowl, Great Clips and McDonald's, as well as many other surprises."
For the second year, businesses will be invited to decorate and display a themed Christmas tree in their public spaces. Area residents can visit each business and rate the tree on a scale of 1 to 5. Everyone who votes will be entered into a drawing for one of four gift baskets containing items donated by local businesses. Some businesses will offer incentives to stop by and rate a tree. Last year's winning trees were Malone's Grill and Pub, City Music, and the office of Dr. Barbara Pfyl, chiropractor.
"We were thrilled with the response last year and are excited to bring the tree contest and day with Santa Claus back for the benefit of our community," Bremehr stated. "Our ultimate goal is to have the entire Watson Road/Route 66 corridor lit for the holidays …"
For more information about the event or for businesses interested in participating in the holiday decorating contest, call Bremehr at (314) 280-5893.