Rockhurst baseball will have south county flavor for the next few years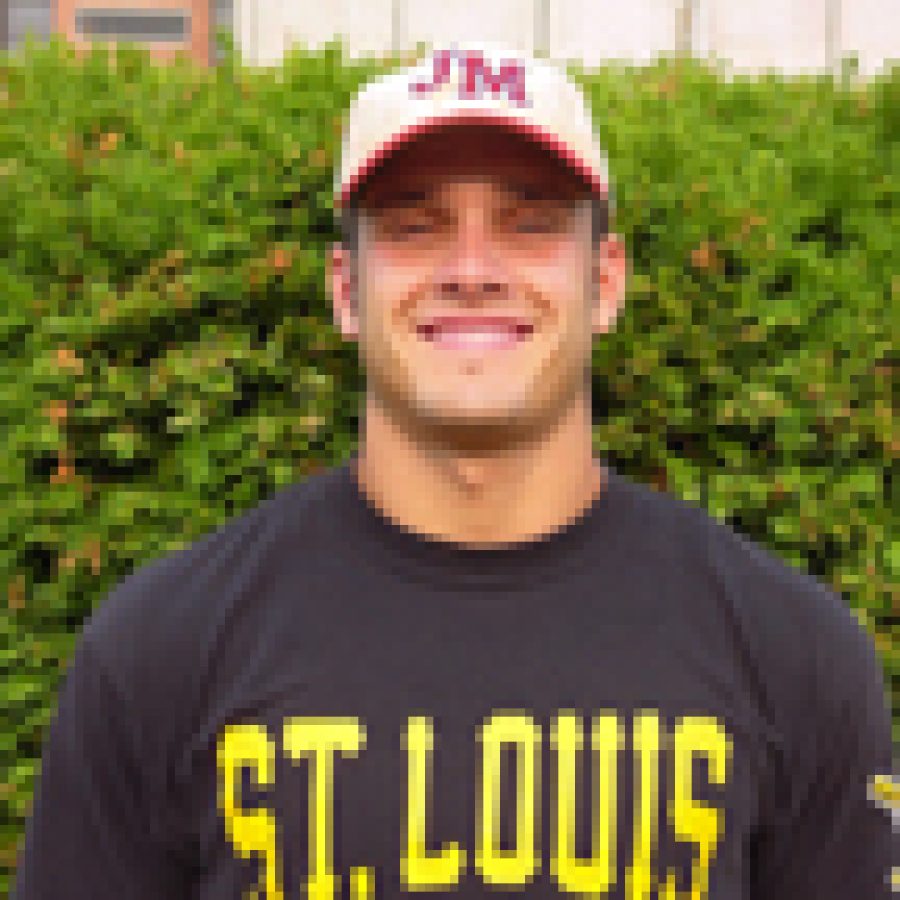 Over the next four years, the Rockhurst University baseball team will have a unique Johnny Mac flavor on its roster.
That would be due to the fact that four members of the Johnny Mac Red Thunder baseball team will attend Rockhurst with the hopes of making a significant impact on the Hawks' roster. Outfielders Greg Davenport and Justin Fujarski, shortstop Steve Braun and third baseman Jason Brown are all slated to attend Rockhurst this fall.
"It is unusual," Johnny Mac President Jim Muskopf told the Call in regard to the four players attending the same university. "But he (Rockhurst head coach Gary Burns) told me that he wanted to recruit in the St. Louis area in order to compete with UMSL (the University of Missouri-St. Louis) in the Great Lakes Valley Conference."
Rockhurst University in Kansas City is an NCAA Divi-sion II school that is in the transition from the Heartland Conference to the Great Lakes Valley Conference.
The Hawks posted a record of 31-28 last season, but have participated in three NCAA Regional finals in the last five years. Rockhurst also appeared in the College World Series in 1999.
It was the school's recent success in postseason play along with Burns' coaching style, that drew Steve Braun to his decision to attend Rockhurst.
"Rockhurst was the first to offer me something," Braun said. "Coach Burns seems like a great guy, and they're a very good Division-II team."
Braun batted a stout .470 this summer for Johnny Mac with 12 doubles, two home runs and 26 runs batted in. The Mehlville Senior High graduate also was one of the cornerstones to the Panthers' historical run to the state semifinal as he held a .384 batting average with three home runs and 27 runs batted in.
"Steve will walk in to Rockhurst and start right away," Red Thunder head coach Nick Beckmann said. "He's flat out the best player on my team. The kid has flat-out talent and is probably one of the hardest workers I've seen around."
Brown also liked Burns' coaching style and became aware of the Rockhurst program through Muskopf.
"I had heard about Rockhurst from Jim Muskopf," Brown said. "Mr. Muskopf set up a profile for me and we sent it to coach Burns. I went up there and really liked the way coach Burns runs the team."
This summer Brown boasted a .347 batting average for the Red Thunder with a team-leading six home runs and 36 runs batted in. He also was a member of the DeSmet baseball team that took runners-up honors to Hickman at the state championships. Brown had a .390 batting average with 10 doubles, one triple and one home run along with 14 runs batted in.
"Jason has the tools to be a good player," Beckmann said. "If he works hard and fixes some holes in his swing, I see him starting by his sophomore or junior year."
The Red Thunder's Justin Fujarski chose Rockhurst after hearing about the school through Doug Chandler, the coach of the St. Louis Pirates baseball team.
"I was playing with my fall team (the St. Louis Pirates) and coach Chandler told me that they (Rockhurst) were looking for outfielders. I honestly didn't think that I would have gotten a better deal from anyone."
Fujarski carried a .382 batting average with 13 doubles, four triples, two home runs and 20 runs batted in for the Red Thunder this past Summer. He also had a solid senior season at Oakville Senior High as he held a .306 batting average with six doubles, two triples and 11 runs batted in.
"Justin had a really good season," Beckmann said. "He had a lot of tools to succeed at the college level. Justin has speed and a good bat, and if he works hard, he'll be playing ball for the next four years at the college level."
Greg Davenport primarily chose Rockhurst because of its strong academic tradition. He also hopes to obtain a spot on the Hawks roster this fall.
"Rockhurst is a very nice school, and a friend of mine from DeSmet is also going there," Davenport told the Call. "As far as baseball goes, I'm just hoping to play."
Davenport batted .413 this summer for Johnny Mac with 10 doubles, four triples and 21 runs batted in. He also was on the DeSmet baseball team in which he had a .357 batting average with seven doubles and 11 runs batted in.
"Greg was probably my biggest surprise this season," Beckmann said. "He came in and played way above average ball. He reads the ball off the bat really well and through hard work, he's become an above average ball player."
Beckmann is happy to see all four of his former players get a chance to play at the collegiate level and believes that Rockhurst will be a good fit for the four.