Robinson reflects on first year as Crestwood mayor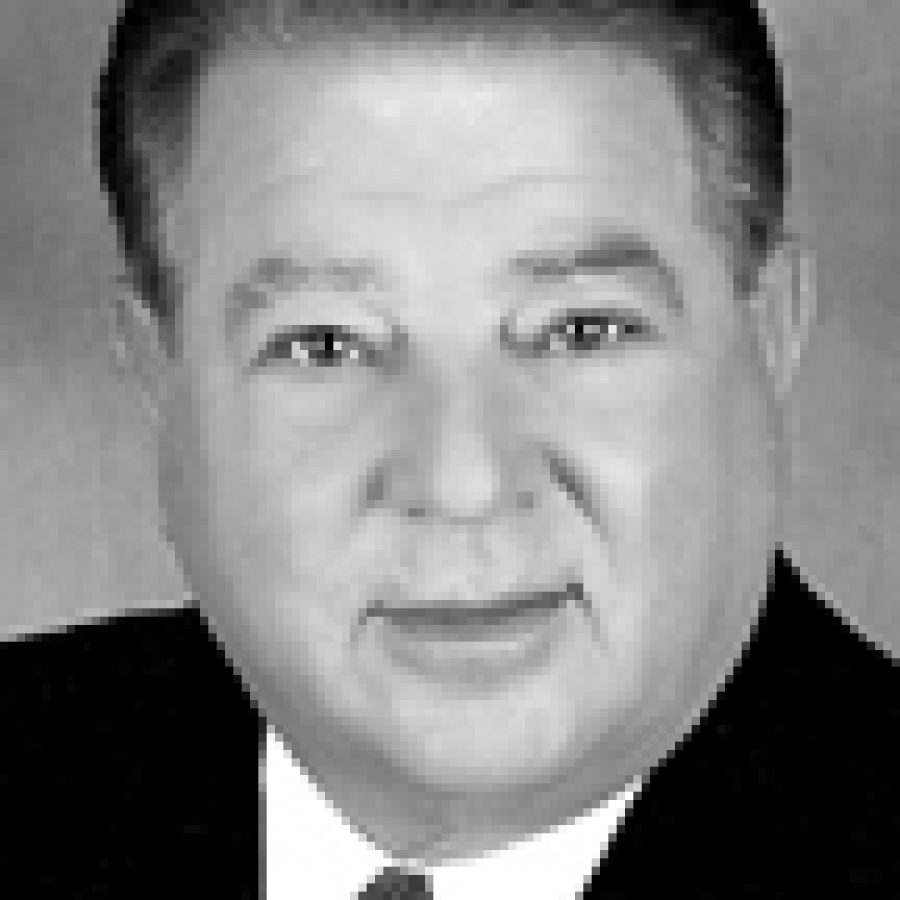 A little more than a year after being sworn in as Crestwood mayor, Roy Robinson said he has few regrets and "probably will" run for re-election in 2008.
But that wasn't always the case.
"My first eight days, I wondered why in the hell I took this job," Robinson said. "You just wonder: 'Why would I need this?' But after thinking about it and having a lot of people in the community provide me with a lot of support, I just finally said let's get the job done."
In a lengthy conversation last week with the Call, Robinson detailed both the triumphs and headaches he has experienced in his first year as mayor.
Robinson's first year in office has seen voter approval of Proposition S — a tax-rate increase of 20 cents per $100 of assessed valuation. Crestwood voters approved the tax referendum in April to help retire more than $3.5 million in debt and credit expenses.
"I think Prop S, if nothing else, not only did it help us resolve a debt that I didn't know how we were going to get out of, but it also gave me a feeling that … what we accomplished during the year up to that point, people believed that we were sincere in what we were doing," Robinson said.
The mayor also won the Board of Aldermen's approval for new City Administrator Frank Myers, who was hired in January, and new Police Chief Michael Paillou, who was promoted to that position in May. Both men essentially replaced former City Administrator and Police Chief Don Greer, who filled both positions from December 2002 until his retirement this year.
But Robinson said that in the early stages of his tenure as mayor, his patience and resolve immediately were tested by people he characterized as "obstacles."
"The environment was very cold," Robinson recalled. "There were people in the city who thought they were going to control me. But they found out that wasn't possible. I've been around this business a long time. Fortunately, I've had a lot of experience with that kind of people. My management skills provided me with the necessary tools to make sure that none of that happened.
"I made sure that those who were the obstacles realized that they had a real problem on their hands — and that was me. And I wasn't going away."
Something Robinson identified as an immediate problem occurred less than an hour before he was sworn in on April 26, 2005.
The Board of Aldermen voted 5-3 to approve an agreement with the Westfield Corp. to lease office space at the Westfield Shoppingtown Crestwood while the scheduled retrofitting of the Crestwood Government Center took place. After Robinson took office, aldermen reversed that decision by a 7-0 vote in July 2005, and the mayor believes canceling the lease agreement saved the city hundreds of thousands of dollars. Aldermen ultimately halted the retrofitting of the Government Center and defeased bond-like certificates issued to fund the project, again at a savings to taxpayers, according to the mayor.
With the lease agreement still fresh in Robinson's mind in April 2005, he said he was informed on his second day in office that a city employee had filed a sexual-harassment complaint against him. He eventually agreed to undergo sensitivity training for the accusation, and the city did not have to face a lawsuit because of it.
Robinson said he still does not know who accused him of sexual harassment because the complaint was anonymously filed.
But he is certain that the complaint had no merit and was simply done to try to undermine his authority in his first days as mayor. Robinson said neither he nor the city were ever at risk because the anonymous woman who reported sexual harassment said the incident allegedly occurred before he was in office.
"I was informed that some female in the administrative side of the house had filed a sexual-harassment complaint against me," Robinson said. "Fortunate for me, I'm federally trained in those situations. And with my experience and my background in equal-opportunity matters, I quickly took proper action to make sure that the city wasn't put at risk. And the sad part about all that is it was done … I'm sure that it was done to try to put me in my place to prevent me from doing the things I was elected to do. Sadly, it was done anonymously, so I never did know for sure who did it. I had my suspicions of course. But I don't think they realized what they were doing because they made the allegation before I was ever sworn in. They thought they were putting me at risk or the city at risk, and I was not at risk and the city wasn't at risk because I hadn't even been sworn in. So it showed me that those that did it did it real quickly to try to put me in my place, and they failed to accomplish that. It's just ironic what people will do."
Besides the sexual-harassment accusation, Robinson said he had trouble during his first year simply trying to work with city staff and other elected officials and establish a positive relationship.
He said that while no such problems exist now with current city employees and staff, Robinson acknowledges that the first year was difficult and believes many staff members fell prey to personal politics to hurt him.
"Unfortunately, a lot of politics flowed over the norm," Robinson said. "Normally after the election in a month or two, things smooth out and people realize we're all here, no matter if you're in disagreement with what the outcome of the election was, we're all here for the same purpose. And that's to do good for our community. Normally, the bitterness is gone. That doesn't mean you agree on everything, but it means a little bit.
"I've never encountered anything in this level of politics that was so vicious after the fact. And I can understand when you get down and you're fighting in the political arena, sometimes even though you don't mean it to be something that's hurtful or whatever, a lot of times you say things. Even if it's the truth, it's hurtful. And people's feelings sometimes are easily hurt. And also anytime you get people who feel that they're in power and their ability to be involved in the city is decreasing, this makes it pretty bad for them. A lot of people worked in the city or for the city for 20, 30 years in some capacity, and they just feel that this candidate will not be the kind they'll be able to work with or that candidate won't want them in there. And I've tried not to do that."
In light of the criticism and speculation Robinson said he faced from people in the city during his first year in office, the mayor admits that he did not always make the correct decisions as well.
A regret in particular that Robinson said he wishes he could undo is asking all volunteer members on the city's boards, committees and commissions to resign.
"One thing that I wish I hadn't have done or done it differently was I would not have asked for all the resignations of board members and commissions," Robinson said. "And if I had it, I wouldn't let the city administrator put the word out. I mean, I was a novice at this position. I was trying to get the boards and stuff filled and get them in a proper structure as best I could. And the good part about it, even though I did call for the resignations, many of them I didn't accept. I kept most boards … some continuity in the boards with people who had been on those boards.
"But I also had people that had supported me, or a few of them, you know, who wanted to help and never had an opportunity to serve the community in a volunteer service and asked me if they could work some place in one of the boards or something. So I think some of that in the early stages of me coming into office I probably could have done different or would do differently today."
Robinson said he also has learned to never get ahead of himself or be too optimistic about any future plans in the city, especially when it comes to the development of Crestwood's business community.
"I get excited when I think some good things because most of the time I'm getting it right from the beginning," Robinson said. "But I've learned in this last year that people tell you a lot of things. And until you see it all accomplished and they start digging and start building, wait. Don't get too excited until after all these things start to be up. I can be excited about Shop 'n Save because I cut the ribbon last Wednesday (June 14). So that part's good, and I'm now looking for the rest of these empty stores or many of these empty stores to start building up and I think they will."
The mayor said his top priority for the rest of this term is to help restore many businesses in Crestwood and focus on efforts to attract more retail.
With that in mind, he said he is especially looking forward to hearing from Westfield Corp. representatives during their scheduled visit to Crestwood at the city's July 25 Board of Aldermen meeting.
Robinson said these plans to improve the city's economic picture are what drive his desire to run for mayor for a second term in 2008.
But after a recent bout with pneumonia, the mayor said he also has his health to consider if he wants to serve a second three-year term until 2011.
"I probably will run again unless I have health problems," he said. "Or, you know, if I weren't doing a good job or wasn't accomplishing anything, I might take myself out. This is not a life for me. I'm just doing something that I feel that … I'm hopeful that we will be able to put our city back into being known as the best city in south county. And I think it will. I don't have any illusions that it won't.
"Financially, we may never be the city that we once were. But in respect and the business community and how they view us, I think for a city that's not sitting directly on an interstate, we're going to be very viable and a good place to have a business."
Robinson said that even though the city still is recovering and paying bills from previous administrations and the negativity of his first few months in office admittedly bothered him, he is confident he made the right decision to run for mayor and is grateful for being elected.
"I think if people look and see some of the things that we've talked about today, they'll see that this has not been a cakewalk," Robinson said. "This has been a challenging first year. In my eyes, we have accomplished a great deal with more to come. I think we will not have anymore people going and doing whatever they want to on their own. We now have rules. I hear a lot, but I'm starting to back away from being too involved in the day-to-day operations other than I want to be informed. I want to be kept abreast of what's going on because the people expect me to know when they ask me. And that's Mr. Myers' responsibility to make sure that I and the board are completely aware of anything that's significant.
"For awhile there, there was almost this feeling of: 'Who's this guy? What's he all about?' I think after a year, they know that I'm here for the right reasons. I'm too old to be looking for a new career and I believe I've given something back to our community. I believe these efforts will prove to be very vital in the future of this community. It's fun in some aspects. The first few months, it wasn't fun. But I'm a strong administrator. That's the part I think might be deceiving. I'm open. Sometimes being too open can cause you a lot of harm.
"But I believe in telling people the truth and being straight forward and I think I've done that. And I think some people appreciate it and some don't. But the majority do. We're just going to move forward, and I hope that by the end of 2007, we've seen some real good changes to our community. And I think it will happen."
Next week: Mayor Roy Robinson discusses his future plans for the city of Crestwood.