Originally Published on: 2009-11-4
By Evan Young
Staff Reporter
news3@callnewspapers.com
The fact that police officers in neighboring cities sometimes are forced to shoot threatening animals illustrates what "little support" St. Louis County animal-control services provide, Crestwood Mayor Roy Robinson said last week.
In response to a recent request from Ward 3 Alderman Jerry Miguel to either prove or retract statements he made in September regarding animal-control practices in Kirkwood and Webster Groves, Robinson read a prepared statement to the board during its Oct. 27 regular meeting.
"Apparently this alderman is concerned that my comments at a recent mayor's town-hall meeting regarding the lack of an effective animal-control program in some of our neighboring cities somehow placed Crestwood in an unfavorable light," Robinson said.
City officials have recommended the elimination of Crestwood's own animal control program as part of a five-year plan to reduce annual expenses. City Administrator Jim Eckrich has noted Crestwood could obtain animal control services through St. Louis County at no additional cost, which is what nearby municipalities already do.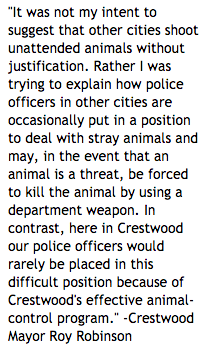 But while making the case for retaining local services at a Sept. 10 town-hall meeting, Robinson indicated Kirkwood and Webster Groves authorities take animal-control matters into their own hands.
"When they pick up an animal, and it's got a problem and they can't handle it or whatever, they shoot it," Robinson said at the town-hall meeting. "I mean, you don't hear anything about this, but it's done. There's a report made, and they shoot the animal. And that's how they take care of your pets that get out.
"And it's all perfectly legal, because they make a report, and it says (the animal was) shot by a city-owned weapon, and that ends the deal with the pet. Now, most of us don't want our pets to be shot in that manner unless they are attacking people, or the police officers feel threatened, I have no problem with that. But to get rid of animals with that method doesn't sit well with me."
The Call subsequently contacted Kirkwood and Webster Groves police officials, who said officers would shoot an animal only if it were dangerous and all other efforts to control it had failed. But Robinson insisted at a board meeting two weeks later his town-hall remarks were correct.
"I'm absolutely correct on that, no matter what anybody says in the paper or otherwise," he said Sept. 22. "That was a staff study done here by our people in the city, and it is the gospel. There is nothing that was said falsely in that meeting."
Shortly before the board adjourned its Oct. 13 meeting, Miguel pulled out a city memorandum, passed it down the dais to Robinson and asked the mayor to cite the source of his statements about Kirkwood and Webster Groves.
The May 14 memo, titled "Animal Calls, Police Response," was sent to Eckrich by Crestwood Police Chief Michael Paillou. It contains information from Webster Groves, Sunset Hills and Kirkwood police officials about how their departments respond to animal control calls.
"Sgt. Gary Klienkemper and Lt. Mike Lang (of the Webster Groves Police Department) were contacted concerning this issue," the memo states. "Sgt. Klienkemper indicated that his officers will respond to animal-related calls. Gary also indicated that his officers take no action, but will contact animal-related agencies.
"Webster Groves (Police Department) prohibits the transportation of any type of animal in their patrol vehicles. They do not provide any equipment to handle animal-related calls. If an animal appears to be a threat to public safety, it will be euthanized with a department firearm. A supervisor must authorize this action …
"Lt. (Bob) Kosyan of the Kirkwood Police Department was contacted regarding his officers responding to animal-related calls," the memo states. "Lt. Kosyan informed us that they will respond to animal-related calls. In the case of an injured or sick animal, Kirkwood Officers will not get physically involved unless the animal is a threat to the public. In this case, the animal will be euthanized with a department firearm. This action will be documented in the form of a memorandum.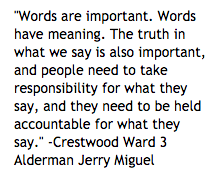 "Kirkwood officers will attempt to secure dogs at large and convey them to the Police Department. The dog will be kept in a kennel and attempts to locate the owner are made. If this is unsuccessful, St. Louis County Animal Control is contacted for pickup."
After reading an excerpt of the memo aloud, Robinson said the document supported his town-hall comments. He later refused Miguel's request to further validate or apologize for those statements.
"Well I'm not apologizing to Kirkwood or Webster Groves, if that's what they do, and the other thing is all I'm emphasizing is we have a better program here," Robinson said. "If you don't like the way I say it, that's tough … I took my information from a staff report, and I plan on continuing to do that, and I speak from the heart. I don't speak trying to confuse people about my objectives. You'll have a long wait if you're waiting for me to come back and apologize for anything. So, I'm not even going to talk to you anymore about this …"
In his Oct. 27 statement to the board, Robinson said the purpose of his town-hall comments was to "draw a clear distinction" between Crestwood, which has its own animal-control division, and cities that rely on the county's services.
"It was not my intent to suggest that other cities shoot unattended animals without justification," he said. "Rather I was trying to explain how police officers in other cities are occasionally put in a position to deal with stray animals and may, in the event that an animal is a threat, be forced to kill the animal by using a department weapon. In contrast, here in Crestwood our police officers would rarely be placed in this difficult position because of Crestwood's effective animal-control program.
"My comments were in fact based on an internal report that has been referred to by one of the aldermen. In hindsight, I would have provided more details regarding the circumstances under which police officers in other cities are forced to act as animal-control officers because St. Louis (County) provides so little support. The issue, however, is not about the other cities, but about Crestwood's reliable and professional animal-control program. Hopefully this clarifies any misunderstanding."
Miguel later acknowledged the mayor's response and said he would submit a transcript of Robinson's town-hall comments, his statement that evening and a copy of the May 14 memo to the city "so that there be a complete record of what was said."
"Words are important. Words have meaning," Miguel said. "The truth in what we say is also important, and people need to take responsibility for what they say, and they need to be held accountable for what they say."