Returning players bolster Mehlville squad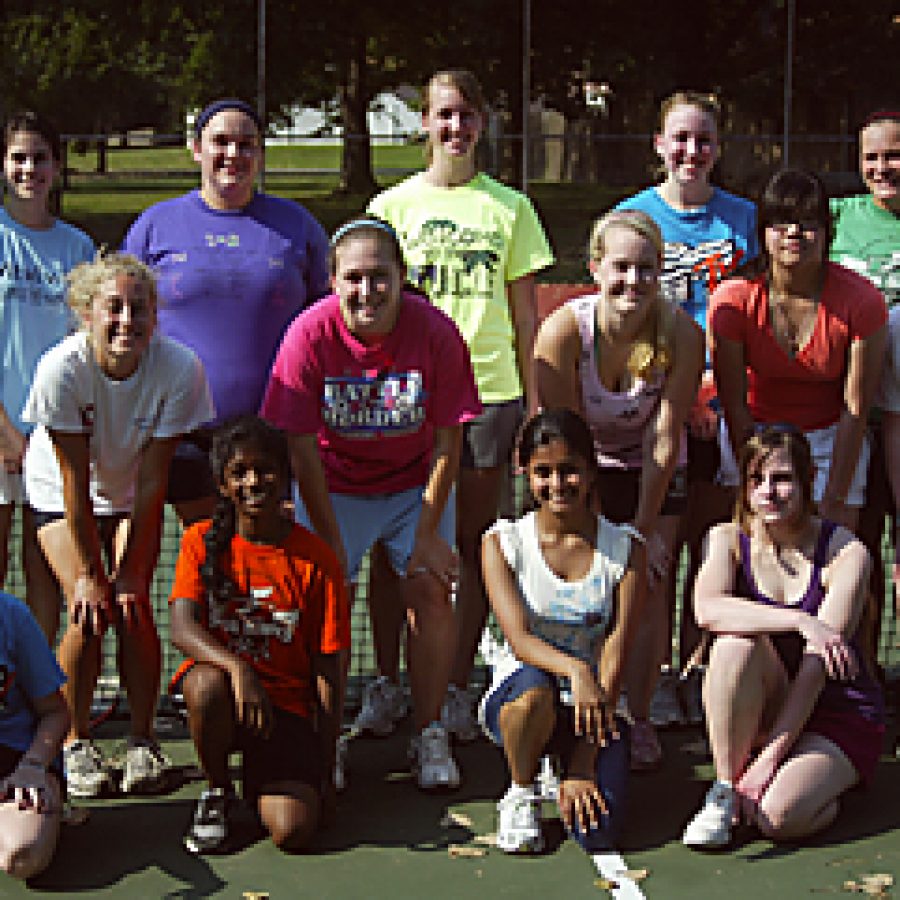 Simply stated, the Suburban West Conference is one of the most competitive conferences in the state when it comes to tennis.
Mehlville Senior High School girls' tennis team head coach Bill Ebert hopes his roster full of seasoned veterans will help keep the Panthers competitive in conference play for the 2009 season.
"We've got just about everybody coming back," Ebert said. "Hopefully, the experience that these seniors and juniors have will make them successful."
Junior Mary Gonzalez returns for her third season as the Panther's No. 1 singles player.
"Mary's been playing the last two years as our No. 1 singles player," Ebert said. "I think that she has the ability to get through districts either this year or next year."
Senior Erika Brown will take on the No. 2 singles role again this season.
"Erika played No. 2 singles last year and I see her playing there again this year," Ebert said. "She's a real strong play at No. 2."
Another senior who will see time in singles play is Amanda Cooley.
"Amanda's a really gifted athlete," Ebert said. "I wish that she came out for tennis earlier than last year."
Junior Sarah Rapp moves from doubles to singles play this season and could play No. 4 singles, according to the Mehlville coach.
"This is Sarah's first year at singles after playing doubles last year," Ebert said. "I could see her fighting for the No. 4 singles spot this year."
Another member of the varsity team who could compete for a No. 4 singles slot is senior Jamie Jenkins.
"Jamie played all four years mainly at doubles," Ebert said. "She could also be a No. 4 singles player this year.
Senior Pryia Dixit joined the Mehlville tennis team last year and spent the entire season playing doubles.
That's where Ebert believes she'll play during the 2009 campaign.
"Pryia played doubles last year which was her first year on the team," Ebert said. "I see her being a doubles player again this year because that's her strong suit."
Melissa Buechlein is another senior who will see a lot of time at doubles in 2009, according to the head coach.
"Like Pryia, Melissa played doubles as well last year," Ebert said. "We most likely will keep her at doubles again this year."
Mehlville Girls' Tennis
Aug. 26 Oakville A 4:15 p.m.
Aug. 27 Ladue A 4:15 p.m.
Sept. 1 Ritenour A 4 p.m.
Sept. 2 University City A 4 p.m.
Sept. 8-11 Parkway West Doubles A 4 p.m.
Sept. 15 Marquette A 4:15 p.m.
Sept. 16 Lafayette A 4:15 p.m.
Sept. 17 Rockwood Summit A 4:15 p.m.
Sept. 21-24 Conference Tourney A TBA
Sept. 25 Parkway Central A 4 p.m.
Sept. 28 John F. Kennedy A 4 p.m.
Sept. 29 Lindbergh A 3:30 p.m.
Sept. 30 Lutheran South A 3:30 p.m.
Oct. 1 Eureka A 4 p.m.
Oct. 2 Parkway South A 4 p.m.