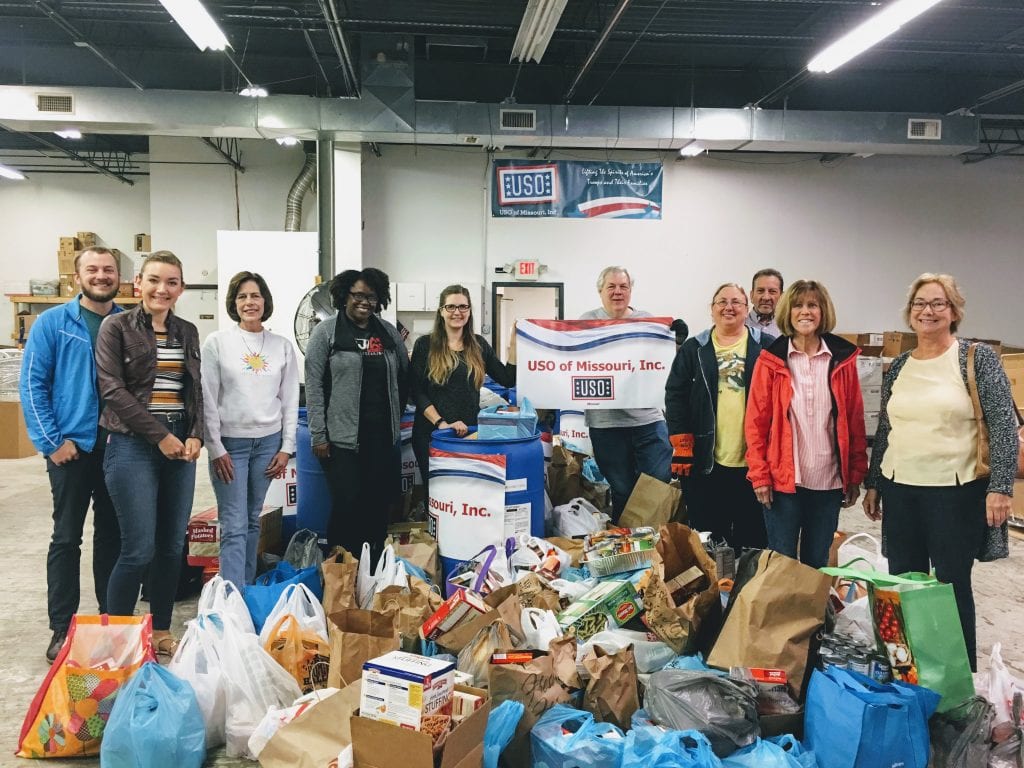 The fifth annual Operation October food drive to benefit the USO of Missouri brought in record levels of food for Thanksgiving dinners for military families this year thanks to a new sponsorship by Call Newspapers.
Residents of south county, Arnold and Columbia, Ill., came out in droves to local banks, credit unions and Call Newspapers in an effort to fill the wish lists of military families at Thanksgiving. The October drive provides Thanksgiving meals — everything except the turkey — for active military families throughout the state of Missouri and in four counties in Illinois surrounding Scott Air Force Base.
"By far this is the most successful food drive, partnering with you guys, that we've ever had," USO of Missouri Development Director Christine Trotter told the Call.
Volunteers assembled 2,184 baskets this year, including 400 baskets compiled from items donated by residents in south county. The loads from various banks and credit unions spanning the Call's circulation area from Illinois to Sunset Hills required multiple trips to the USO's assembly site, where volunteers from the Call sorted the local donations so they could be assembled into the baskets.
The baskets are assembled in a roasting pan and include stuffing, gravy, sweet and mashed potatoes, green beans, a pie crust, pumpkin pie filling and cranberries, with a gift card for a turkey.
The USO finds needy military families by asking commanders which families are in need who are E-5 and under. The baskets go out to military families ranging across Missouri, from Springfield to St. Joseph to Fort Leonard Wood, along with the Illinois side of the St. Louis region.
Boeing held an internal food drive for its employees which donated a large amount of food, but the largest community food drive came through the Call, Trotter said.
Call Publisher Debbie Baker said she was thrilled with the response from the community and how many families were helped through donations from south county.
In previous years, the Operation October drive focused on Crestwood and Sunset Hills, and this is the first time it has been promoted throughout south county.
"We're thrilled we could contribute to a happy Thanksgiving for these families," Baker said. "We were happy to expand throughout south county and get as positive a response as we did."
The effort would not have been possible without the Call's loyal readers, who are very supportive of the military, she said.
"I want to say thank you to our readers for their generosity, the co-sponsors who were our donation locations and the help of our entire staff," Baker said. "It shows how supportive this community is when it comes to filling a need. We knew the Call was well-read, and this just reinforces more than ever that our readers are big contributors to the community."
Baker looks forward to sponsoring the food drive again next year.
"This is the first time that we've partnered with Deb at the Call, so this was awesome," Trotter said. "What she did for us was phenomenal."
The weekly ads during October promoting the drive gave the USO name recognition in south county that it had never had before, which is helping the organization fulfill its primary mission of engaging more with the community, she added.
"They may not have known who we are but now they do," Trotter said. "(The Call) gave us exposure to the community to learn more about us."
Co-sponsors who served as drop-off locations:
63010 – Arnold
American Eagle Credit Union
1334 Jeffco Blvd.
Century Credit Union
3920 Jeffco Blvd.
63119 – Webster Groves
First Bank
7495 Watson Road
Montgomery Bank
1229 S. Laclede Station Road
63123 – Affton/ Green Park
Call Newspapers
9977 Lin Ferry Drive
Enterprise Bank
5721 S. Lindbergh Blvd.
Regions Bank
5600 S. Lindbergh Blvd.
63125 – Lemay
American Eagle Credit Union
3805 Union Road
Century Credit Union
1540 Lemay Ferry Road
Midwest BankCentre
2191 Lemay Ferry Road
Midwest BankCentre
6969 S. Lindbergh Blvd.
Montgomery Bank
3808 Union Road
63126 – Crestwood
American Eagle Credit Union
9895 Watson Road
BMO Harris Bank
9206 Watson Road
Commerce Bank
10010 Watson Road
First Community Credit Union
9550 Watson Road
Midland States Bank
11670 Gravois Road
63127 – Sunset Hills
Bank of America
10230 Watson Road
BMO Harris Bank
3701 S. Lindbergh Blvd.
Enterprise Bank
3890 S. Lindbergh Blvd.
63128 – Concord
Commerce Bank
4100 Rusty Road
FCB South County Bank
12000 Tesson Ferry Road
63129 – Oakville
Bank of America
4495 Lemay Ferry Road
First Community Credit Union
4527 Telegraph Road
Fortune Bank
6121 Telegraph Road
Patriot Credit Union
4343 Telegraph Road
Midwest BankCentre
5575 Telegraph Road
62236 – Columbia, Ill.
Midland States Bank
200 Quarry Road