RADIOHEAD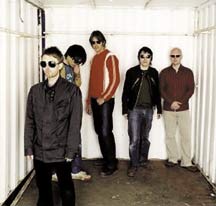 By ALAN SCULLEY
For the Call
With its three most recent CDs, 2000's "Kid A," 2001's "Amnesiac" and the recently released "Hail to the Thief," Radiohead has done more to reinvent their musical image than any other band or artist in recent memory.
After debuting as a fairly conventional moody British guitar pop band on the CD, "Pablo Honey," the group advanced considerably on its second CD, "The Bends."
Then came "OK Computer," an epic guitar rock masterpiece that combined old-school guitar rock, modern electronics, potent melodies and adventurous song arrangements. "OK Computer" was widely hailed as the finest CD of 1997, earned Radiohead scores of band-of-the-year honors and established the group as the kingpin of British rock. Then Radiohead tore apart everything the band had built with those first three CDs.
With "Kid A," a new Radiohead signature emerged. In place of the edgy, angular guitar riffs that had typified "OK Computer," the new sound was largely ambient, with computer-generated sounds and keyboards providing much of the music.
Conventional verse-chorus song structures were radically rearranged or abandoned altogether, often creating a more free-form style that challenged the very definition of a pop or rock song. Many of those characteristics carried forward to "Amnesiac" — whose tracks were recorded during the same sessions that yielded "Kid A" — and now to "Hail to the Thief."
Of the five members of Radiohead, guitarists Jonny Greenwood and Ed O'Brien stood to be the most affected by the new musical direction. After all, their guitars, which had been the dominant instruments in Radiohead's earlier sound, were pushed to the background and served mainly to support and accent the computer/keyboard sonics that characterized the music on the newer CDs. Greenwood, though, said, like the other members of Radiohead — singer Thom Yorke, drummer Phil Selway, bassist Colin Greenwood and O'Brien — he welcomed the new directions the music took.
"We never really, any of us, had that attachment, that certain attachment to our instruments," he said. "I mean, I came fairly late to playing guitar anyway and I always thought, I mean I enjoyed it, but not any more or less than anything (else). We've always been interested by records … I don't kind of listen to records thinking 'I wish I could play guitar like that.' We were thinking 'I wish I could write a song like that' or 'I wish I was in a band that sounded like that.' I always thought like that."
That Greenwood was ready for change shouldn't surprise those who knew about the mood that enveloped the band during the swirl of intense touring, attention and expectations that came with the success of "OK Computer."
For one thing, the band members — and Yorke in particular — believed the band had hit a standstill and there was no new territory to mine within the sound the band had established on the first three CDs. On a personal level, band members were disenchanted. The band was spent from the touring and promotion of "OK Computer" and the band members had become determined to reinvent their entire roles in the band and their methods for making music.
The quintet arrived in the studio to begin work on a new CD in February 1999 literally with no idea where their instincts would take them. Over several months of experimenting instrumental roles within began to blur and entirely new ways of creating music together emerged — a process that continued when the band had to create ways to reinterpret the "Kid A" and "Amnesiac" material for their live show.
The music that emerged on "Hail to the Thief" retains some of the signature elements of "Kid A" and "Amnesiac." "Backdrifts" and "We Suck Young Blood" are among the several songs that are strongly flavored by electronic tones and percolating programmed rhythms, while "Where I End and You Begin" is among several tunes where Yorke's vocals gain some of the chaotic quality that strongly flavored "Kid A" and "Amnesiac."
But there are many conventional and structured moments as well, and repeated listens reveal a CD that doesn't sound as alien as the previous two CDs. Even the guitars make a bit of a comeback on "Hail to the Thief." For instance, "2 + 2 = 5," which begins with a percolating electronic backing for Yorke's fluttering vocal, gets a considerable rocking groove on with its catchy song-climaxing guitar break.
"I think this record is certainly centered around Thom's singing, an that's the first time we've done a record like that," Jonny Greenwood said, noting another defining element of the new CD.
Radiohead will play at 8 p.m. Sunday, Aug. 24, at the UMB Bank Pavilion. Tickets range from $37.50 to $42.50 for the show, which also features Stephen Malkmus and the Jicks.