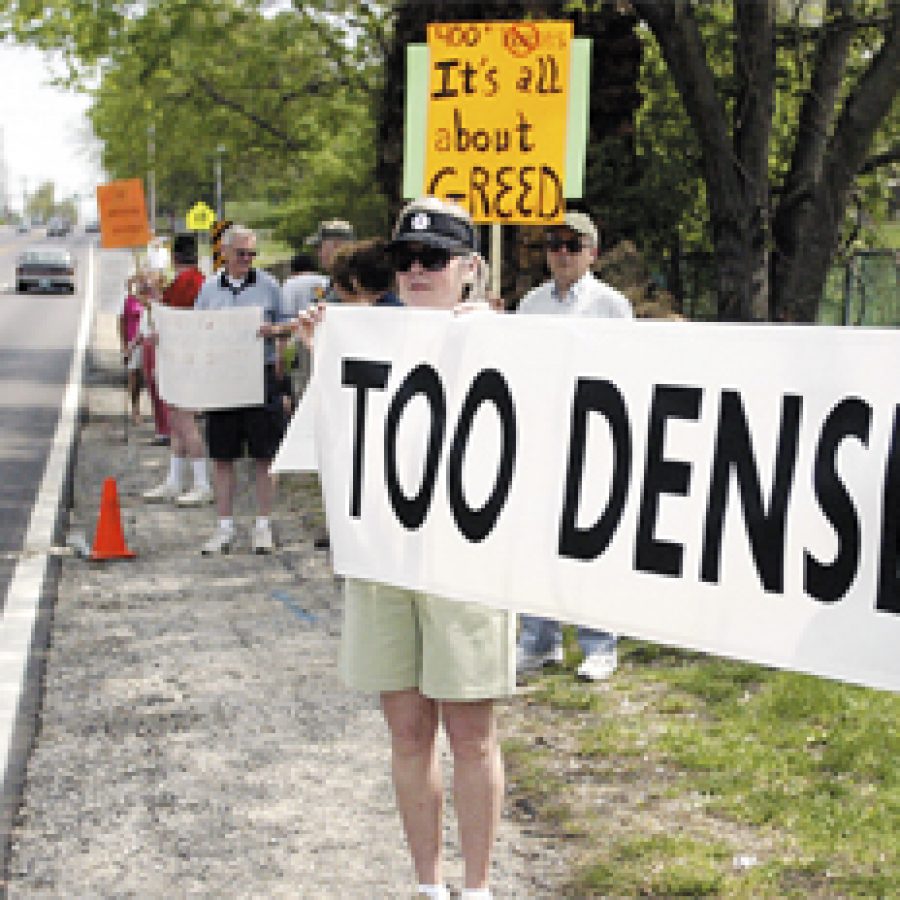 Everyone involved in a proposed 444-home subdivision across from Grant's Farm believes it's safe to say that the development will not be constructed as planned.
The question that remains for development of the Villages at Gravois Creek concerns what compromises can be reached to make all sides live with the project.
Roughly 250 people representing various schools, public services and residences in the Affton area met last week at Lindbergh High School to voice their problems with the development and hear possible solutions from the two county councilmen representing the affected area — John Campisi, R-south county, and Chairman Kurt Odenwald, R-Shrewsbury.
Many of those groups also planned to attend a County Council Committee-of-the-Whole meeting Tuesday— after the Call went to press — when the public would have the opportunity to address the entire council.
For the development, which would contain three sections of single-family homes and condominiums, to proceed, the council would have to approve a zoning change from non-urban to residential.
The county Planning Commission previously approved the change to residential zoning March 6 and is now recommending the move to the County Council.
While the site of the proposed homes sits in Campisi's 6th District, both 6th District residents and Odenwald's 5th District constituents on the other side of Gravois Road have been vocal in their concerns about overcrowding, traffic and flooding problems that the homes could bring.
Affton Athletic Association representatives also have voiced their concerns about the proposed development, fearing the influx of homes could cause additional flooding problems for the association's nearby athletic facilities as well as Grant's Trail.
Cor Jesu Academy, a Catholic girls' high school that sits just east of the proposed site, had planned to purchase roughly 10 acres of land at the proposed 94.4-acre site to use primarily for athletic fields. But the land's former owner, Andrew Busch, sold the site last year to the Gravois Co. — a collection of local developers led by J.H. Berra — for $23.6 million, which breaks down to exactly $250,000 per acre. Cor Jesu still is trying to acquire some part of that land for its expansion plans, and Campisi said he is still in talks with the Catholic school to lay out its options.
With all of these concerns laid out in front of him, Campisi, who introduced two bills to approve the zoning change, said he is continuing to listen to input from all residents before he makes any final decisions. Namely, he is looking into making amendments to the bills to alleviate some traffic overcrowding concerns. One idea he is leaning toward is pushing anticipated traffic emptying out of the proposed homes onto Musick Avenue over to the developer's original plan onto Gravois Road.
"I just think that for the people all along Musick, it would make it a lot tougher for them to get out of their driveways," Campisi said. "And so they'll just have to deal with going out onto Gravois."
While Odenwald and many nearby residents have said they would like to see the number of homes in the development drop from the proposed 444 to the mid-200s, Campisi said the proposed density would not be something he would try to change in the bills. At the same time, he said he believes the number of homes in the subdivision would have to decrease before the County Council gives its final approval.
"I'll tell you the truth," Campisi said. "I'm pretty much satisfied with that type of density in my district. And I know that's not going to make a lot of people happy in Kurt's district, but I have to look at my district and the people that are in my district. And I have to worry about the people that are in my district and I try to do my best to answer all the questions."
Odenwald proposed at the April 12 Lindbergh High School public forum that the number of homes in the Villages at Gravois Creek should drop to about 280.
He said with less homes eating up the proposed area, the overall concerns shared by residents and local public services alike would be more easily handled.
That sentiment was shared by Grantwood Village resident Sheri Brimer, who protested the development Saturday with more than 125 people alongside the area of Gravois Road that borders the proposed site.
"The big thing goes back to density," Brimer said. "If there isn't that many houses, if there's not that many cars, the problems of where it's really going to spill out, it's important, but it doesn't make as grand of an impact."
Saturday's demonstration, which was organized by Citizens Near the Proposed Development at Gravois Creek, was simply a way for people who have issues with the development to get their message out more effectively, said group organizer and Grantwood Village resident Mike Jones.
Jones, who also mediated the April 12 public forum, said while the majority of residents are not strictly anti-development, they are protesting on the grounds that the Villages at Gravois Creek is an irresponsible development that was pushed through the Planning Commission without enough study.
One of those areas of study that Jones said was ignored was the Planning Commission's recommendation of a planned environment unit, or PEU, for the development. The Gravois Co.'s zoning change request calls for a zoning of R-4, which allows for 7,500-square-foot lots. However, the PEU would permit the developer to count common ground area and flood-plain property as part of lot sizes, allowing the developer to fit 444 homes into the area. Because Grant's Trail, which is private property, runs through the proposed development site, Jones said the PEU could be void.
"There's some brand-new contention as to the validity of the PEU as it was approved by the Planning Commission," Jones said. "This has not come up before the Planning Commission and not come up before the Council members that you can't extend a PEU across a flood plain that's bisected by private property. That private property being the area owned by Union Pacific Railroad that constitutes Grant's Trail. That may invalidate the PEU as it extends to that whole condo development, which represents 200 units."
With a full slate of proposals and possible effects of the development to consider, Brimer said she simply wants the County Council to try not to appease one group of people but instead look at the situation as how it affects the entire area.
"I know they're trying to pinpoint and say what one thing or two things because they are trying to appease certain factions," Brimer said. "Well, it's not just that simple. That's the problem. This is a very complicated area, and they're not seeing it as that. And that's the big problem. They're trying to find a quick fix and shut people up. It's not so simple, and they need to address all the issues. We don't want to say: 'If you just do one thing, all the other ones are going to go away.' They aren't. There's still viable concerns.
"We see ourselves as a whole community. And we are not going to relinquish something that could harm somebody else just so we can get what we want in one area. That's not right, and we want them to think in the same way. This is a community issue. It's not just a neighborhood or a 500-foot frontage. It's very different from that."
Campisi said he shares that goal and has been listening to each area of concern from as many groups as he possibly can. These have included Cor Jesu, the Affton Athletic Association and numerous residents in both the 5th and 6th districts, and he plans on meeting again with Grantwood Village homeowners.
"That's to let everybody know I haven't made a decision yet, and this is the sort of thing a councilman does," Campisi said. "He goes to these types of meetings and he listens or she listens. And they take it all into consideration and take it all under advisement, and I believe that's what we're going to do (in the Committee-of-the-Whole meeting.) We'll come up with a solution, hopefully. You're not going to make everybody happy, but we're hoping that there's a good compromise.
"As far as the density goes, yeah, I think I'm pretty much satisfied with that. It'll probably go down a little bit maybe by the end by the time we finally get the final legislation. And that's provided if we are able to work something out with Cor Jesu. So it may go down a bit from that point. But I am happy with the zoning in my area. I really am. Like I said, I know it's not going to make a lot of people happy in the Grantwood Village area, but (the proposed site) is my area."