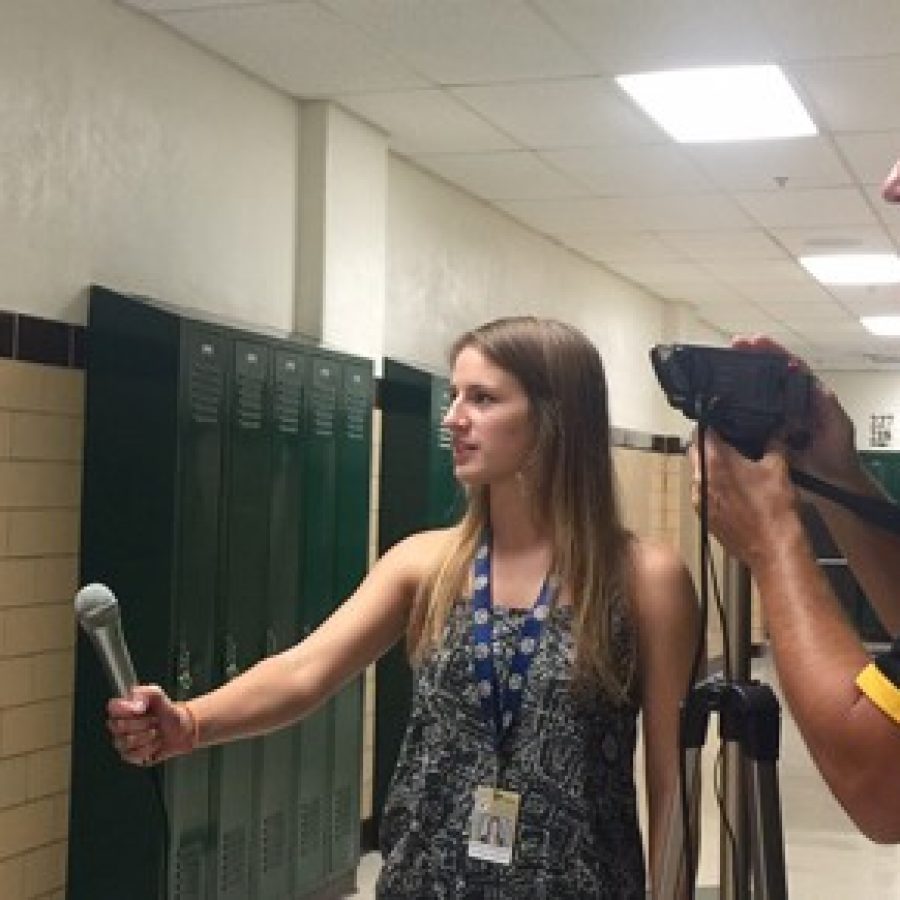 Some local Republican officials have already come out against the Mehlville School District's Proposition R ballot measure, but a prominent local GOP member threw his full support behind the tax-rate increase last week.
Oakville High School graduate Mark Haefner told a crowd of parent leaders that he can't think of a single reason not to support the 49-cent tax-rate increase, which he believes is necessary to maintain the current quality of education in Mehlville.
Haefner's mother is one of the district's state legislators, Rep. Marsha Haefner, R-Oakville.
Even if someone has no desire to support the school district, that resident should still support Prop R for entirely selfish reasons because property values will plummet if the ballot measure fails and Mehlville makes additional budget cuts on top of the $4 million it already cut this year, Mark Haefner said at the Sept. 8 meeting at Mehlville High School.
"If you hate children, that's fine," he said. "Do it because you're greedy. Do it because you want to make sure your home value stays up. Do it because you want to make sure there's not a check-cashing place every other block in our district, that you don't want 50 pawn shops opening up along Telegraph Road, that you want to make sure that our students, when they come out of school, can speak proper English."
Many Oakville residents are most familiar with Mark Haefner for his very public opposition to the National Church Residences Telegraph Road senior apartments in 2013, when he spoke in Clayton many times against the project. He is the father of an Oakville High School senior and a 2-year-old.
"Who here likes paying more taxes? No one," Haefner said. "But if I said give me $1, I'll give you $10, you would take that deal. If I said don't give me $1, I'm going to take $10, you wouldn't take that deal. We are at that point. It goes to home values. We have private school kids and their parents are going to vote for it because their home values are going down … There is no such thing as, 'I like it the way it is,' because it's not going to stay the way it is, not with what we have. We have already had to do cuts, and the more we have to do cuts, the more it's going to fall back, and the more it falls back, the more property values fall."
The Oakville attorney emphasized that he can't think of a single reason not to support Prop R.
"If it's not for the schools, you do it for the property values," he said. "There's really not a downside in trying to get this to pass. I've thought about it a lot, and I can't think of any reason why someone should not be pushing for this.
"They're going to throw at you, oh, they built an auditorium. Walk through this school. What here looks cutting edge?" Haefner said, gesturing around Mehlville High School's Gym B. "That's probably the same scoreboard that was here when my dad went here and graduated in like 1969. We are getting by, but we're going to start falling behind."
Neither of the two Republicans on the Board of Education — Lori Trakas and Jamey Murphy — voted to put Prop R before voters. Despite a survey that indicates the majority of frequent voters would support a 55-cent tax-rate increase, both board members have expressed doubts about whether voters will approve it.
The board voted 6-1 Aug. 17 to place the measure on the ballot, with Trakas dissenting and Murphy absent.
Murphy told the Call he will not campaign against Prop R because of a board policy that mandates board members have to accept a decision of the board after it's been made, but he would not have voted for the November ballot because the "conversation should have been about April."
The last time Mehlville voters approved a tax-rate increase was 15 years ago for Proposition P for facilities, which was endorsed by several prominent state and local Republican politicians. This time around, although some GOP committee members have not yet publicly taken a stance for or against Prop R, others have urged residents to oppose it.
Lemay Township Republican Committeeman Alan Leaderbrand was one of the few attendees of the State of the District speech who was openly skeptical, and he was interviewed by a number of media outlets about his opposition. Oakville Township GOP Committeewoman Celeste Witzel has not attended any recent school board meetings, but she urged Republicans in an email to turn out against what she called a "giant tax hike."
Her husband, Kurt Witzel, is the Oakville Township Republican committeeman and is a former member of the Mehlville board, where he served as president.
Oakville Republican Jane Conder suggested an alternative plan for a temporary 49-cent tax-rate increase that she contends would pay off the district's Prop P debt over three years, during which the district would not grant teachers any raises and parents would fund the cost of sports and activities. With the debt retired, $9 million a year would be freed up for operations, Conder said. But the Prop P ballot language appears to indicate that the 49-cent levy approved in 2000 would end if its debt is retired.
Conder is the treasurer of an organization, Secure Mehlville Oakville Future, that recently unveiled an anti-Prop R website,
.
Just before the State of the District speech, Haefner gave his own assessment of Mehlville, saying it's always been a successful district, a "lot of bang for the buck, but we are starting to fall behind, and we are not the destination district we once were," but the decision is simple: Fix Mehlville now, or fix it later.
"Right now Mehlville has a fighting chance," he said. "It's not going to be that way soon. We wait 10 years — which if this fails could possibly be the next chance we have with this — and we're going to go through a whole lot more money to fix the problem. It's like a small drip in the pipe right now. When that pipe bursts, you've got a much bigger, much more expensive problem. And we need to make sure that we fix it now."
Although Haefner said someone who doesn't care at all about children's education still has reason to support Prop R, he added that residents should also support the district because of the children involved.
"Quite frankly, do it for the kids," he said. "Can you imagine if your child needed help learning how to read, and you were told, 'In eight weeks, we hope to get to them.' That's just absurd to me."