Preserving Battle of the Bulge stories gives woman new respect for history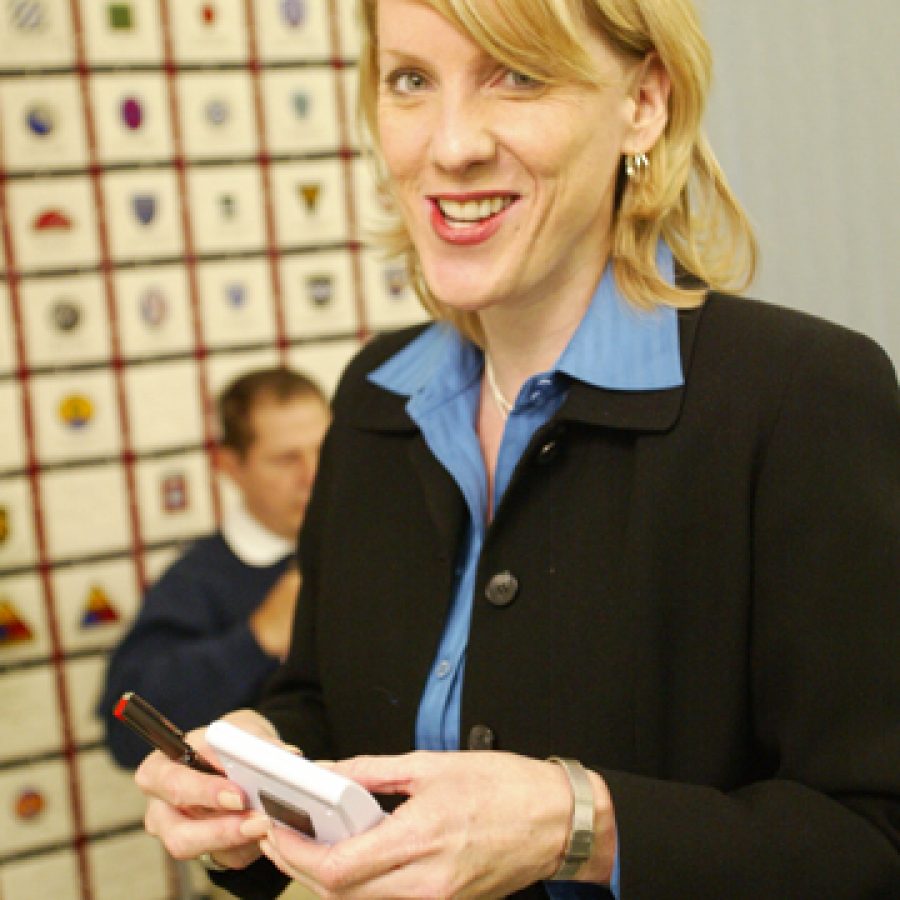 By BILL MILLIGAN
For the Call
Participating in an effort to record the stories of area men who survived World War II's Battle of the Bulge has given Jeryldine Tully a new respect for history.
"To me, history was never as real as it is through this project," Tully told the Mail Call.
For the past eight months, Tully has been a volunteer with the Despotis Book Project, an effort to capture the memories of American soldiers who, during a snowy December 1944, fought the Battle of the Bulge in France's Ardennes Forest.
Dr. George Despotis of the department of Anesthesiology, Pathology and Immun-ology at Washington University School of Medicine began the project to commemorate the largest land battle America fought during the war.
During the 41-day battle, America suffered 19,000 killed and 81,000 injured.
"I notice the Purple Heart license plate as I drive around town now," Tully said. "Things like this never meant anything to me before now. I've heard 50 firsthand accounts, what these men sacrificed for their country and what it was like and how important it is that we respect that and pay tribute to them."
Tully interviews Bulge survivors, while technicians record audio and video of the conversation at a Bingo Hall in Franview Plaza on Telegraph Road.
She asks Bulge veterans to describe mo-ments of comfort or happiness during their tour of duty.
She remarked on how simple and un-glamorous many of their joyous moments seem to modern America.
"One gentleman said he went into a barn, and, of course, it was dark," Tully said. "He couldn't use any lights (for fear of giving away his position) and found a warm place to sleep. He woke up and found he was sleeping in a pile of cow manure. He said it was the warmest night's sleep he'd had. He said he would have done it again."
Temperatures reached as low as 30 degrees below zero and snow accumulated higher than three feet during the battle.
Bad weather was nearly as fatal as the German Army.
Soldiers say Christmas brings back memories of the battle every year.
"There were these huge pine trees covered with snow in the Ardennes Forest," Tully said. "They said the Americans were dropping tin foil to interfere with German radar. So the tin foil looked like tinsel in the pine trees. A lot of them have said that when they look at their Christmas trees every year since they're reminded of that."
Tully said she had no connection with the military until she started the project.
"My dad was in the Korean War, but he says all he did was play basketball the whole time," Tully said. "I had no idea of the sacrifices people have made. We're col-lecting so much material, we could probably publish three books."
Tully said Bulge veterans' family members have told her they appreciate the work she's doing as well.
"Many have said this was the first time they had ever heard those stories," Tully said.
Project head Despotis told the Mail Call that veterans have started requesting Tully for their interview because of her empathy and knowledge of the subject.
"It's very difficult for members of the generation that fought that war to talk about their experiences," Despotis said. "We've been fortunate that the St. Louis Chapter of the Veterans of the Battle of the Bulge has been willing to open up and talk to her."
Despotis' family came here from the Balkans after a German patrol burned their town during the war.
"I can remember stories my mother told about watching from a field as their house burned," Despotis said. "I've always had an interest in this topic."
Tully, a 1985 Nerinx Hall graduate, bought a home in Affton five years ago.
"I lived in south St. Louis for a while, but I didn't want to buy a home there," she said. "Since I bought the house, its value has gone up quite a lot, so I'm happy I did it."
Tully was a volunteer for the World Affairs Council of St. Louis when she moved back to St. Louis after graduating from Mizzou in 1989. She introduced in-dividuals from foreign countries to an authentic St. Louis experience.
Currently she is employed by the St. Louis College of Pharmacy as director of public relations and publications.
She also volunteers her time to teach English downtown at the St. Louis Public Library.
"I've been volunteering for the past two years," Tully said. "Last week I had someone from Columbia, someone from Italy, someone from Spain, someone from the Philippines, someone from China, so it's just wonderful because you get this interplay.
"I try to spend the first half of the class just chatting about American or St. Louis customs … the second half is more structured where we have a lesson plan, whether it's practicing pronunciation or vocabulary or something. It's really a great experience."
Tully said demand for the program has grown because of the area's burgeoning Bosnian population.
"They need help with the most basic things you can think of, some women have asked me things about getting their hair cut, or they'll be out in the streets and they'll see people dressed up in costumes. I'll tell them, that's just Mardi Gras, don't be afraid. And if you see people with green hair in March that's St. Patrick's Day. Don't be concerned. Being a cultural touchpoint for them, they really appreciate it."
Tully has volunteered to rehabilitate homes and beautify neighborhoods with a program called Block AID and helped mature Americans learn to read with the Literacy Volunteers of America, but she believes interviewing area Battle of the Bulge veterans will have the most lasting impact on her life.
"Every story we capture is worth it, it's like you're saving lives," she said.
"One of the men told me about a really young soldier who was kind of a cut up," Tully said. "There was a fresh blanket of snow and this kid went out to work the machine gun. It was a water-cooled ma-chine gun. He wasn't looking and he got shot through by the Germans.
"He said he looked down and he saw the red from the guy's body, the white of the snow and the blue of the anti-freeze from the machine gun. He said he thinks of that red, white and blue every day since. These are the things that they tell you that just blow you away," Tully said. "When I was a kid, all I knew about World War II came from watching 'Hogan's Heroes."'