Peabody names south county teacher 'Educator of the Year'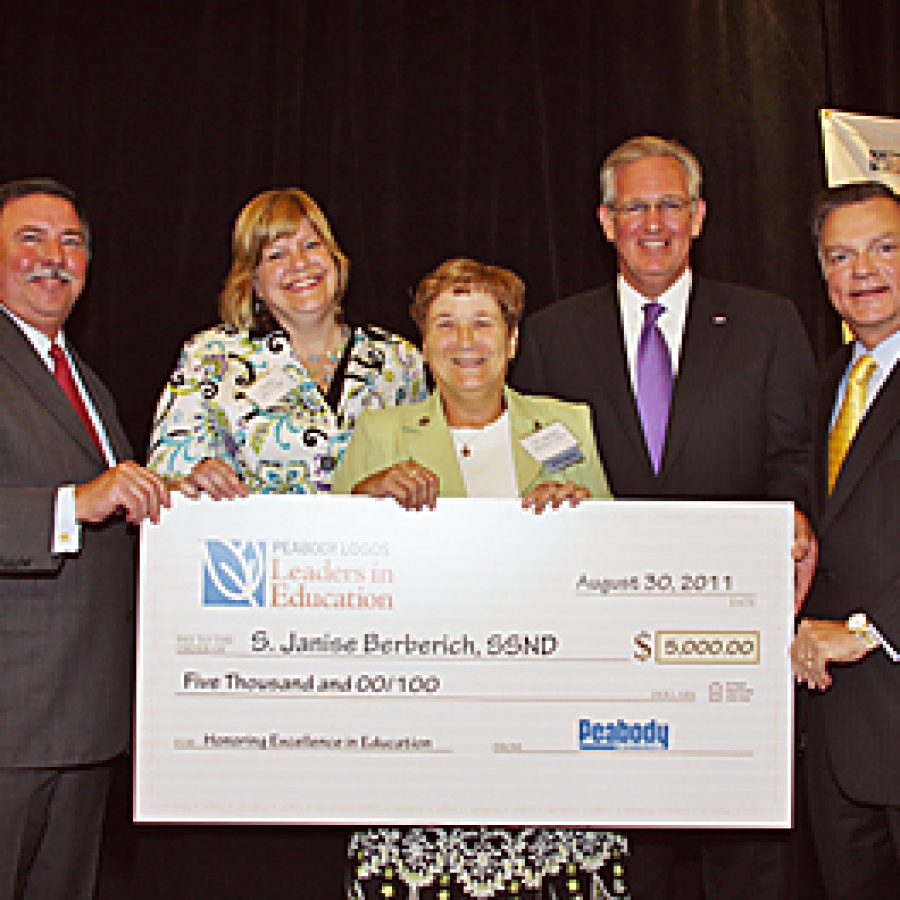 Sister Janise Berberich, SSND of Notre Dame High School in south county, was named this week the Peabody Logos Leaders in Education "Educator of the Year."
Gov. Jay Nixon announced Berberich's accolade Tuesday at a celebration that included more than 260 academic, business and civic community members.
Berberich was selected from 31 honorees to win the Educator of the Year honor and a $5,000 grant.
Berberich was recognized for her commitment, compassion and unique immersive instruction, according to a news release. She has worked to help her students find meaning in the world around them, and as a Spanish, social studies and religious education teacher, she planned special trips for her students to not only learn about different languages but experience different cultures, the release stated.
"Sister Berberich is a shining example of excellence in education. She engages students to learn beyond borders and inspires them to achieve their true potential," Gregory H. Boyce, chairman and CEO of Peabody Energy, stated in the release. "Peabody created the Leaders in Education program to give outstanding educators like Sister Berberich the recognition they deserve."
Under her instruction, Berberich's students have built cinder-block homes for families harmed by a hurricane in Central America; read to children at an Indian reservation in South Dakota and studied alongside students in a classroom more than 9,000 miles away in Kyoto, Japan.
"To teach is to educate the whole person, not just the intellect," stated Berberich, a veteran teacher with more than 35 years experience. "I believe in educating students in the formal classroom by giving them unique interactions and experiences beyond the classroom."
As a member of the School Sisters of Notre Dame, an international community of religious women who educate in 35 countries of the world, Berberich has taught in elementary and secondary classrooms in Missouri, Illinois and Honduras. She holds a master's degree and is a Missouri State Certified Teacher.
The Peabody Logos Leaders in Education program rewards dedicated education professionals who inspire and motivate youth to succeed, according to the release. Award recipients are selected throughout the school year by a committee of top educators and business leaders.