Panthers set to defend conference title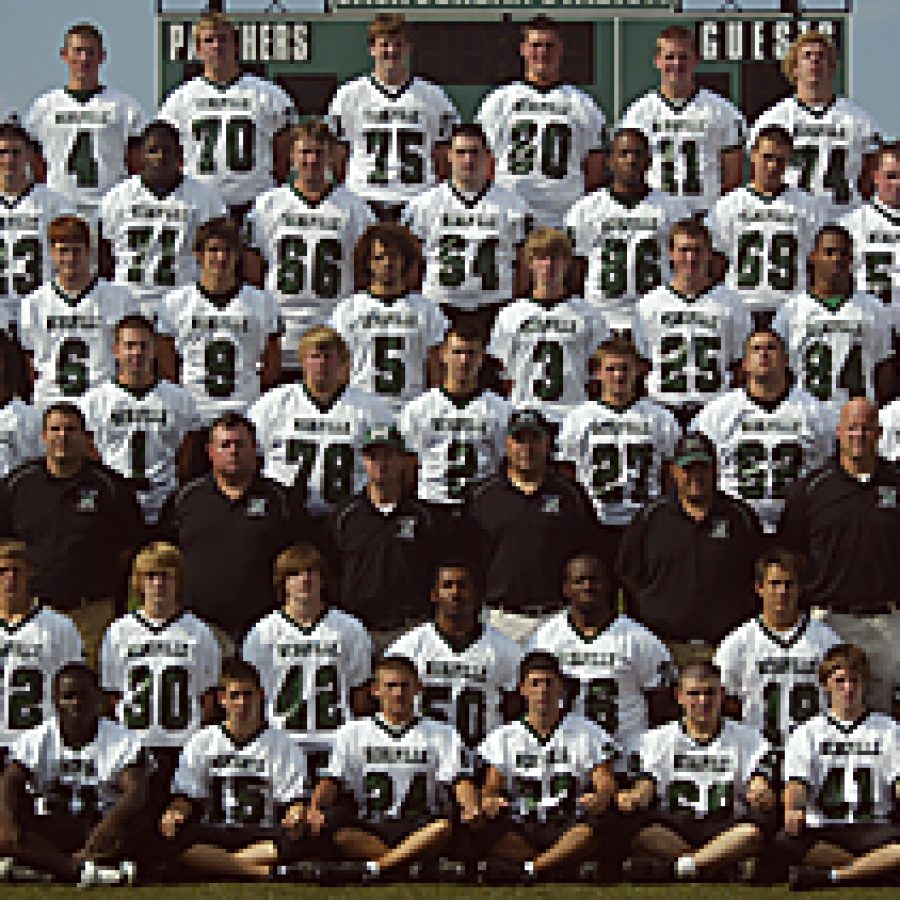 As the defending Suburban West Conference champion, the Mehlville Senior High School football team has some big shoes to fill this season.
The Panthers went 7-4 overall with a 6-1 mark in conference play last year before losing to Oakville in the Class 6 sectional 24-7.
"Slowly, but surely, we're getting there," Mehlville head coach Eric Meyer said. "We're going to be down a little bit numbers-wise compared to last year, but those numbers go in cycles every year."
Brian Foppe will take over the quarterback duties after seeing limited action last season. The senior play caller completed eight passes for 135 yards, one touchdown and three interceptions.
"Brian's a real smart kid that understands the offense," Meyer said. "If we need an adjustment made on the field, he can do that. I think that he's been throwing the ball much better this year."
Right behind Foppe will be senior running backs Demond Harris and Justin Talley.
Talley carried the ball 93 times for 501 yards and four touchdowns last season. He also caught three passes for 32 yards receiving and was solid at defensive back, where he racked up 39 tackles and one interception.
"Justin is a slasher-type running back with good hands," Meyer said. "He's a double threat for us on the field."
Harris also was effective as a running back with 35 carries for 225 yards and one touchdown for the Panthers. The senior running back/inside linebacker also caught one pass for a total of six yards and one touchdown.
But as an inside linebacker, he led the team with 85 tackles, nine sacks, two fumble recoveries and one interception.
"Demond is a hard-hitting and explosive player," the head coach said. "This year, he'll carry the ball a lot more than he did last year."
Senior offensive lineman and defensive tackle Casey Simmons returns to the Lindbergh starting lineup after racking up 21 tackles, two sacks and one fumble recovery last season.
"Casey started quite a bit on the defensive line for us last year and gained a lot of experience," Meyer said. "He will definitely start for us on the offensive and defensive line this season."
Another senior who will join Simmons on the defensive line is Damond Hamond, who recorded 58 tackles as well three sacks and one fumble recovery last year.
"Damond is a strong kid that's dropped his 40 time quite a bit," Meyer said. "He's a guy that's going to give teams quite a bit of fits this season."
Senior safety Anthony Helem was another defensive standout last season for the Panthers. Helem garnered 45 tackles, three interceptions, one sack and one fumble recovery last year.
"Anthony's a tough kid," Meyer said. "He's not afraid to go out there and really hit people."
Mehlville Varsity Football
Date Opponent Site Time
Aug. 28 De Smet A 7 p.m.
Sept. 4 Oakville A 7 p.m.
Sept. 11 Northwest H 7 p.m.
Sept. 18 Parkway South H 7 p.m.
Sept. 25 Kirkwood A 7 p.m.
Oct. 2 Lafayette H 7 p.m.
Oct. 9 Marquette H 7 p.m.
Oct. 16 Lindbergh A 7 p.m.
Oct. 23 SLUH H 7 p.m.
Oct. 30 Ritenour A 7 p.m.