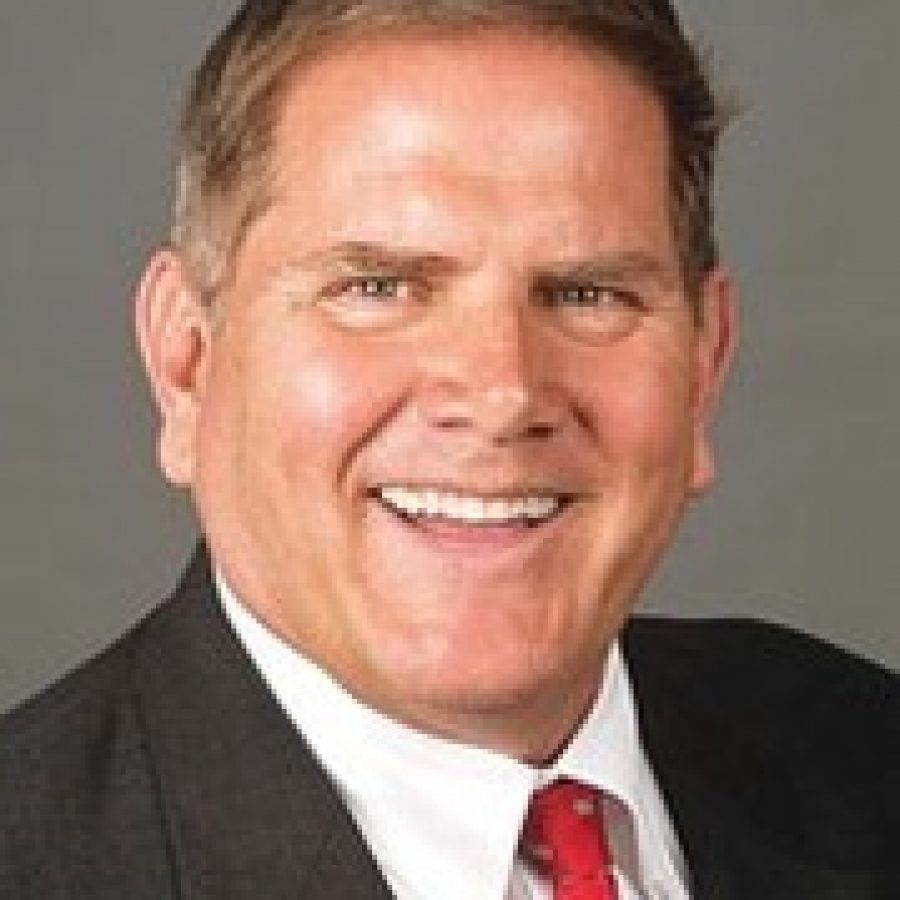 Sunset Hills Mayor Mark Furrer's trial on felony charges of assault and property damage opened Monday with a full day of jury selection, and Furrer's attorney strongly hinted that he will call the mayor as a witness in the trial, which is set to run through Thursday.
Opening arguments will begin at 9 a.m. Tuesday in Judge Thomas Prebil's courtroom on the fourth floor of the St. Louis County Courts Building, 105 S. Central Ave., Clayton. Due to a broken bench in Prebil's courtroom, jury selection took place in Judge Daniel Hood's courtroom down the hall, but the trial will return to Prebil's courtroom Tuesday.
A county grand jury indicted Furrer a year ago for allegedly intentionally hitting a bicyclist, Randy Murdick, with his car last year. Murdick alleges that Furrer intentionally hit him while telling him to "get off my roads" and served Furrer with a civil suit in October. The mayor entered a plea of "not guilty" early on and recently repeated to the Call that he is so confident in his case that he will probably run for mayor again when his term is up in April. A conviction would make him unable to hold office under Missouri law.
Assistant Prosecuting Attorney Alan Key said Monday that he plans to call six witnesses during the trial — Murdick, three Sunset Hills residents who say they are eyewitnesses to the incident, Sunset Hills Police Department Corp. Jeff Senior and Jeff Greenstreet, the owner of the Bike Surgeon store in O'Fallon, Ill., where Murdick took his $12,000 bicycle for repairs after the July 29, 2014 incident.
All potential jurors said they do not know any of the six key witnesses. The prosecution's list of potential witnesses it could call includes 25 people, mostly police officers who investigated the case.
Listing his own witnesses in turn, Furrer's attorney Daniel Bruntrager said he will probably call Furrer to the witness stand along with Sunset Hills Lt. Greg Zveitel. When the Sunset Hills Board of Aldermen attempted to impeach Furrer earlier this year, the articles of impeachment — which aldermen rejected 5-3 — alleged Zveitel conspired with Furrer to oust Sunset Hills Police Chief William LaGrand, who initially turned the bicycle incident over to the county for investigation.
Prosecutors and Furrer's defense team spent roughly three hours Monday questioning a 45-member potential jury pool, but due to a late start, a long lunch break and an early recess, the selection stretched all day.
In Key's questions to jurors, he focused on whether they had heard about the case from media coverage, whether they have close relatives or friends who are attorneys and whether they are cyclists or have ever had a run-in with a cyclist — and above all, whether they could still be an impartial juror if they had.
A third of the 45 jurors had heard about Furrer's case, including several who said they were from south county. Most didn't make the final cut, but at least two did — Juror 23 and Juror 9, a south county resident who said she had read about the incident in the Call.
Another final juror, Juror 2, said she has gotten upset with cyclists before while driving, but she has never gotten out of the car to confront one.
Another juror chosen for the trial noted that a relative had been arrested and beaten up by police decades ago, but she believed that she could still look at Furrer's case impartially.
Five members of the jury pool raised their hands that they are "avid cyclists," although most said they ride on paths or trails, not on the road. Two of the cyclists made it to the final jury, including one who said she wasn't sure if she would qualify as "avid" because she was more of a hobbyist and one who said she only bikes in parks.
One member of the jury pool who was not selected for the final jury told lawyers early on that he knew Furrer, his wife, Kim, his son Andrew and the rest of his family.
The most humorous moment of the day came when a car hauler from Wildwood said he had been in a run-in with cyclists before, including "yelling, screaming, the bird."
"I live in Wildwood, and they're everywhere," he said. "Yeah, I could be fair, but they're just a nuisance sometimes."
"Like deer," Key said, and the juror agreed as Furrer and most of the room laughed.
In a series of introspective questions from Bruntrager, the jury pool got an early glimpse of what his trial arguments could be later in the week.
Bruntrager warned jurors that since the trial is the only one Furrer will receive, the defense attorney plans to raise many objections throughout the trial if he believes it is necessary for the mayor's legal defense.
And true to his word, a Bruntrager objection early on was one of the highlights of Monday's proceedings.
During Key's initial presentation, he told jurors that they could come to a decision on Furrer's guilt only if they find that the prosecution makes its case "beyond a reasonable doubt."
And conflicting testimony from witnesses does not alone constitute reasonable doubt, the prosecutor added.
But in an immediate objection that Prebil sustained, Bruntrager strongly disagreed.
"Inconsistent testimony from witnesses does cause reasonable doubt," he argued.
Agreeing with Bruntrager, Prebil instructed the court reporter to strike Key's statement from the record.
Bruntrager repeatedly emphasized that the mayor is innocent until the prosecution proves him guilty. He also sprinkled in biographical tidbits about the mayor, introducing his wife, Kim — who stayed in the courtroom the entire day — and mentioning his three children, Kalen, Andrew and Christina, by name.
Alluding that some of the potential jurors were teachers, Bruntrager noted that Kim Furrer spent more than 35 years as a special-education teacher. Since Furrer worked in real estate for Wehrenberg Theatres and U.S. Bank, he also asked jurors if they had any ties to those companies or to any Sunset Hills employees, police officers or officials, which no one did.
Bruntrager will be speaking loudly throughout the trial, he added, because Furrer has had a hearing impairment since he was a child. He also warned jurors that Furrer suffers from familial tremors, an inherited condition that can cause what Bruntrager called "the shakes."
"Can I get an assurance from all of you that you understand that today — this week — is Mark Furrer's only day in court?" Bruntrager asked. "This is a very serious task. Those of us that have children — sometimes you have one child telling you one thing and another child telling you another, and you have to be able to decide who is right."