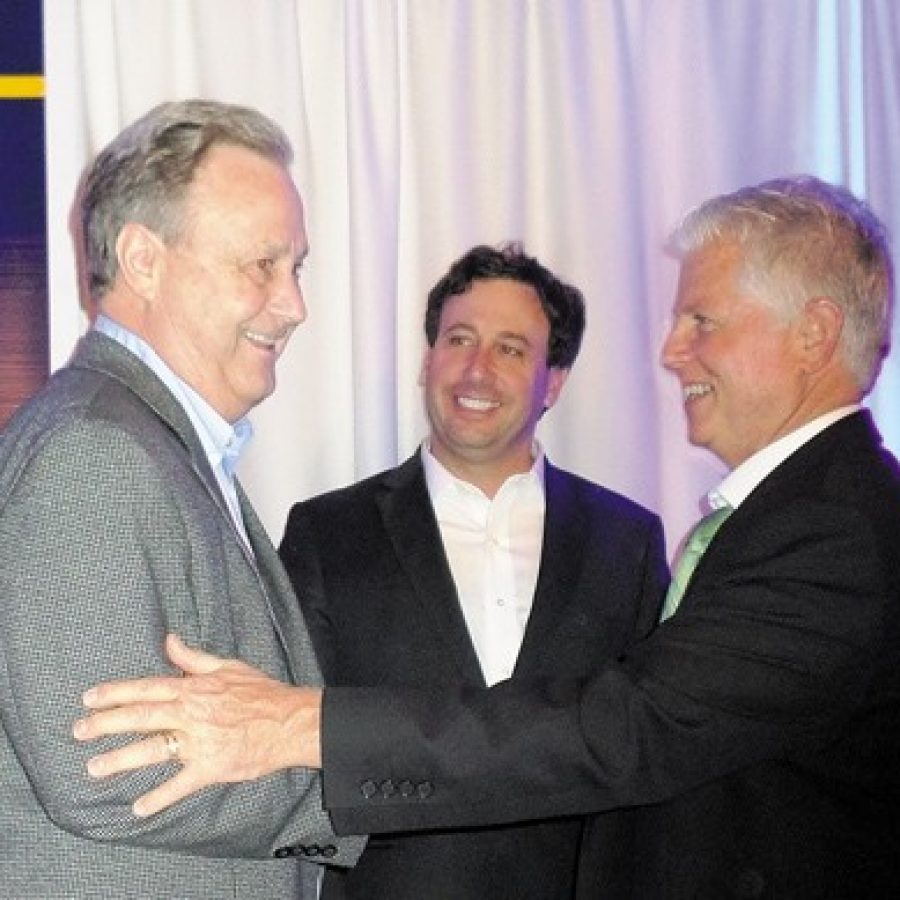 After his County Council election victory last week, political newcomer Kevin O'Leary promises he will be a new kind of 6th District councilman — one more responsive to the needs of the people.
In the April 7 special election, Democratic candidate and former Sunset Hills bar owner O'Leary defeated Republican candidate Tony Pousosa, a Green Park Ward 1 alderman, and Constitution Party candidate Cindy Redburn to win election.
O'Leary received 7,750 votes, or 53.9 percent, according to unofficial election results. Pousosa garnered 6,084 votes, or 42.31 percent, while Redburn tallied 544 votes or 3.78 percent.
After O'Leary's victory speech at Genesis Banquet Center on election night, the Oakville resident took time out from the celebration to tell the Call his philosophy on governing and his top priority after he is sworn in, which could be as soon as Tuesday, April 21, when election results are certified.
"I tell them: I don't get their respect, you earn their respect," he said, noting his top priority will be "helping the community, between folks out here and the county, and make it so it's a better place for the people so they feel like they do have a say. And responding to them — I think that's something we can improve on. This is what I've said all along."
Stenger held the 6th District seat for the last six years, before resigning Dec. 31 to take office as county executive. O'Leary was heavily supported by Stenger and other Democratic county officials, including county Prosecuting Attorney Robert McCulloch. O'Leary will serve the remaining 20 months of Stenger's term.
In front of a banquet hall packed with supporters, the first person to publicly announce O'Leary as the new 6th District councilman was Stenger, who hugged his successor as O'Leary made his way to the podium for his victory speech.
At one point, O'Leary was so overcome that his wife Jan got up and thanked supporters in his stead as O'Leary tried to figure out how the last few months of campaigning led him to the County Council.
"How can I be up here?" O'Leary asked.
"We're trying to figure that out, too," a man in the audience called out.
"I'm sure a lot of people are," O'Leary replied.
Although Pousosa may have had more name recognition among south county voters due to his previous campaigns for County Council against Stenger in 2012 and for his party's nomination for county executive last year, O'Leary brought big money to the race, raising $140,000 through his latest campaign-finance report filed March 29.
Just $5,000 of that total came from small donations, with much of the rest from unions, fellow restaurant owners or development interests that often bring projects before the council.
In contrast, Pousosa — who paid for four billboards in which he promised to be an "independent voice for south county" — raised $16,000 as of March 29, four times as much as he raised during his 2012 campaign against Stenger, where he was outraised 100-to-1.
After years of a Democratic majority on the council, a Pousosa victory was the GOP's best shot in years to gain ground. Pousosa was endorsed by such influential Republicans as Rep. Ann Wagner, former Rep. Rick Stream and 7th District Councilman Mark Harder, R-Ballwin. Republican groups and politicians came through with funds for Pousosa, but not nearly enough to match his opponent's superior fundraising.
O'Leary was also helped by existing divisions among south county Republicans.
O'Leary sent at least three mailers to voters, including one that arrived in mailboxes the week before the vote that quoted Oakville Republican Committeewoman Celeste Witzel's negative comments about Pousosa during the GOP nomination process in January. The mailer also stated that O'Leary gained Republican support, including former Gravois Township Republican Committeewoman Katy Forand and Gregg Roby, who was identified as the "Republican mayor of Crestwood."
"Kevin O'Leary has demonstrated extraordinary business sense with the success of Dulany's and O'Leary's restaurants and has a strong understanding of the issues facing south county," Roby was quoted as saying in the mailer.
Pousosa was philosophical about his loss, but said in the end it really did come down to money and what he called a "pay-to- play" mentality at the county level.
"If you look at the ethics reports, you'll see that a lot of the businesses that have had projects come through (the council) contributed to O'Leary, so that says it all right there," he said. "And if you look at mine, most of mine came from real people."
Although Pousosa noted that he had some information he could have used to go negative on O'Leary, he said he never wanted to run that kind of campaign.
"While I'm disappointed that I didn't win, that kind of reflects where county government is now," he said. "And I think people need to be truly vigilant because there are changes taking place in our community, and they're changes that people should be leery of."