Officials have no shortage of Misguided Quotes in 2009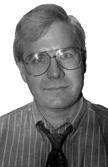 Originally Published: 1/5/2010
By Mike Anthony
Executive Editor
news1@callnewspapers.com
A few years back, former Call staffer Burke Wasson started a tradition in which he selected the Most Misguided Quotes of the Year.
While Burke is now pursuing a career in education, we'd like to continue the tradition he started of highlighting misguided, misinformed and sometimes untrue statements by local elected and appointed officials. With our thanks to Burke, we offer the Most Misguided Quotes of 2009.
During a Crestwood Board of Aldermen budget workshop, Ward 3 Alderman Jerry Miguel asked Mayor Roy Robinson, "Are we genuinely following Robert's Rules of order?"
Roy replied, "I don't see anything in there that says I have to follow Robert's Rules of Order, OK? I have Robinson's Rules of Order."
"Robinson's Rules of Order" explain a lot about what has happened to the city of Crestwood since Roy took office in April 2005. Roy's rules, which appear to be fluid and sometimes seem to be the first thought that pops into his head, have proved disastrous for Crestwood and its citizens. While Roy promised to "Bring Crestwood Back" when he ran for mayor, we believe he will be remembered for his failure to keep the many promises he made to voters.
During a subsequent discussion by the Crestwood Board of Aldermen about parliamentary procedure, Ward 4 Alderman Deborah Beezley warned the board could get "caught in the minutiae" by adopting Robert's Rules of Order in full.
"I think for anybody that has used Robert's Rules in the past, it becomes a very intense process. Once you start down that road — and I don't disagree with rules of some sort — but I think to have a strict Robert's Rules and to follow them, we could get caught in the minutiae of very long-term discussions overall of various sundry things that could take up a lot of time," she said.
Let's see, an overwhelming majority of elected bodies, not to mention student organizations, look to the parliamentary procedures outlined in Robert's Rules of Order to ensure their meetings are conducted in an orderly and civil fashion. Only in Crestwood could Robert's Rules be considered "a very intense process."
We hate to keep picking on Crestwood, but its officials have no shortage of misguided — and often outrageous statements.
At a September town-hall meeting, Roy raised more than a few eyebrows with his remarks about how Kirkwood and Webster Groves handle animal control.
Roy said, "When they pick up an animal, and it's got a problem and they can't handle it or whatever, they shoot it. I mean, you don't hear anything about this, but it's done. There's a report made, and they shoot the animal. And that's how they take care of your pets that get out …"
Not surprisingly, Roy's comments came as a complete shock to police officials in both Kirkwood and Webster Groves, who told the Call's Evan Young their officers would shoot an animal only if it were dangerous and all other efforts to control it had failed.
But hey, never let the facts get in the way of a good tale.
And then there's elected officials such as Webster Groves Mayor Gerry Welch who tend to underestimate voters' intelligence.
As a member of the Metropolitan St. Louis Sewer District's Plan Amendment Commission reviewing the district's charter, Welch said she "absolutely would oppose" changing the charter to provide for an elected Board of Trustees.
"When people get elected to these large bodies, people don't know who they're electing and folks run for office as a stepping stone to something else. I think your appointment process works so much better for getting people with good qualifications that would never run for public office," she said.
On second thought, perhaps she's right about voters' intelligence. After all, they elected her.
While those who serve on advisory boards should be applauded for their willingness to volunteer, sometimes you have to wonder: What are they thinking?
Consider this exchange between former Crestwood Civil Service Board member Martha Duchild and current Civil Service Board member Kevin King.
"That is part of the reason that we have a Civil Service Board, is that you are not being dictated to by the administration — so that the employees see you as an independent body," she said.
"See I disagree with you," Mr. King said. "I don't believe we are a policy-making body …"
Mrs. Duchild replied, "I didn't say you were policy-making."
"Well then, we would be required to create our own agenda and deal with issues sui generis (by ourselves) if we are a policy-making board, but we are not," Mr. King said.
"I did not say you were a policy-making board," Mrs. Duchild said.
"But then I don't see a need to create our own agenda. I think we are out of line in creating our own agenda …," Mr. King replied.
Out of line? Only if someone sees an advisory board as a rubber stamp for the wishes of the administration.
Mehlville Board of Education Secretary Larry Felton certainly hasn't been a rubber stamp for the administration during his tenure on the board. In fact, he was the only board member voting against a $44,000 contract with communications firm UNICOM•ARC for the second phase of the district's long-range improvement plan COMPASS — Charting the Oakville-Mehlville Path to Advance Successful Schools.
Mr. Felton said, "When this contract first came out I had some reservations, and I still have those reservations. I have to say that these comments have nothing to do with the quality of work you've done here. Your track record speaks for itself … From the philosophical point of view, we have a situation here where for once in our life we don't have an urgency. We have a chance to build what I would call a presence in the community, and philosophically I think this is an opportunity for the volunteers, for people within the community.
"Whether it's a communications team or whether it's other people, I think this is a chance for them to get out … to the community they live in. I think there's a point in time where we're going to need professional help. Once I think we've proven our trust level, for lack of a better word, I think there's going to be an opportunity to look at improving the financial status of the district. But I guess from a philosophical point of view, I think this is an opportunity for volunteers … I think that would be a terrific resource for this project."
No offense to Mr. Felton, but remember what happened last time volunteers ran a public-engagement process for the Mehlville School District?
Let's see, despite a survey that concluded passage of a 30- to 40-cent tax-rate increase was "feasible," district voters considered a 97-cent tax-rate increase in February 2006. Needless to say, that measure, called Proposition A, went down to a historic defeat. The tax-rate increase received 6,746 "yes" votes — 36.05 percent — and 11,968 "no" votes — 63.95 percent.
'Nuff said?
And for his third and final appearance in this column, Crestwood's mayor told those present at an aldermanic meeting in March the Missouri Ethics Commission had dismissed all complaints against five city officials for the alleged improper use of city resources to promote an August 2008 ballot measure as well as a July 2008 closed session to approve police pay raises.
But Roy also cautioned that anyone who filed a "frivolous or unsubstantiated" complaint could be sued.
He said, "This little ordeal cost you taxpayers, the taxpayers of the city, about $4,500. And it's really sad that people start thinking that things are unethical when there's nothing that's been done.
"All they have to do is just ask. We'll tell you what we did. But the problem is there's always some kind of a little suspicion in everyone. And I understand. I know where we've been. And I can understand that things do happen. And the other thing is those who put in these complaints also better read that form that they fill out. It says that you can be sued individually with these complaints when they're frivolous or unsubstantiated …"
We're sure that Roy's comments weren't intended to be a threat to citizens he supposedly represents, just a gentle reminder about the gravity of filing an ethics complaint.