Oakville swim team to be solid in '09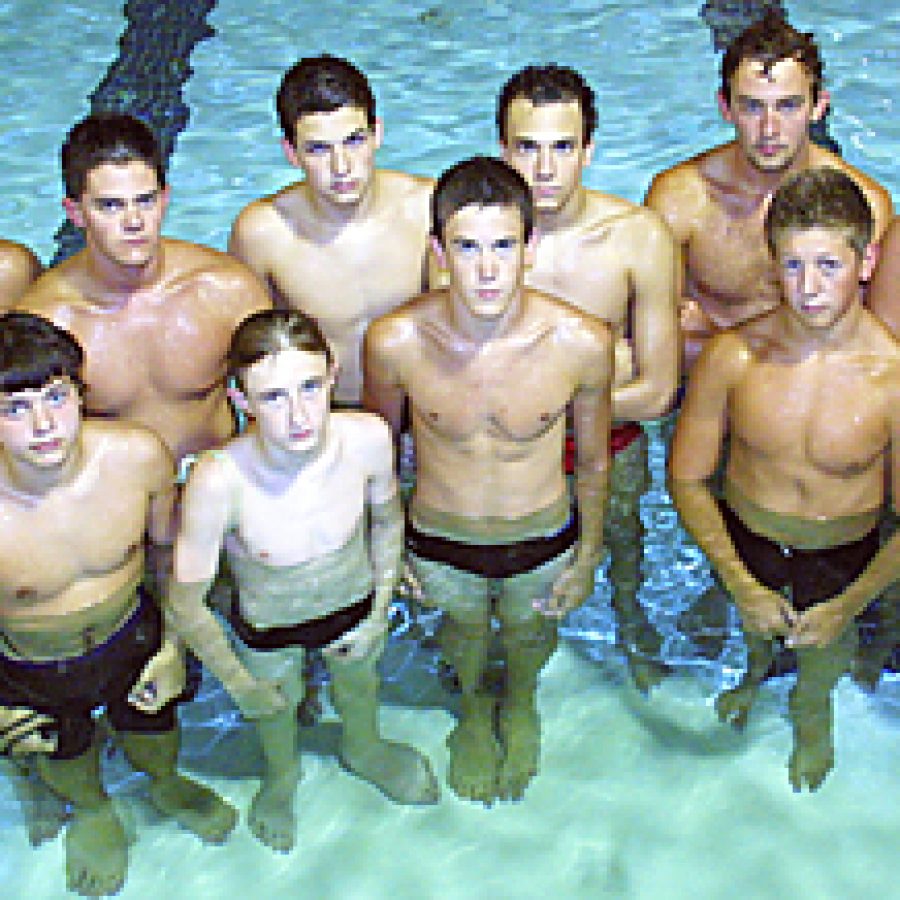 The Oakville Senior High School boys' swimming and diving team placed a frustrating 28th at the Missouri State Championships last season.
The Tigers were disqualified on both the 200-yard freestyle and 400-yard freestyle relay, robbing them of valuable points and a possible top-10 finish. But head coach Dan Schoenfeldt believes the Tigers will be solid for the 2009 season.
"We should do pretty well this season," Schoenfeldt said. "We might not do too well in the dual meets, but we return a total of four state qualifiers from last year."
Jon Gannon returns to the Tigers for his senior season after taking sixth in the 100-yard breaststroke and ninth in the 200-yard individual medley.
"We've got high hopes for Jon this season," Schoenfeldt said. "He's definitely going to be shooting for a top-three finish in the breast this year."
Diver Andrew Shelton also could crack the top 16 this season after placing 22nd overall last year as a sophomore on the one-meter springboard.
"Qualifying last year was a good experience for Andy," Schoenfeldt said. "We're really counting on him to do some damage and place at state this year."
Senior Brad Hammel hopes to get the squad's freestyle relays back to state this season as well as qualify in the 50-yard and possibly the 100-yard freestyle.
"Brad's a strong kid whose relay swims were just outstanding," Schoenfeldt said. "I think that the 50 free is definitely going to be his event this year."
Another senior freestyle specialist who will be a factor in the team's relays is Nick Selinger.
"Nick has the potential to qualify in the 50 as well," Schoenfeldt said. "Hopefully, we can put some muscle on him this season."
Senior Brett Walters also could make an impact on Oakville's relays this season.
"Brett's someone I'll be looking at all season long," Schoenfeldt said. "He's someone that we'll look to fill the open spot on the free relays this season."
Oakville Swimming
Sept. 1 Vianney H 4 p.m.
Sept. 3 Mehlville A 4 p.m.
Sept. 8 Kirkwood A 4:15 p.m.
Sept. 12 Ladue Invitational A TBA
Sept. 17 Westminster A 4 p.m.
Sept. 23 CBC H 4:30 p.m.
Sept. 25 Marquette H 4:30 P.M.
Sept. 30-Oct. 1 Rockwood Inv. A TBA
Oct. 6 Parkway South A 4 p.m.
Oct. 7 Rockwood Summit A 4 p.m.
Oct. 13 Lafayette H 4:15 p.m.
Oct. 17 Lindbergh Invitational A TBA
Oct. 20 Lindbergh A 4 p.m.
Oct. 22 Affton A 4 p.m.
Oct. 29 Eureka A 4 p.m.