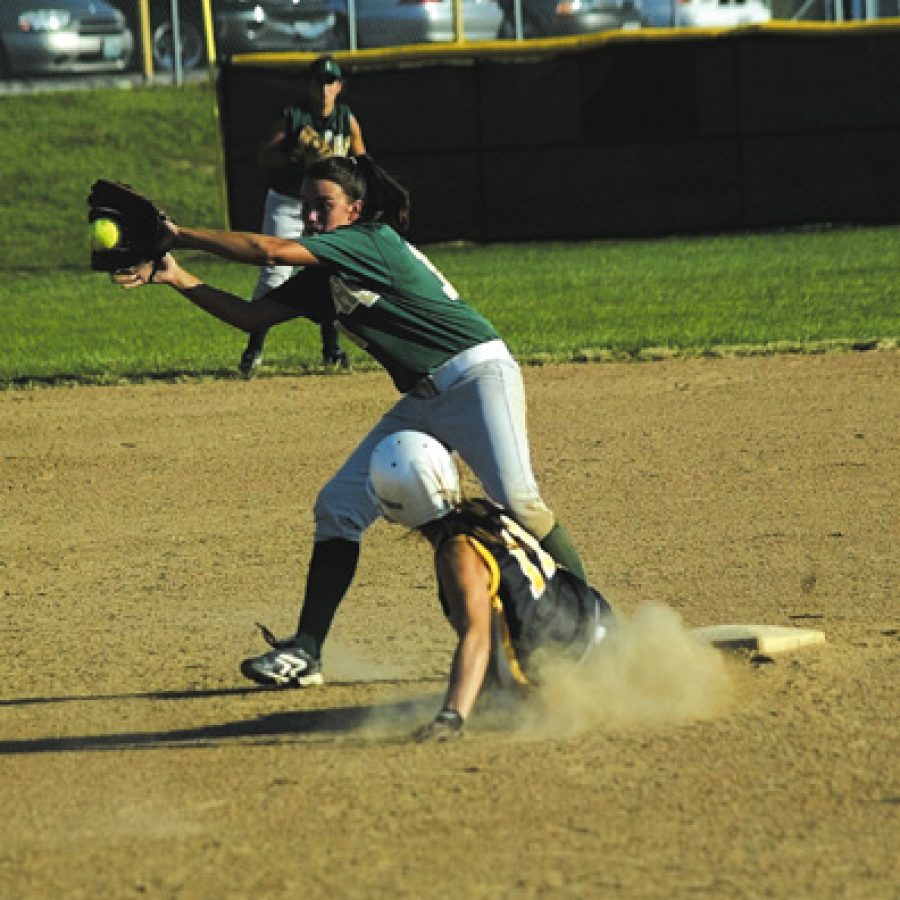 Members of the Oakville Senior High School girls' softball team realize that with their 19-0 record, nearly every team in the state is looking to be the first to beat the Tigers this season.
"We're just taking it one game at a time, and that's been our motto this season," Oakville head coach Rich Sturm told the Call. "We just want to come out focused and ready to play for every game."
The Tigers (19-0, 6-0 Suburban West) had very little if any problems maintaining fo-cus Saturday when they captured the Gold Bracket in the Seckman Jerry Joyce Jaguar Invitational with a 5-2 win over Eureka.
The Tigers previously had beaten Pacific 8-0, Cape Girardeau Central 5-0 and Washington 5-1 to advance to the championship game against Eureka.
"Eureka is one of the best hitting teams in the area and they have a tough lineup one through nine," Sturm said. "We were lucky to get some key hits with runners in scoring position."
Oakville's Megan Schallom gave up just two runs on five hits in seven innings against Eureka. The senior starting pitcher also walked just three batters and struck out nine in her 13th win of the season.
"Nine strikeouts against that lineup and that's a sign of a good pitcher," Sturm said. "After (Courtney) Conley's home run, she gave up just two hits. She really got after it on the mound."
Sophomore shortstop Marissa Simon had a solid game at the plate against Eureka with a two-hit performance that included a triple and two runs batted in.
"Marissa's kind of like a second leadoff hitter and has become a real weapon in that No. 3 spot," Sturm said. "She's having a massive year for us."
The Tigers are back in action at 4:15 p.m. Friday when they travel to Fox for an important Suburban West Conference game with the Warriors. Fox (8-12, 2-3 Subur-ban West) also competed in the Jerry Joyce Jaguar Invitational, dropping games to Lindbergh (6-1), Jackson (14-3) and Seckman (4-1).
"Fox has a tremendous offensive team," Sturm said. "They're very similar to Eureka in that they have girls that can really swing the bat."