Oakville senior Toney takes third in state wrestling competition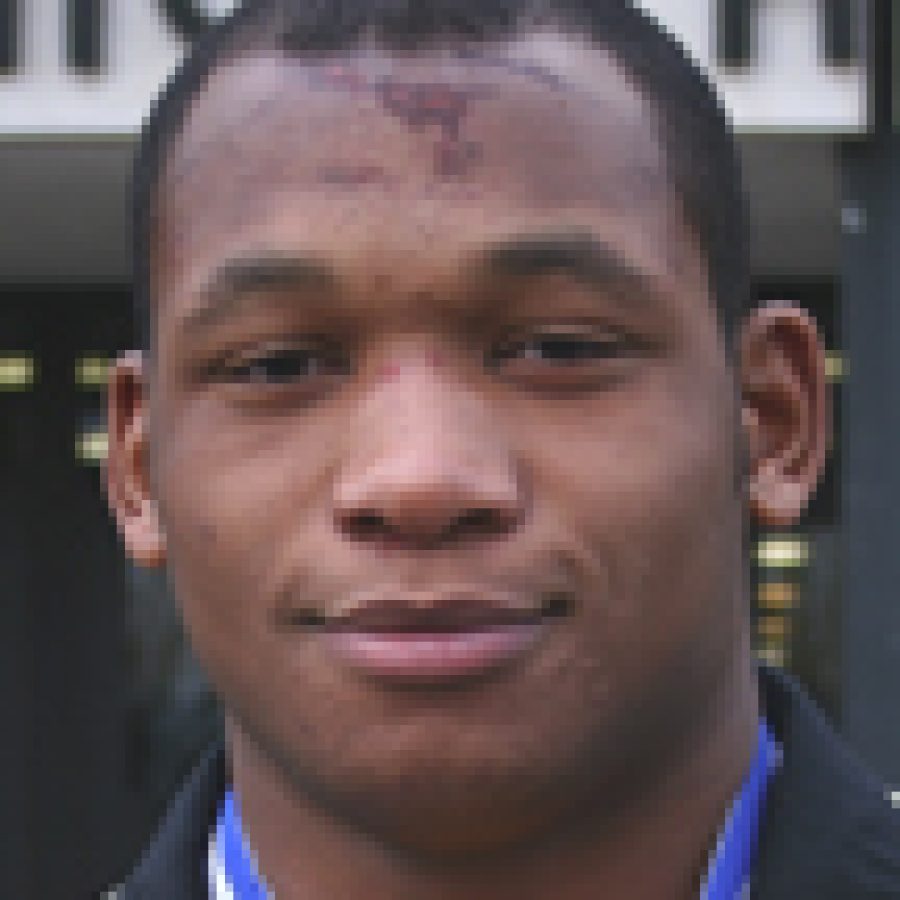 "Determined" would best describe Oakville Senior High School's Charles Toney after his third-place finish at the Missouri Class 4 State Wrestling Championships in Columbia last weekend.
Like many at the state championships, the 215-pound grappler wanted to win the state title, but he also wanted to wrestle each match to the best of his ability.
"My ultimate goal was to come back home knowing that I wrestled each match with all of my heart," he said. "If I did that, I could walk away with my head held high."
"This was the best tournament he's put together over the past four years," Oakville head coach Brett Lieberoff said. "He's such a great kid that's an unbelievable athlete that any coach would like to have."
Toney wasted no time in the first round of the tournament as he hammered out a 7-2 decision over Harry Kirchoff of Chaminade.
His second-round match resulted in a 10-4 decision over Thom-as Bowen of Park Hill.
"It was a convincing win, but I think he could have done more in that match," Lieberoff said of the victory over Kirchoff. "It was the first-round jitters and everyone gets them."
In the semifinals, Toney suffered a heartbreaking 3-2 loss in overtime to Kolton Kono of Oak Park. Toney had Kono held down and with time running out in the fourth overtime period, he was penalized for stalling, which cost him the match and a possible state championship. Kono went on to win the state title.
"I had a victory over Kolton in an overtime match at Granite City," Toney said. "I had to hold him down and I got hit with a stalling call with 10 seconds left. I felt like I wrestled my heart out in that match."
"It was a tough loss and I was concerned about it," Lieberoff said. "It's a credit to himself as to what he was able to do after that. I don't even know if I could come back from a loss like that."
Now in the consolation bracket, or better known as "wrestlebacks," Toney found himself in the semifinal round again. But he redeemed himself with an 8-1 decision over Kris Shuey of Raymore-Peculiar.
"That's always a tough match because I didn't know how Charles would handle that match," Lieberoff said. "When I saw him in that match, I knew that he was up to something big because he looked very solid and very focused."
Toney said, "Basically what I did was I figured I had to go out with a bang. At the Oakville Wrestling Academy, we're taught to never back down from a match. A third-place medal is better than a sixth-place medal."
Toney then captured third place overall with a 5-3 decision over Ben Pister of St. Joseph Central.
"That Pister was a tough kid," Lieberoff said. "He was a specimen of a kid that was a solid 215 pounds. But Charles kept him out of the match and the only two points we gave up were on escapes. He really kept everything in the center of the map."
With graduation looming, Toney plans to continue wrestling at either St. Louis Community College-Meramec or at Northern Illinois University.
"Hopefully, Charles will go on and wrestle in college," Lieberoff said. "He's going to do some big things in college wrestling. He's a great kid and I'm going to hate losing him."
In other action at the state championships, Oakville's Nick Savage took sixth at 125 pounds while Mehlville's Max Muench took sixth at 189 pounds.