Oakville Senior High football team inches out 17-16 win over Mehlville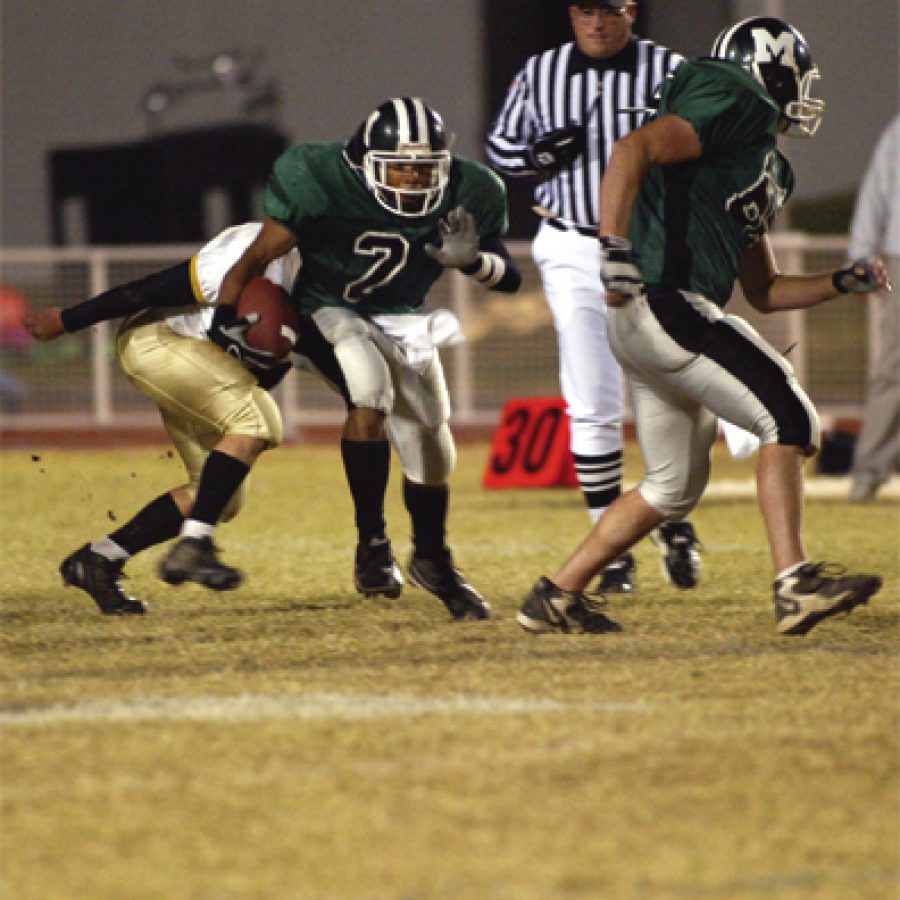 When the Oakville Senior High School football team posted a 17-16 win over Mehlville Friday, much more was at stake than wins and losses.
For the Tigers (5-4, 3-4 Suburban West), the game was about pride, the defeat of a longtime rival that's had its number for many seasons and the chance to possibly win a district championship.
For the Mehlville Senior High School football team, the loss was another heartbreaker in a season where everything that could go wrong has gone wrong. The loss for Mehlville essentially eliminates the Pan-thers' quest for a district championship af-ter opening the season with a 0-7 record.
"The game really allowed our kids to grow up a lot," Oakville head coach Arlee Con-ners told the Call. "As a program, I think we realized that we can beat Mehlville and if we continue to work hard, we can continue to keep doing these kinds of things."
Mehlville head coach Gary Heyde told the Call, "We lost our quarterback (Kevin Mahler) and our best defensive lineman (Andy Meunch) in the first quarter. We fought back and took the lead going into the half."
Oakville took a 7-0 lead in the first quarter when Fred Walton scored on a one-yard touchdown run with 7:23 left in the quarter. Walton finished the evening with 22 carries for 71 yards. The junior running back also had two receptions for 48 yards.
"Fred continues to get the job done," Conners said. "He's somebody we can definitely count on."
The Panthers (1-8, 0-6 Suburban West) were scoreless until junior running back Rashad Wilson scored on a two-yard touchdown run with 6:02 left in the first quarter.
"Rashad's been playing better each week," Heyde said. "He's been having some pretty good games running the football."
The Panthers took their first lead of the game with 4:55 left in the first quarter when Meunch forced a intentional grounding safety on Oakville quarterback Sam Kriegel.
"Andy had the quarterback in the end zone and we got an intentional grounding call," Heyde said. "That was the play where he dislocated his shoulder."
Mehlville extended its lead to 16-7 with 4:06 left in the third quarter when senior fullback Jeremy Doss scored on a one-yard touchdown run.
"Jeremy's our fullback and gets our tough yardage," Heyde said. "Those one-yard goal-line runs are tough and he did a good job punching it in."
Oakville brought the score to 16-10 when sophomore place kicker Geoff Rongy nailed a 20-yard field goal with 8:54 left in the game.
"Lately he (Rongy) has been kicking the ball really well," Conners said. "I have a lot of confidence in him because he has a pretty good leg."
The Tigers' game-winning touchdown came with 22 seconds left in the game as Walton scored on a three-yard run.
"During that drive, we had people step up and make some big plays," Conners said. "The team really wanted the win and we drove down the field and punched it in."
Up next for the Tigers is a key road trip to Fox at 7 p.m. Friday. The Warriors are 5-4 overall after a 33-32 win over Northwest last week.
Oakville must post a win over Fox to claim the district championship outright and then advance into the playoffs for the state championship.
"This is a very important game for us be-cause Fox is an improved team," Conners said. "We've started this thing, now we just have to finish the job."
The Panthers will look to finish the season on a good note at 7 p.m. Friday when they travel to Northwest.
The Northwest Lions are 2-7 overall and are coming off a heartbreaking 33-32 loss at home to Fox.
"It's been a rough year and we'd like to end it on a good note," Heyde said. "North-west's been playing pretty good offensively, so we're going to have to go out there and play good defense."