Oakville native proves she's 'amazing'
Eickhoff shown on TV show breaking a board on stage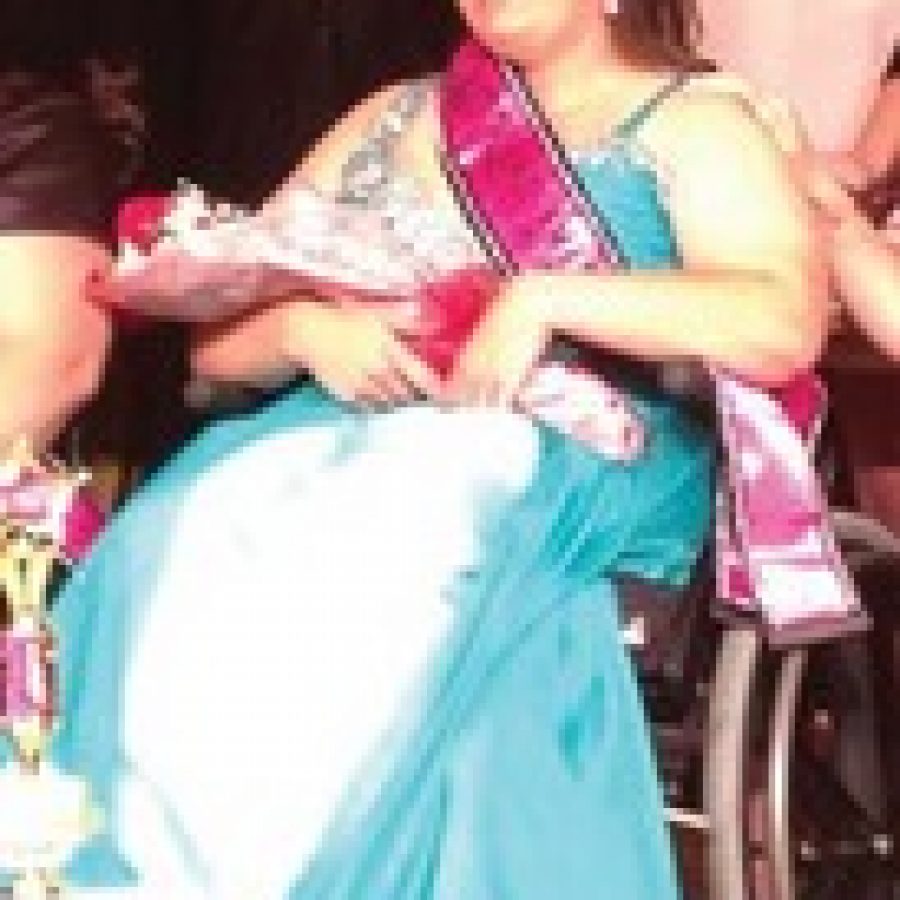 Oakville native Tiffany Eickhoff has always been amazing, but now she is receiving national recognition for it.
Eickhoff, 25, won her division in the first-ever national Miss Amazing Pageant in Omaha, Neb., in August. The pageant is for girls and women with physical or mental disabilities.
Eickhoff, the daughter of Dawne and Alan Eickhoff of Oakville, was born with spastic diplegia, a form of cerebral palsy that affects her walking, vision, speech and learning. Eickhoff can do everything that anyone else can, but it just may take her more time and effort.
"I wouldn't change anything — it's just the way I am," she told the Call. "God made me this way for a reason. I have a lot of hopes and dreams, just like everybody else."
Eickhoff is a senior in speech communication at Southern Illinois University at Edwardsville, or SIUE, and a 2006 graduate of Oakville High School, where she was on the prom court and Student Council.
Her identical twin sister, Danielle, lives in Washington, D.C., and her younger brother Erik just graduated from Central Missouri State University and is hoping to become a police officer like their father, a Creve Coeur police officer.
Although Eickhoff is new to the world of pageants, no one would be able to tell by looking at her record — she won the first two she ever competed in, beginning with the Missouri Miss Amazing contest in March at Lindenwood University.
Eickhoff is an extrovert and has considered writing a book or going into motivational speaking to tell her story and inspire others. That ability to connect with other people may have helped her win her titles, since Miss Amazing judges base their scoring on interviews with each contestant.
The talent showcase is not used for scoring, but Eickhoff took the opportunity to display some of her martial arts skills from more than a decade spent studying kajukenbo, a mixture of judo, jujitsu, kenpo karate and Chinese boxing. In its coverage of the pageant, NBC's "Today Show" featured Eickhoff breaking a board on stage.
"The goal of Miss Amazing is to empower girls and build their confidence and their public-speaking skills," she said. "It gives us a chance to really get out of our shell, so to speak. And we get to be in pretty dresses and be glitzy and glamorous — it was perfect for me, because I'm the biggest girly girl ever."
Although she usually walks with two canes, Eickhoff uses a wheelchair during pageants, so that she can wear high heels with her gown. She also uses a motorized wheelchair while at school, because of all the walking required.
To get to the national pageant in Omaha, she organized several fundraisers, including special fundraising days at Joanie's Pizzeria in Oakville and Mile 277 in Sunset Hills where the restaurants donated a percentage of their profits to help her get to nationals.
After Eickhoff graduates from SIUE in May, she will have more time to focus on accomplishing more of her many dreams.
She sees no reason to limit herself.
"If you'd asked me five years ago, I never would have thought I would be a national queen," she said. "I just kind of take life as it happens."
A potential career that could combine many of her passions would be going into public relations in the country music industry in Nashville, Tenn., or for a local country radio station. She currently runs a country music blog with a friend, where they post about their experiences going to concerts and meeting some of their favorite stars.
Among her academic accomplishments, Eickhoff has co-authored an accessibility study with two of her speech communications professors comparing what it takes for a person with no disabilities to access buildings on campus to what it takes someone with disabilities, like Eickhoff. They are planning to publish the study in an academic journal.
Although she is an accomplished pageant queen and, soon, an academic author, she shares the same worries as any college student, including whether she will get a job when she graduates.
"When I go into a job interview, I don't want people not to hire me because I'm disabled — I think there's still a stigma about that," she said. "I can be an awesome career woman just as much as the next person."