Oakville Middle School artwork goes on display at Midwest BankCentre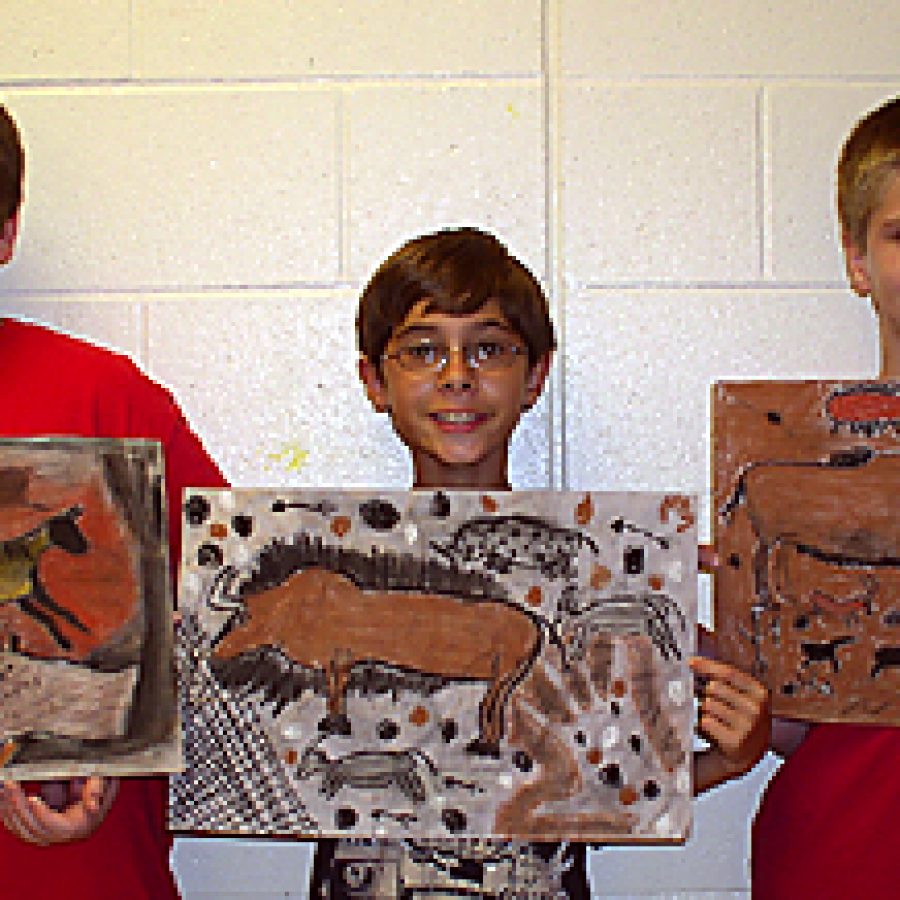 For the second consecutive year, the Mehlville School District community can view artwork created by students at Oakville Middle School through a partnership between the school and the Midwest BankCentre branch on Telegraph Road.
The art exhibition will highlight new work from sixth- through eighth-grade OMS students every month during the 2011-12 school year.
The first exhibition of this school year features drawings created by the sixth-grade students enrolled in the exploratory wheel at OMS. The students' work focuses on the prehistoric and ancient artworks of the European and African artists who often created drawings and paintings of bison, reindeer, elands and horses in caves and on rock walls as a means of connecting to the animals' symbolic power, according to a news release.
After watching a documentary on prehistoric artists and creating preliminary drawings of animals, which included drawing on the underside of their drafting tables to experience the trials of drawing on the ceiling of a cave, the students learned a variety of drawing techniques in pastel, charcoal and chalk on paper.
As the unit's culminating project, students created their own animals-of-power drawings by incorporating a variety of spots, zig-zags and grid patterns that were not only applied to prehistoric cave art, but are often seen today when people close their eyes in a darkened room or experience a migraine headache, according to the release.
"Exhibiting in a public space is a very important component of the Art-for-Life experience. By willingly displaying their work outside of the safety of the school environment, each student has the opportunity to make real world connections to adult artists who display their work and open themselves to public scrutiny and public praise," stated Elizabeth Adams-Marks, OMS art instructor and sponsor of the school's Art Club and National Junior Art Honor Society.
The OMS Sixth Grade Cave Art Exhibition will be on display until Sept. 30 at Midwest BankCentre, 5577 Telegraph Road. The lobby showcasing student artwork is open from 8:30 a.m. to 5 p.m. Monday through Thursday, 8:30 a.m. to 6 p.m. on Friday and 8:30 a.m. to noon on Saturday.
Future student exhibitions at Midwest BankCentre will include artwork by the school's seventh and eighth grade Art 1 and Art 2 students, as well as the sixth through eighth grade Art Club members and the seventh and eighth grade National Junior Art Honor Society members.
Adams-Marks believes it is important for the Art Club students to once again be included in one or two exhibitions because the club is open to all students at OMS whether or not they have the opportunity to take a regular art class during the school day, the release stated. The club of more than 35 sixth-, seventh- and eighth-grade students, many of whom are in band or special education classes, meet after school twice a month to learn new art techniques and share ideas and experiences.