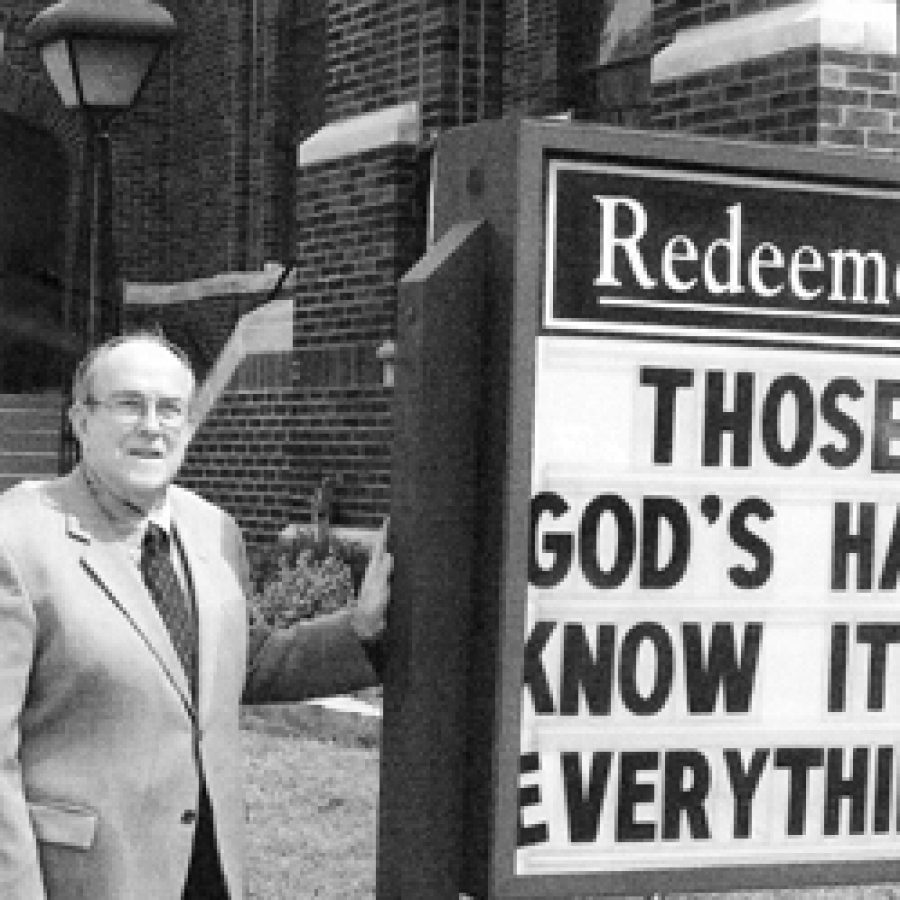 Longtime Oakville resident James Mer-rell will be honored Sunday, June 5, as he completes 50 years in the ministry.
Merrell, interim pastor of Redeemer Evangelical Church, South Kingshighway at Gravois, will be recognized at the 9:30 a.m. worship service and at a reception to follow at the 90-year-old south city congregation.
Merrell, who has served Redeemer Church for two years as it continues a search for a called pastor, is internationally known as a religious journalist and clergyman.
A graduate of Indiana University, where he was named outstanding journalism graduate in his class, he received his master of divinity degree from Christian Theo-logical Seminary in Indianapolis, Ind. He was ordained by the Christian Church — Disciples of Christ — at Third Christian Church in Indianapolis.
During his career, Merrell served as editor of two national magazines of the Dis-ciples of Christ and was founding editor of The Disciple and a vice president of the Christian Board of Publication after moving to St. Louis in 1973. He received an honorary doctor of letters degree in 1974 from Culver-Stockton College in Canton.
Merrell served for a time as pastor of Affton Christian Church and as chaplain of Culver-Stockton College. He has served four interims, including a four-year pastorate at St. John's United Church of Christ at Lindbergh and Interstate 55, the mother church of the Evangelical Synod of the UCC. He has authored five books, traveled in more than 60 countries and is recipient of the Faith and Freedom Award of Religious Heritage of America. His biography appears in current editions of Who's Who in the U.S. and World.
Merrell has been married to the former Barbara Burch for 53 years. They have three children and six grandchildren, all living in the south county, St. Louis city and Kirkwood areas.
On Sunday, the worship service at Re-deemer Church will include an anthem by the choir that was sung at Merrell's ordination. In addition, special guests will in-clude Aurelia Hartenberger, noted educator and musician, who will perform a flute solo; and Howard and the Rev. Darlene Goodrich, Disciples of Christ missionaries and educators who will represent Christian Theological Seminary and the honoree's denomination.