Oakville man refuses to allow age to block his football ambitions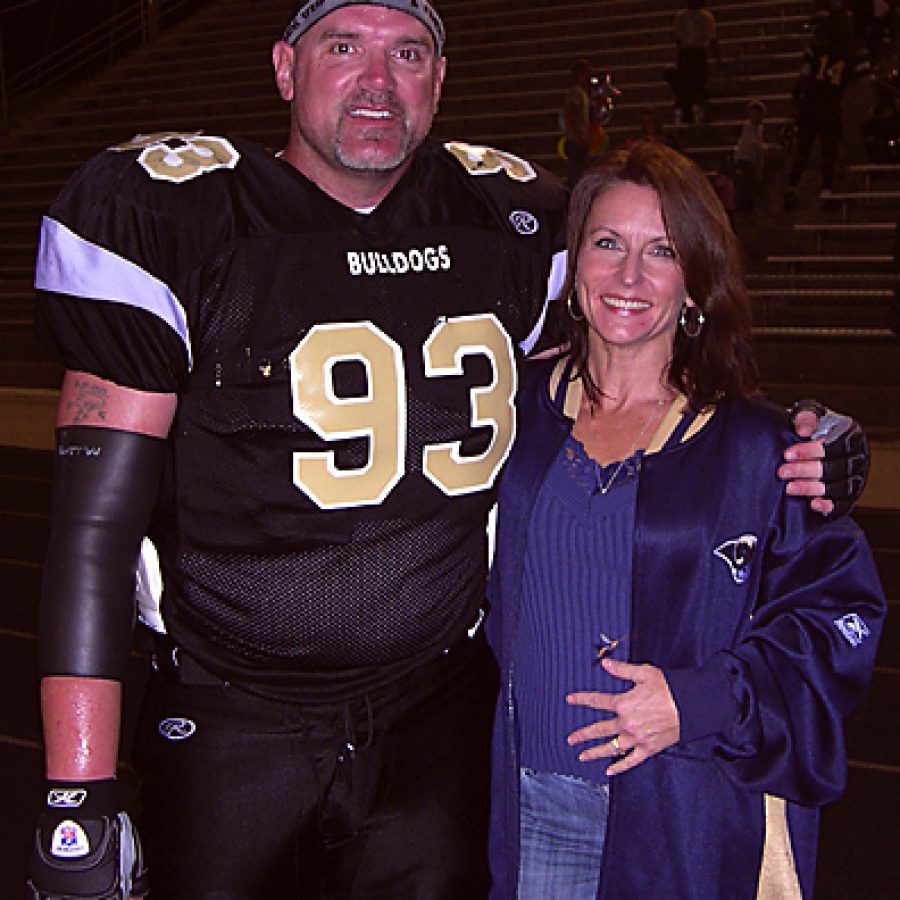 When Randy Lowry gets out of bed every day, a little voice inside his head keeps whispering to him: "At your age, pal, men don't start playing ball again, they retire."
Yet the 42-year old Oakville resident and member of the St. Louis Bulldogs semiprofessional football team shrugs it off as if it's someone else trying to tell him he can't do something that deep down in his heart he really wants to do.
"I'm a firm believer of living life to the fullest," Lowry said. "I don't know if it's a competitive spirit that needed to be put to bed, or it's the fact that I coach the Oakville youth wrestling program and this was a good way to set an example that if you think you can do something, then you can really do it."
Lowry faces an uphill battle in nearly every game he plays as he squares off against players who are sometimes younger by 20 years or more.
Yet the 6-foot-3-inch, 280-pound defensive tackle believes his age is actually an asset to the Bulldogs' defensive line.
"I have to go out about an hour before everyone else for my pre-game warm-up because it takes so much longer to get warmed up," he said. "The hardest thing to overcome, though, is that the reflexes slow down at 42 compared to 22.
"You really take those things for granted at 22 and at every practice, I work on the little things like footwork that can keep me competitive in every game."
But playing football isn't something new for Lowry, who was a tight end at Northwest Missouri State University as a freshman. Lowry transferred from Northwest after his freshman year to play baseball at Jefferson College.
After college, Lowry served three years in the U.S. Army as one of the few chemical specialists in the Airborne.
"I'm kind of a paramilitary guy and I really enjoyed the discipline and it was one of those things where I got what I wanted out of the Army and moved on," Lowry said. "I really enjoyed the military, and if I had to do it all over again, I probably would have been a lifer."
Lowry admits the discipline he enjoyed in the military now has become an asset both in the weight room and on the football field.
"When you're playing minor-league football, you're playing in the armpit of football," Lowry said. "Everyone has their reason for being there. Some guys are trying to get signed on by college or even professional teams, but nobody has to be there.
"So the discipline is a huge factor when you're trying to get out of bed after a game the night before or you're practicing in 95-degree weather."
With the support of his wife, Renee, the father of three also realizes that he's setting an example for his two sons — Jake, 14, and Luke, 11 — as well as his stepdaughter Katie, 26.
"It really sets an example for my own kids," Lowry said. "My stepdaughter thinks it's great, and how great is it that your kids can go out and actually have the opportunity to watch you play football?"