Oakville hockey club awarded Mid-States honors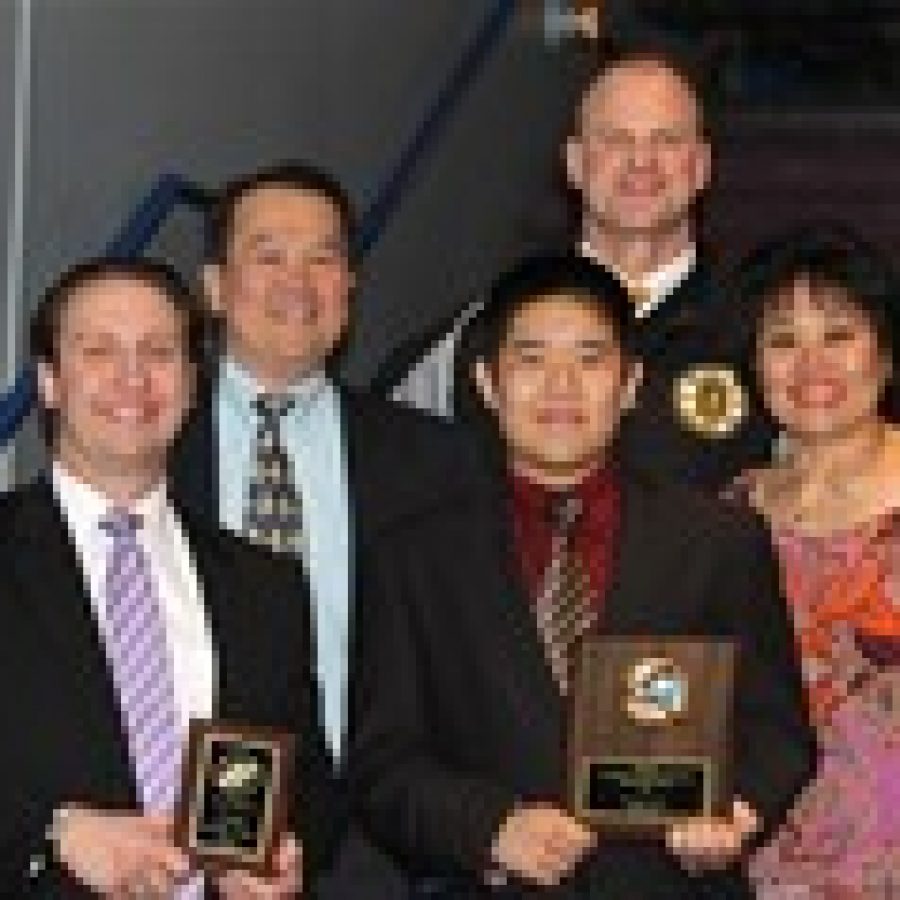 By ROBERT CHALUPNY
For the Call
The Oakville Senior High School varsity hockey club fell one win short of playing for the Mid-States Hockey Challenge Cup, but the Tigers cleaned house at the awards ceremony during the second intermission of the championship game at Scottrade Center.
The Tigers won their division title, going undefeated in division play, and also captured the Top Hat Classic, a preseason tournament hosted by Webster.
In addition, Ben Seah, an Oakville senior, was awarded the Mid-States Hockey Scholarship, and Tigers head coach Derek Stephens was presented the Coach of the Year Award.
Seah, who played right wing for Oakville, told the Call that he was glad to be in good company when he was presented the scholarship during the March 7 awards ceremony.
"I was happy, very excited," he said. "I was just glad to have all my peers there to watch me get the award."
Stephens said Seah was very deserving of the scholarship. The scholarship is awarded annually to a high school senior hockey player who has exhibited excellent academic performance, demonstrated competitive hockey skills, shown qualities of leadership and sportsmanship, given volunteer community service and has shown the ability to succeed at college or university level.
"I think it's great, putting the work in to apply for the scholarship and to get it, says a lot about him. He's a team player," Stephens said. "He's a great kid. He definitely played a good role on our team this year, always willing to be in everything, to be a part of the team. He just kind of embodies what a team player is.
"So, I'm really excited for him. That's a big deal to get some scholarship money for college and I'm just happy for him."
Seah said he hasn't decided yet where he will attend college, but he has narrowed it down to two. He wants to attend either the Air Force Academy in Colorado or the University of Missouri-Columbia. He intends to study aerospace engineering.
Stephens, who just completed his second season as the Tigers head coach with a record of 19-5-4, told the Call he was completely surprised about winning the Coach of the Year Award. Each Mid-States varsity head coach casts one vote for the Coach of the Year.
"I was so surprised, I mean didn't even find out until Wednesday (March 7) when I got down there to Scottrade and it's one of those things where I don't know — I'm so honored and just to have my peers, other coaches vote for me, I just can't say enough about my coaching staff," Stephens said.
"It's a reflection of the guys around me that help me out. So I'm just proud overall of the organization as whole. It just means a lot. It's a tremendous honor …," he added. "It's pretty cool. We would have like to make it to the final, but overall it was a great year and like I said, it was just such an honor to have some of the coaches vote for me."
That coaching staff supporting Stephens and the team includes assistant coaches Mike Deutman, Gary Gardner and Ben Lamperti.
Seah told the Call he thought Stephens was deserving of the Coach of the Year Award.
"I thought it was pretty cool," he said. "I also thought it was pretty cool that Oakville kind of got a lot of awards that night."