Oakville hitter back at plate this season after recovery from 2002 baseball injury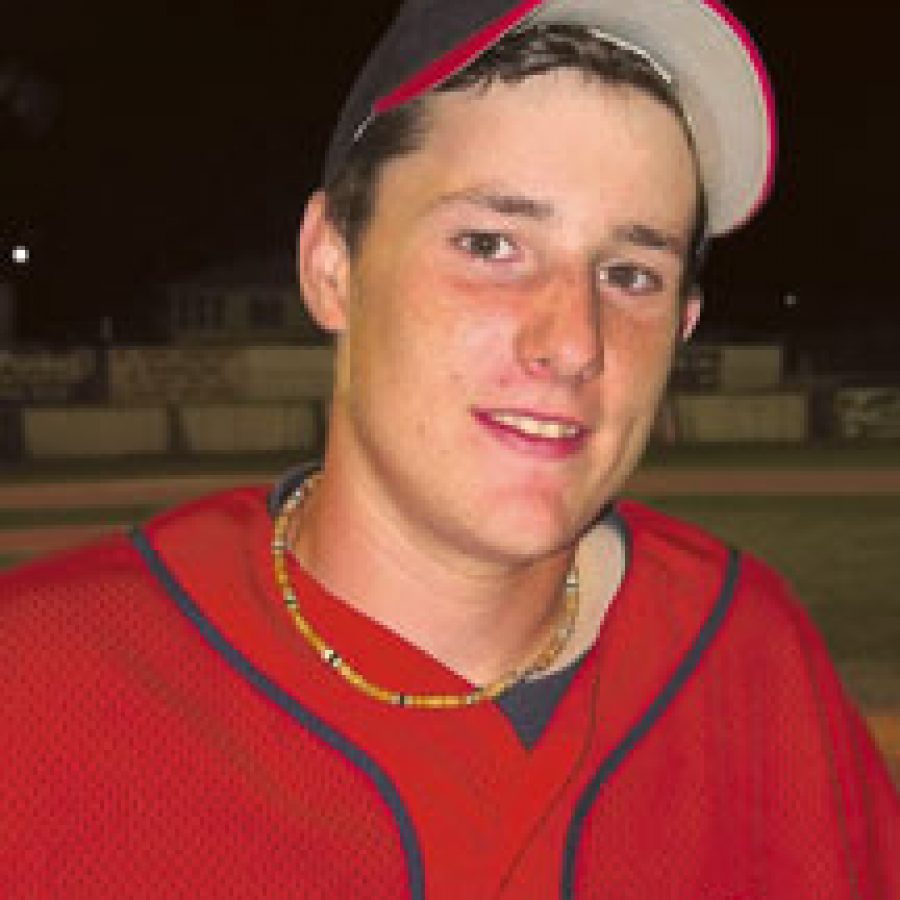 In a split second, a loud noise made Tony Maus realize his days of playing baseball — much less any other sport — could be over.
It was back in 2002 when Maus experienced that loud "pop," which resulted in a torn ulnar collateral ligament in his left elbow during the final days of his freshman season of American Legion baseball.
"I threw the ball and felt it pop," Maus told the Call. "It was horrible. My elbow swelled up like a softball."
Yet it wasn't baseball that was Maus' first concern. It was actually his ability to play hockey the next fall at Mehlville Senior High School.
"I actually was more worried about playing hockey at the time," Maus said jokingly.
Maus underwent "Tommy John" surgery, which was developed by Dr. Frank Jobe in 1974. The surgery involves extracting an accessory tendon from the wrist or hamstring and is woven through holes that are drilled into the ulna and humerus bones.
The following year consisted of extensive rehabilitation and even today Maus still is taking precautionary measures to keep his elbow healthy.
"The next baseball season my arm felt like Jello," Maus said.
"When I'm throwing a lot, I always make sure to really ice it down. I take care of it a lot better than I used to."
This season, Maus sees time as Oakville's first baseman, designated hitter and also spends time in the outfield.
He's currently batting .308 with a team leading six runs batted in.
"He's very consistent as our No. 3 hitter," Oakville Legion head coach Mike Wilhelm told the Call. "This year he's had a pretty solid year and is picking right where he left off from the spring season at Mehlville."
This past season as a left fielder at Mehlville, Maus batted .476 with 12 runs batted in.
On the mound, he pitched in one inning, in which he gave up one hit and one unearned run. Maus helped the Panthers to a record of 14-14 overall and a trip to the district championship game where they lost 5-3 to eventual state champion Vianney.
"Next year, we're going to have Steve Braun Jake Morgan and myself coming back," Maus said. "We should be able to make a run next season."
Maus also is well known as being the top center for the Mehlville hockey team where he racked up 30 goals and 14 assists for 44 points.
Yet for the moment, Maus realizes that his Oakville Legion teammates need to get things rolling should they want to make any kind of noise this season in the District 10 championships.
"Going into the season, we knew that we were going to have a tough time because of our pitching," Maus said. "I think that once we get our pitchers back healthy, we'll do fine come districts."
Maus and the Oakville baseball team are scheduled to play in the Anheuser-Busch tournament this weekend at Heine Meine Field.
Oakville will open up the tournament at 9:30 a.m. Friday, July 2, against House Springs.