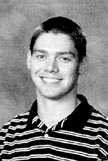 Staff Report
An Oakville Senior High School science teacher and coach accused of sexual contact with three 16-year-old female students faces a maximum of 63 years in prison.
Nathan M. Hopper, 25, 2515 El Paulo Court, Apt. C, 63129, was arrested last Thursday by St. Louis County Police and charged with nine counts of statutory sodomy in the second degree. Statutory sodomy in the second degree is a Class C felony that carries a maximum prison term of seven years.
Hopper is accused of three counts of statutory sodomy in the second degree in three separate incidents, according to court records.
Bond was set at $75,000 and Hopper remained in custody in the St. Louis County Jail at the Call's press time.
The three 16-year-old students told police they had sexual contact with Hop-per at the teacher's apartment in Oakville.
The alleged incidents occurred in June, between mid-October and mid-November and between mid-November and mid-December, according to court records.
Hopper, who was in his second year of teaching science at Oakville High, also coached freshman and junior varsity girls' basketball, girls' soccer and softball.
School officials learned of the alleged incidents after school Friday, March 14, and Hopper was placed on administrative leave with pay Monday, March 17, Super-intendent John Cary told the Call.
"We began to conduct our investigation at that point. Because of the nature of the investigation, where it was leading, we quickly brought in the Division of Family Services, who brought in the police almost immediately," the superintendent said.
"Any time this would happen, anything like this, when allegations like this come forward, we would place the person on administrative leave, conduct an investigation and follow the procedures and board policies of the school district as far as evaluating how the employee will be handled within the school district," Cary continued. "In this situation, we have to and are cooperating fully with the agencies that have taken the investigation over for the most part.
"If these allegations are true, we're extremely concerned about the students and their families. We know that one of our foremost responsibilities is to keep students safe at school and we need to continue to make sure we that hone our skills of finding out these problems as soon as possible and then dealing with them," he said.
"We go through an extremely stringent evaluation process of employees. Before we ever hire them, we have four types of record checks that we perform and it's very disheartening if these issues come to be true," Cary said. "All those systems didn't point this out before we brought someone in our or-ganization like that. However, our procedures, which we really can't go into, of who and how it was recognized, I can say that those procedures did work to bring the information forward for us to start the in-vestigation."
In a letter to parents and students sent home Friday, Oakville Senior High Prin-cipal Eric Knost stated, "Although the district cannot provide specific information about any student or personnel matter, we can confirm that the district does not tolerate such alleged misconduct and that standard procedures upon receiving this type of complaint are to immediately place the employee on leave, pending completion of the investigation, and, if appropriate, to secure the employee's termination of employment with the district."
The district also promptly reports such allegations to the appropriate authorities, including the Division of Family Services and the St. Louis County Police Depart-ment, the principal's letter stated.
Knost's letter continued, "The district is cooperating, and will cooperate fully, with authorities in completing the investigation. However, it cannot provide specific information regarding the investigation by outside authorities because: (1) The pro-cess involves confidential student and personnel matters that are closed by state and federal law, and (2) the district does not want to do anything to jeopardize the outcome of the investigation.
"Once the investigation has been completed, the district and authorities will disclose any additional information that may be appropriate and permitted or required by law," the principal wrote.
In his letter, Knost wrote, "The district's first and most important mission is to provide the best education possible for its students. However, this cannot be accomplished without a safe and secure educational environment. Therefore, the district has strict policies and regulations prohibiting inappropriate contact toward students, provides continuing training and monitoring regarding such policies, and always takes prompt and appropriate action upon receiving reports of any violation of these policies.
"All investigations and decisions, whether involving the current matter or any other, have been and will be made with the best interests of our students as the first priority," the principal's letter concluded.