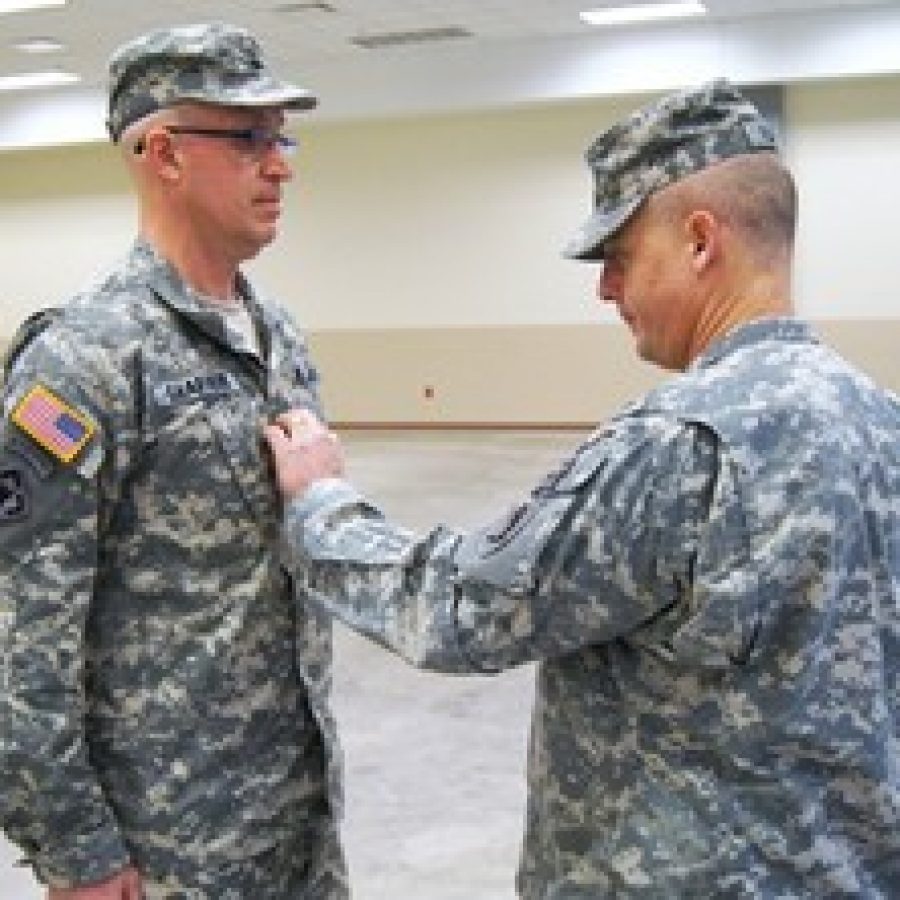 Lance A. Shaffer, executive and administrative officer of the Missouri National Guard's 70th Troop Command, was promoted to the rank of lieutenant colonel during a ceremony Saturday at historic Jefferson Barracks.
Shaffer, 46, of Oakville, received his oak leaf insignia from Col. James G. Allison, commander of 70th Troop Command, the largest brigade in the Missouri National Guard.
"I've known Lance Shaffer for a number of years," Allison stated in a news release. "He is an outstanding officer and in my view, the best administrative officer in the state. I know he will provide excellent leadership for the soldiers of the brigade."
The 70th Troop Command consists of more than 2,600 soldiers in four battalions with armories in more than a dozen locations around the state. The brigade also includes the 7th Weapons of Mass Destruction Civil Support Team in Jefferson City and the Region 7 Homeland Response Force, based at Jefferson Barracks.
"I'm proud of my military career," Shaffer stated in the release. "I am proud of the people that I work with and I am proud to wear this uniform. I look forward to moving this brigade into the future and I am honored to serve."
A native of Pottsville, Penn., Shaffer is no stranger to Troop Command, having served as the brigade operations officer from 2005 to 2007. Before his return to Missouri, Shaffer served as a range modernization officer at National Guard Bureau in Arlington, Va.
He is a veteran of Operation Desert Storm and served four years in the regular Army before joining the National Guard in 1993. Shaffer was also deployed to Kosovo as part of an international peacekeeping force.
A graduate of both Lebanon Valley College and Webster University, Shaffer is the son of Patricia Bucher — stepfather Kevin Bucher — and Fred Shaffer.