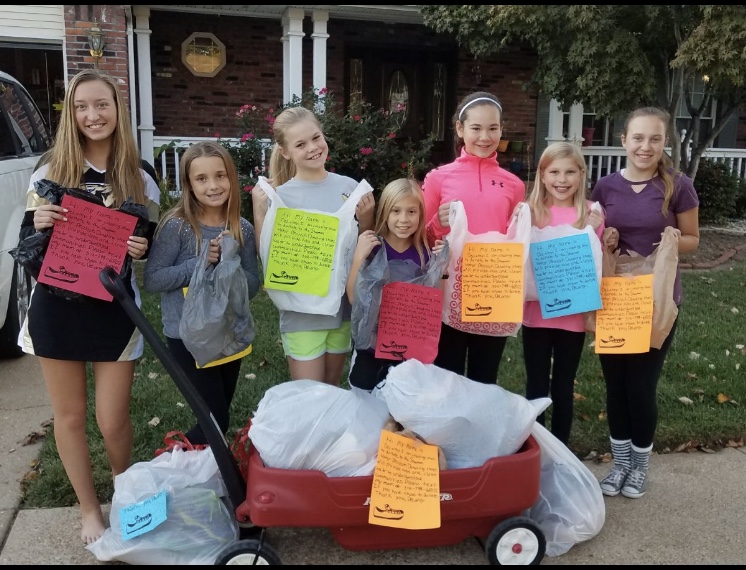 With a little help from her friends, sisters and the broader Oakville community, Point Elementary student DeLaney Brawley, 10, is turning old shoes into water for people in underdeveloped countries.
DeLaney, her friends and her older sisters — Oakville High School junior McKenna Brawley and Oakville Middle School eighth-grader Rylee Brawley, the daughters of Craig and Kelly Brawley — have collected more than 100 trash bags of shoes in just three weeks for the Shoeman Water Project, which collects new and used shoes and sells them to people in underdeveloped countries.
They will be collecting shoes through Thursday, Dec. 20, at First Baptist Church of Oakville, 6741 Telegraph Road.
The idea came to the 10-year-old when she was helping her mother, Kelly Brawley, clean out their garage. After sorting through all their old shoes, they had three full trash bags. DeLaney asked if she could try to collect more shoes to donate to help people in need. A good friend and neighbor told DeLaney about Shoeman Water Projects, and she was off and running.
The people who buy the shoes set up their own businesses in their countries and sell inexpensive shoes to people who couldn't otherwise afford them. This creates jobs and provides affordable shoes to everyone in the community. Donating shoes also keeps them out of our landfills and promotes recycling. The money that Shoeman Water Projects makes from the shoes is then used to drill for clean water.
Over the past three weeks, DeLaney and her "shoe crew" have placed over 500 fliers on neighbors' doors and at school requesting shoe donations, then collected and sorted the hundreds of donations. DeLaney's cause is also being supported by groups such as the First Baptist Church, Point Elementary School, their BETA Club, the Oakville United Soccer team and Kelly's Kuties twirling team.
The girls have also ran up against obstacles, including a lesson in county zoning. After DeLaney called Optima Graphics of Fenton and asked for a donation, the company made and donated a banner to ensure the drop-off site at the church would be visible. But the pastor of the church noted that the county wouldn't allow the banner due to zoning codes.
DeLaney's mother, Kelly Brawley, said, "These girls believe they can change the world. Their slogan is 'turn your old shoes into water.' She has been amazed by the positive response already and hopes the community will continue to show them they really can change the world, one pair of shoes at a time."