Nominate someone local as a South County 'Woman in History'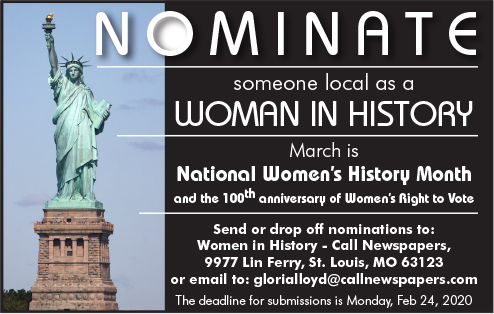 March is National Women's History Month and the 100th anniversary of women's right to vote, and The Call is looking for local nominees for our "Women in History" series.
We're looking for women who have made the world around them a better place, ordinary women who have made extraordinary contributions in the course of everyday life and bright young women who want to make a difference.
To nominate someone, send the person's name and as much of the following as possible: the nominee's phone, email, address, city, state, ZIP code and occupation for contest purposes only. The Call will not publish contact information. Include your phone number so that staff may contact you.
Tell us why you've nominated that person and her impact on our community. Women do not have to be living to receive recognition.
The deadline for submission is Monday, Feb. 24. Send or drop off nominations to: Women in History at Call Newspapers, 9977 Lin Ferry, St. Louis, MO 63123 or email glorialloyd@callnewspapers.com.
Features will appear in March 2020 editions of The Call, highlighting women from South County's past, present and future.
See the women featured last year in the Women in History series for examples of other women and girls who have been featured.