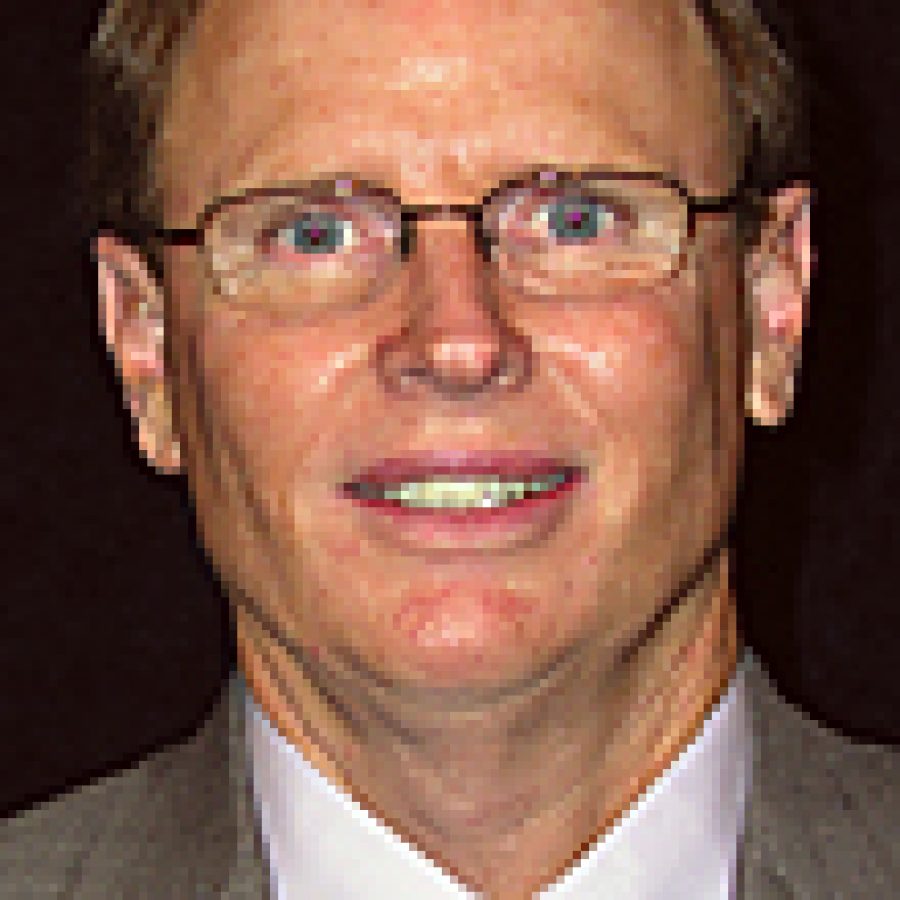 Mehlville Superintendent Terry Noble says he wants the school district to remember him after he retires next year as "someone who cared and gave his best."
Noble on June 30 will step down from his position, closing the book on four years serving as the district's leader.
His deputy superintendent, Eric Knost, will take Noble's place.
While the superintendent, 59, made his decision official Dec. 1, he had for some time mulled over how long he would remain with the district. In an interview Friday, he shared a handful of reasons why he's decided to retire.
"I've put in 37 years in education, and that's a lot of time basically with one focus. I've still got my health, and there's still some things I'd like to do with my life," said Noble, who lives in De Soto with his wife, Thana.
Asked what those things might be, Noble smiled and said, "I'll just say whatever opportunities come along — I don't know yet. There's a lot of things that are kind of appealing that may or may not come my way, but we'll wait and see. And if nothing does, I'm happy with that, too. A little time off won't hurt me at all."
Noble first came to Mehlville in the spring of 2006 while he was the superintendent of the De Soto School District, where he had served since 2002. There he'd overseen three successful ballot measures and led his district through the recovery from a devastating tornado in 2003.
De Soto also earned the Missouri Department of Elementary and Secondary Education's Distinction in Performance Award in 2006 and lowered its dropout rate from 7 percent to 2.9 percent during Noble's tenure.
When Noble arrived in Mehlville, the district recently had lost a 97-cent tax-rate increase proposal, Proposition A, and Superintendent Tim Ricker had tendered his resignation two days later.
During a May 2006 closed session, the Mehlville school board voted to extend a three-year contract to Noble for the superintendent's post, but he could not accept the position because the De Soto Board of Education would not release him from his contract there.
The board in June named former Washington School District Superintendent Jerry Chambers its interim leader. Then, in September, De Soto released Noble from his contract, and he inked a three-year agreement with Mehlville to be its superintendent beginning July 1, 2007.
As Mehville's superintendent, Noble helped lead two installments of the district's community-engagement program, COMPASS — Charting the Oakville-Mehlville Path to Advance Successful Schools. During dozens of workshops, staff, students and community members brainstormed ways to make the district high-performing. Mehlville annually has received high marks on its academic report card from the state and annually has earned DESE's Distinction in Performance honor under Noble's administration.
The superintendent also was part of an effort in late 2008 to advocate passage of Proposition T, a successful tax-transfer proposal that helped stabilize the district's budget and reinstitute cuts to supplies and textbooks made earlier in the year.
But Noble's tenure has not been without controversy.
In March 2008, less than a year into his new job, Noble was e-mailed a budget projection from then-Chief Financial Officer Brent Bell that showed the district's operating reserves would dip below the state-required minimum of 3 percent of total expenditures by June 2010.
Noble forwarded the projection to board members, calling the situation an "immediate crisis" and criticizing the Chambers administration for giving the board "poor advice" on the budget the previous year. Noble apologized at a leadership summit the following month for what he termed a "knee-jerk reaction," noting there was "plenty of time" for Mehlville to address the reserve projection.
A subsequent board investigation led to the demotion of Bell as Mehlville's CFO. Bell resigned in July 2008 to accept a position outside of the district.
Last March, the school board voted unanimously to award Noble a new three-year contract that increased Noble's base salary by $44,088, from $181,912 to $226,000 — a roughly 24-percent raise. While Noble and the board contended the decision was made with the best interest of the district in mind, Noble later agreed to relinquish the raise, saying it had become a distraction to COMPASS.
Board members in August rescinded Noble's three-year contract and approved a new, one-year agreement that provides for a 6-percent base salary increase — to $192,798 from $181,912.
While the district was able to shore up its finances with the passage of Prop T, the two tax-rate increase proposals that came out of COMPASS either never materialized or failed at the polls.
The board in August 2008 placed Prop T on the November ballot but opted to not pursue a 37-cent tax-rate increase proposed through COMPASS. A telephone survey of 400 district residents indicated 59 percent would oppose the proposal.
Board members last August did decide to place a tax-rate increase proposal on the ballot. The proposed 88-cent tax-rate increase, Proposition C, was promoted as a way to move Mehlville forward. However, more than 62 percent of district voters Nov. 2 rejected Prop C.
Now board members are considering a list of budget cuts that would address projections the district will deplete its operating cash by 2013.
Noble said last week he isn't worried what people might think about his retirement announcement coming as the board discusses possible cuts — and nearly a month to the day after Prop C's defeat.
"I can't worry about perception," Noble said. "The one person I have to make sure that I satisfy is the person I see every morning in the mirror because you can't please everybody. And that's the way I've always tried to do it, knowing that I'm accountable to a lot of people — I understand that.
"The timing of the decision really has to do with what's best for the school district. As we're working to begin to plan for our immediate and long-term future following the election, I think the first order of business is for the district to have nailed down their leader for a long duration of time. No district needs to work on a year by year basis with a superintendent because the people who put together the vision for the district — who work with the community to put together a vision — are the ones that need to be around."
The superintendent told the Call he didn't want to discuss what he believes is his biggest accomplishment or regret over the past three and a half years.
"I really would rather leave that up to other people because I think you almost would've had to have been here before I got here to know what, if anything, I can really hang my hat on to say I've accomplished because you had to have been here to know what I inherited — to kind of see where we are now compared to where we were," he said.
"And I honestly don't have that perspective. I was here a year before I was hired on and I saw some things that I feel like we may have improved then — probably most of all would just be our internal morale or demeanor as a district — but I can't say that for sure. I can only say people have told me that who were here before.
"Even now," he continued, "even since the notice of my retirement has come out, I've heard from a few people that have told me some things that I wasn't aware of, some of the conditions that were here prior to my coming. But I don't want to say that I deserve all the credit for that."
Most of the credit goes to the current school board, Noble said.
"You know our Board of Education, they've taken some hard knocks lately, but boy are they student-centered, and I always describe them as individuals with pure motives," he said. "You don't have to agree with every decision they make, but their motives are correct, and that is they are promoting the welfare and the future of our students.
"That's exactly what we are, that's what we're about. Our students are our product. If that's not your primary focus, then you shouldn't be on the board, you shouldn't be in the administration, you shouldn't be a teacher. You shouldn't have any association with the school district if that's not your primary focus. So the board had a whole lot to do with that. I happen to be maybe a piece of the puzzle."
Knost, however, was quick to praise Noble for restoring "calm" to the district.
"Terry brought a certain calm to this district that it had not felt in a long time. I hope when I say that I'm making it sound as big as it is," Knost told the Call. "I think that's a big part of Terry's leadership. That humble, calm approach that he's brought helped our school district get back to work, get back to teaching and learning to the best of our ability."
Noble expects a seamless transition when Knost becomes superintendent July 1.
"He knows what will work here and what won't work," Noble said. "I know he's learned from my mistakes and mistakes the district has made, and I hope he's learned from some of the good things that have happened. But regardless, that makes it so much easier for me knowing that … we're not going to miss a beat with Eric.
Noble added, "And in fact I'll be the first to say this: Eric is much more of a visionary leader than I am. I kind of see myself more as a troubleshooter. And there are two different styles of leadership there. Some people can come in and troubleshoot and try to fix things but sometimes it takes a different kind of leader to take a district and move it forward, and that's the kind of leader Eric is.
"We couldn't be in better hands, and that makes me sleep well at night to know that."