No one injured in Oakville house fire
Pictured: Drone photos courtesy of Eric Kunst.
No one was injured in a two-alarm fire that damaged an Oakville house late Wednesday afternoon.
Firefighters from the Mehlville Fire Protection District were called to the fire in the 3000 block of Bry Lynn Court near Becker Road around 5 p.m. Wednesday.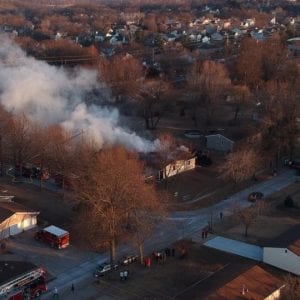 The fire started on the back deck of the home, and flames had reached the attic and engulfed the back side of the house by the time crews arrived, Assistant Fire Chief Dan LaFata said.
At least one resident was home at the time, but everyone made it out safely with no reported injuries, LaFata noted.
A second alarm was called due to the size of the fire, and the Lemay Fire Protection District and Rock Community Fire Protection District arrived for backup.
With help from those fire districts, firefighters had the fire under control in about an hour, LaFata added.
The cause of the fire is under investigation, the assistant chief said.
The family that lives in the house, the Gosas, has two children, a middle-school girl and an elementary-age boy. The Oakville Orange Leaf is holding a fundraiser for the family from 1 p.m. to close on Friday.
Parents from the Rogers Elementary Parent Organization said on social media that they were collecting clothing and other items for the family.