Nine Lindbergh student-athletes commit to college play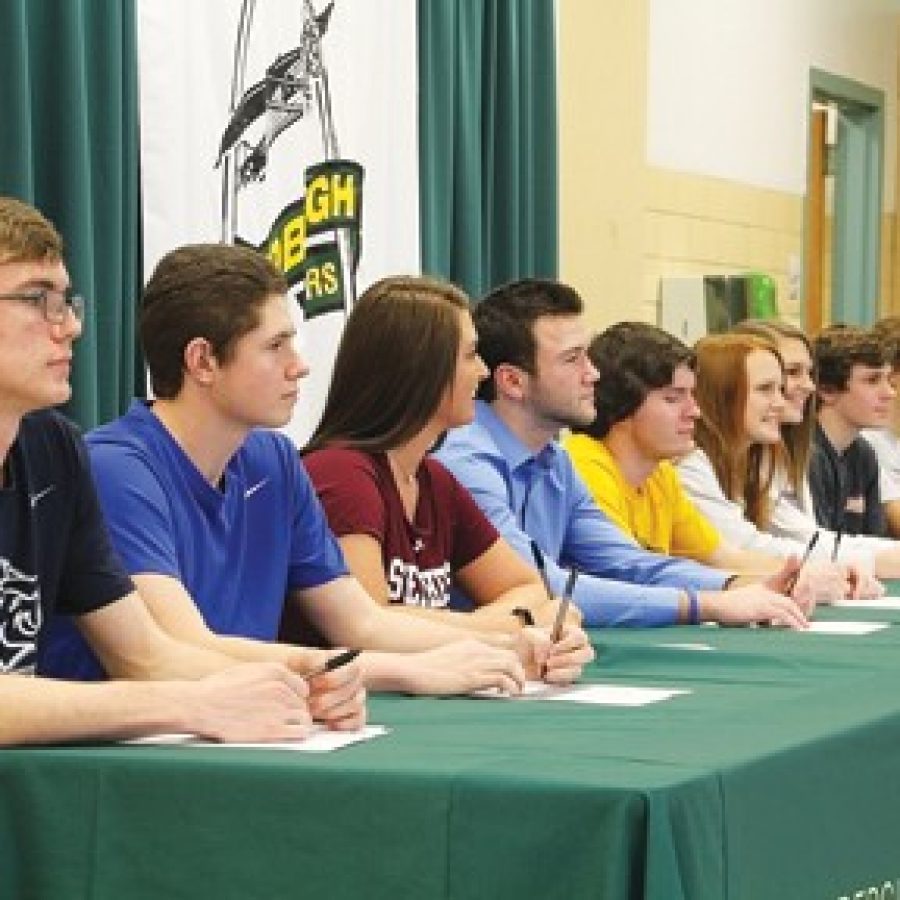 Nine Lindbergh High School student-athletes committed to college teams last week on National Signing Day.
LHS Athletics Director Scott Luczak congratulated the seniors, who will represent three sports at seven Midwest institutions.
Luczak said all of the Lindbergh athletes signing are great students as well, and applauded them on balancing high academic standards with excellent athletic achievements. Only about 7 percent of all high school athletes go on to play collegiate sports and only 2 percent earn scholarships.
"This is a great honor and very impressive achievement, and we are proud of each of you," Luczak stated in a news release. "It is amazing the amount of dedication that goes into playing sports and keeping up your GPA (grade-point average) and this is a great honor."
Here are what Lindbergh's coaches had to say about their student-athletes:
• Jake Branham, St. Louis Community College — "We are very proud of Jake for achieving this goal to play baseball at STLCC. This accomplishment is made more significant after he has battled through numerous injuries during his high school career. After missing his entire junior season due to a knee injury, this accomplishment shows his true determination and perseverance. We are very excited to see what Jake can do for our team this season," coach Darin Scott stated.
• Jaron Heller, Quincy University — "Jaron is a hard worker and tough competitor. He was a pleasure to coach and a very unselfish team player. Jaron overcame a broken collar bone early in the season and came back to finish his senior year as a dedicated Flyer. His leadership and toughness will be greatly missed. We wish him nothing but the best moving forward," coach Nathan Norman stated.
• Matthew Amick, Webster University — "Matt was an outstanding goalie in our program who combines outstanding athleticism with instinctively wise decision making. Our outstanding goals against average this year was a reflection of his talents," coach Mark Giesing stated.
• Cameron Killian, Webster University – "Cameron is a gifted central defender with the most perceptive read on opponent's attackers I have ever seen. His legendary tackles make him one of the greatest defenders Lindbergh has ever produced," Giesing stated.
• PJ Schappert, University of Missouri-St. Louis – "PJ served as one of our varsity captains this past year and is a gifted and talented midfielder. His work ethic combined with his brilliant passing made him an essential part of the Lindbergh attack," Giesing stated.
• Taylor Bresnan, Stephens College — "Taylor has been a key player on the varsity girls since her sophomore year. Overcoming an ACL tear in her freshman year, she has bounced back to solidify the Flyer midfield, working mainly as a defensive minded central mid," Giesing stated.
• Erin McGhee, Quincy University — "Erin is a phenomenal soccer player. She is one of the hardest workers I've ever coached, has excellent touch and vision, and consistently pushes herself to excel and improve her game. She is a tremendous defender, and is exceptionally dangerous with the ball at her feet as she pushes into the attack," Giesing stated.
• Amy O'Neal, Rockhurst University — "A tremendous leader on and off the field, Amy combines great vision of the field with outstanding first touch. Her versatility as a player has seen her take on multiple roles since her freshman year and she will be a major force in the Flyer attack this year," Giesing stated.
Meredith Weik, Evangel University — "Meredith has been a critical force on the varsity for four years, providing dangerous, deep runs at opponents and playing a key role in creating the Lindbergh offense," Giesing stated.