New county police standards already facing legal challenge
Stenger says county prepared to defend standards in court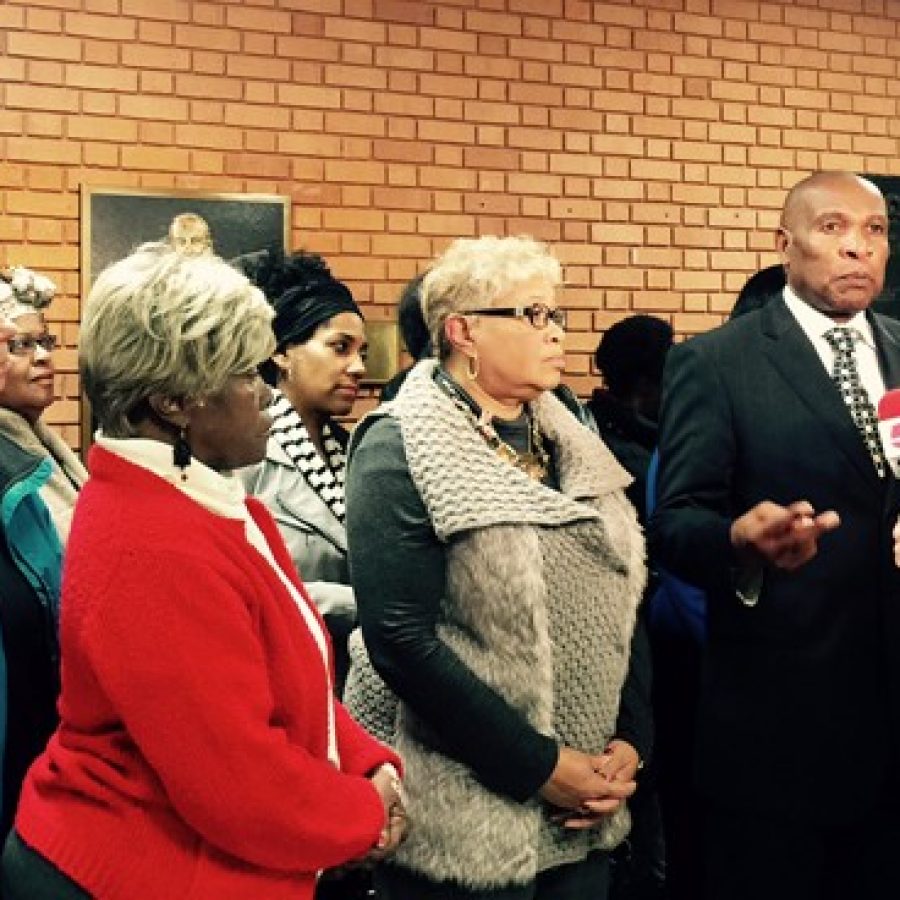 Days after the County Council established new police standards for municipalities last week, three cities filed a lawsuit contesting them — the first of what opponents promise could be multiple lawsuits and a long legal battle for the county.
The council approved the 13 minimum standards on a 4-2 vote, with 1st District Councilwoman Hazel Erby, D-University City, and 7th District Councilman Mark Harder, R-Ballwin, opposed. Sixth District Councilman Kevin O'Leary, D-Oakville, voted for the standards in previous weeks but was absent for the final vote Dec. 1.
The standards are opposed by city officials across the county, but north county mayors believe County Executive Steve Stenger is intentionally targeting them to disband their police departments or disincorporate their cities. Some framed it as a civil rights issue: Singing "We Shall Overcome," Vinita Park Mayor James McGee led dozens of the bill's opponents out of the County Council Chambers after the standards passed.
Stenger, however, said he proposed the standards to ensure equal access to quality law enforcement for county residents, no matter where they live, and is not targeting any specific communities or trying to take over any departments.
"The law itself has, as one of its fundamental purposes, equal treatment and equal access under the law — that is the antithesis of what the mayor (McGee) was claiming," he said. "It is resident-focused, it's not mayor-focused. It's not status quo-focused, it's resident-focused. It's so that residents — and the mayor would be a resident — get equal treatment and equal access under the law, and it's for everyone in every area of the county and for people who travel through our county."
Stenger signed the bill the day after it was approved. The following day, former Ellisville and Green Park City Attorney Paul Martin filed the first lawsuit against the new police standards on behalf of the cities he represents, Olivette, Rock Hill and Breckenridge Hills.
In the lawsuit, Martin seeks a temporary and permanent halt to the standards because the bill "unlawfully usurps the authority of the cities, towns and villages of St. Louis County … to operate and control their own police departments."
The lawsuit alleges the new standards grant Stenger the power to set the standards, determine whether a city has "deficient" police services, "force a city to amend its contracts for police services," "force all cities to report and be subject to the county executive for the delivery of its police services," prosecute a city's mayor, police chief and other elected officials if a city is not up to the standards and, finally, take over policing a city, which violates the state Constitution.
The night the standards passed, Stenger said County Counselor Peter Krane and his legal team are prepared to defend them in court. More suits are expected to follow.
Municipal League Executive Director Pat Kelly and city officials told the council that Stenger took few of their suggestions into account when writing the bill, despite multiple meetings in which they begged him to slow down the process.
Instead, they say, county officials consulted county Police Chief Jon Belmar. In the latest version of the bill introduced last week at the final vote, a committee that includes city police chiefs will make some of the decisions that would have been Stenger's in previous versions.
Other groups, including the 24:1 Coalition that opposed Stenger's election last year, led by McGee and Cool Valley Mayor Viola Murphy, said Stenger refused to meet with them altogether. A dozen members of the group recently joined together to file a lawsuit against a state law they felt was targeting their municipalities, Senate Bill 5, and Murphy said the group might also challenge the county standards.
North county officials wrote the standards that serve as the basis for Senate Bill 5 and the county standards, Murphy said, but they still had no input on the county legislation, which they feel is being implemented with the intent to disband their cities.
"Our citizens have a right to have the type of government that they want," Murphy said after walking out of the council. "They voted us in, and they're standing here with us."
Murphy dissolved Cool Valley's Police Department in 2013 and contracted for police services with Normandy — a decision that under the new law would have to be approved by the county.
"There's been no stonewalling of anybody," Stenger told the Call. "We've met with nearly every chief in St. Louis County, we've offered to meet with nearly every mayor in St. Louis County. If Mayor McGee wants to meet, I'm available right now if he wants to meet. He would rather talk in front of a podium for some reason, and if that's what he wants to do, he's free to do that."
The 13 minimum standards include some of the same requirements of Senate Bill 5, which requires that all police departments in St. Louis County become accredited within six years.
Among the new county standards that cities will have to meet within six months, departments cannot discriminate based on race, ethnicity, gender, sexual orientation, religious beliefs, disability or economic level and will have to be able to bond prisoners out 24 hours a day, license and train officers, conduct drug screenings, criminal background checks, character assessments and psychological examinations of all new hires, provide 24-hour service with at least one officer and a supervisor always on duty, and establish policies over use of force, pursuits, lawsuits, complaints and firearms discharges.
"If you don't have them, you're basically Mayberry in a million-person community, and it just doesn't make any sense," Stenger told the Call.
But some city officials see more sinister motives in the new standards, including racial discrimination and tyranny. Pagedale Alderman Faye Millett told council members last week that their support for the bill means they want to be the "slave masters" of municipal officials.
Florissant Mayor Tom Schneider — whose department will be exempt from the standards because it is accredited — was just as skeptical of county officials' motives for creating the standards, linking them to the movement for a city-county merger, or "UniGov."
"The bill before you is an intolerable act, just as onerous as the tyranny of Great Britain to our Founding Fathers," he told the council.
But Stenger dismissed the idea that he is seeking greater power over cities.
"This has absolutely nothing to do with us taking over even the smallest departments in St. Louis County," he said. "It has nothing to do with the (city-county) takeover, and as you heard from my campaign, as you heard when I first took office, that has never been part of my platform nor an objective of mine."