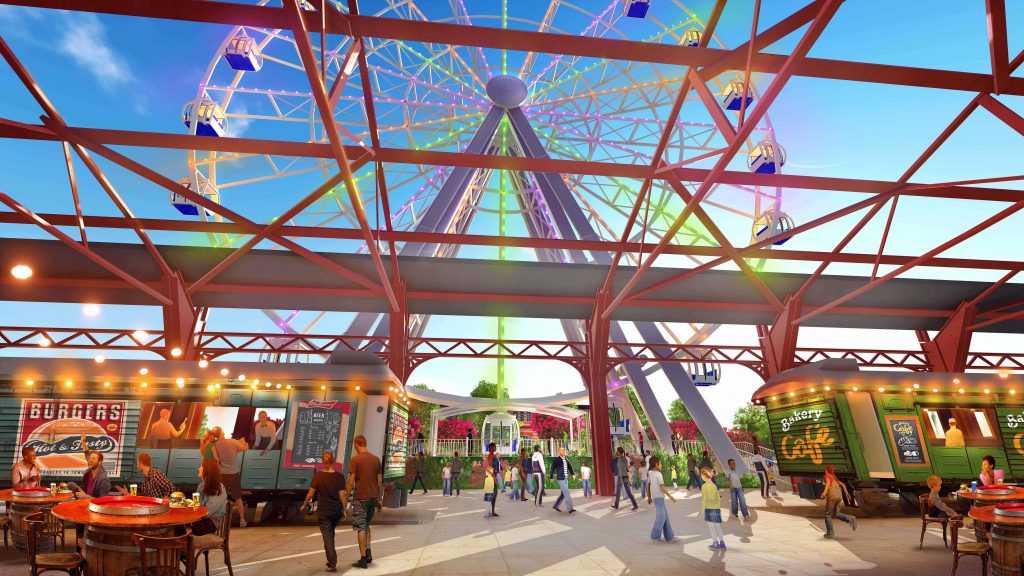 By Erin Achenbach
Staff Reporter
eachenbach@callnewspapers.com
The St. Louis skyline will be getting a new addition this month, as construction is underway on a 200-foot Ferris wheel at Union Station.
The St. Louis Wheel is part of a $187 million family entertainment complex under construction at Union Station centered around a 120,000-square-foot, two-story aquarium. Other attractions slated to be open by the end of 2019 include new restaurants, a 36-foot-wide old-time carousel and an 18-hole mini golf course.
Once construction is projected to be complete by the end of this month, the observation wheel will loom 200 feet above the city, with 42 enclosed climate-controlled gondolas that can hold up to eight people each, or 1,380 pounds. It will run 365 days a year, and the 12- to 15-minute ride will offer riders a 20-mile view in each direction on a clear day. The wheel will also be decked out with 1.6 million LED lights that can display a variety of different color combinations to celebrate special occasions or holidays.
"This (St. Louis) is an amazing city. This is going to change the landscape. It will be a new landmark to add to the city of St. Louis," said Eli Stovall during a preview of the wheel July 11. Stovall is a managing partner for Icon Attractions, which will operate the wheel.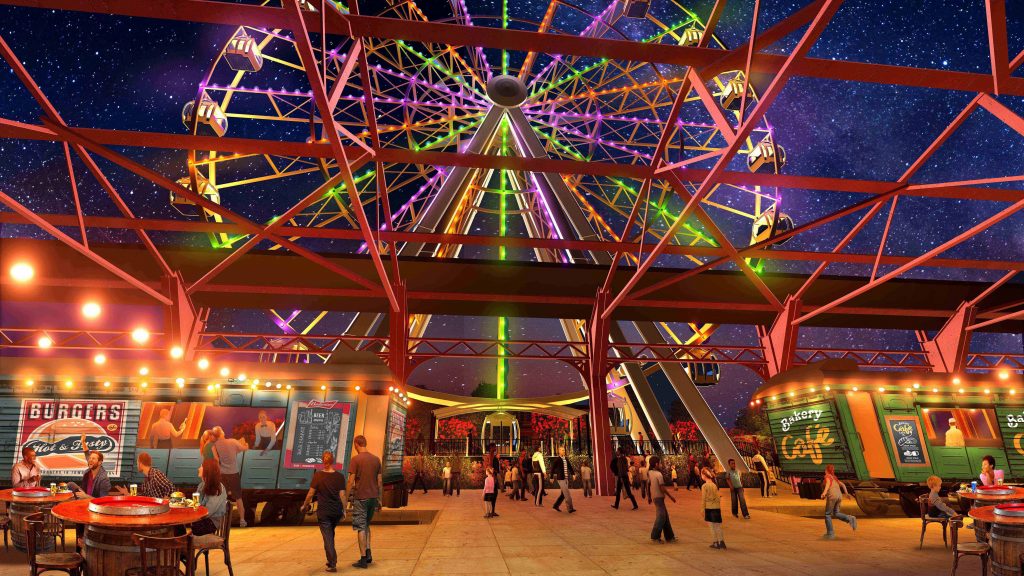 Icon Attractions currently operates the Capital Wheel and Carousel at National Harbor, a 350-acre development in National Harbor, Maryland, just outside of Washington D.C. The development opened in 2014 and features a 180-foot Ferris wheel.
The St. Louis Wheel will be located on the southwest corner of Union Station, next to the train station along 20th Street.
It will be completed at the end of this month and open for the first riders in October. The wheel pays homage to the Ferris wheel at the 1904 World's Fair in St. Louis, which stood 264 feet above the city, with 36 cars that carried 60 standing passengers each.
"We probably wouldn't have had the World's Fair or the Olympics for the first time on U.S. soil in 1904 if it wasn't for Union Station," said Robert O'Laughlin, chairman and CEO of Lodging Hospitality Management. LHM purchased Union Station in 2012. "Part of what we're doing… with all the attractions here is to pretty much educate and tell people about what went on in St. Louis."
Union Station, which first opened in 1894, was designated as a National Historic Landmark in 1970.
The St. Louis Aquarium will be the centerpiece of the new development at Union Station. At two stories and 120,000 square feet, the aquarium will feature 13,000 freshwater and saltwater animals. The aquarium pays homage to Union Station's train depot roots by having visitors enter the aquarium via a 3D virtual reality train ride that will "deliver" visitors to an area that explores the confluence of the Mississippi and Missouri rivers.
Shark Canyon will be a 250,000-gallon tank that will arch over the heads of visitors and offer views of sharks and rays. The second floor of the aquarium will give visitors the opportunity to get their hands wet with touch tanks and interactive exhibits.
"To say that we're excited to open the St. Louis Aquarium at Union Station would be an understatement," said Erin Clark, director of animal projects for the aquarium. "As the new aquarium in the country, we will provide a great experience for the St. Louis families and visitors that come here from across the nation."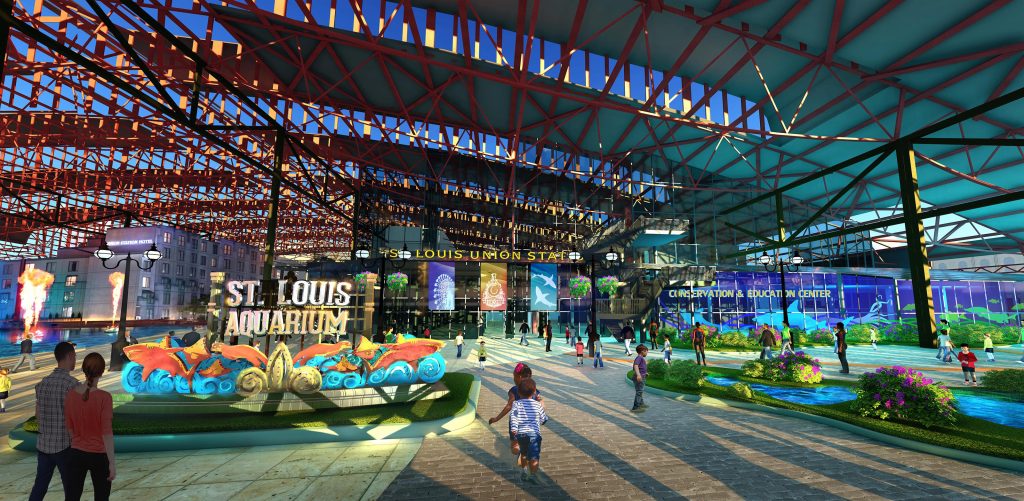 Despite the fact that the aquarium is still under construction and isn't slated to open until December, it has already received one of its future occupants: Lord Stanley, a rare blue lobster that was gifted to the aquarium after it was given to the city by the owner of Arnold's Lobster and Clam Bar in Cape Cod, Massachusetts, in honor of the St. Louis Blues clinching the Stanley Cup.
LHM first unveiled their plans for the Union Station redevelopment with an aquarium and observation wheel in August 2016. Construction began in November 2017. Initially, the project was priced at $160 million with an estimated May 2019 completion, but developers announced in January that the project would now cost $187 million with scheduled completion at the end of 2019.
Over 500 construction jobs have been created with the development, and it is expected to bring 100 permanent jobs.