National Guard unit gets rousing welcome home from Qatar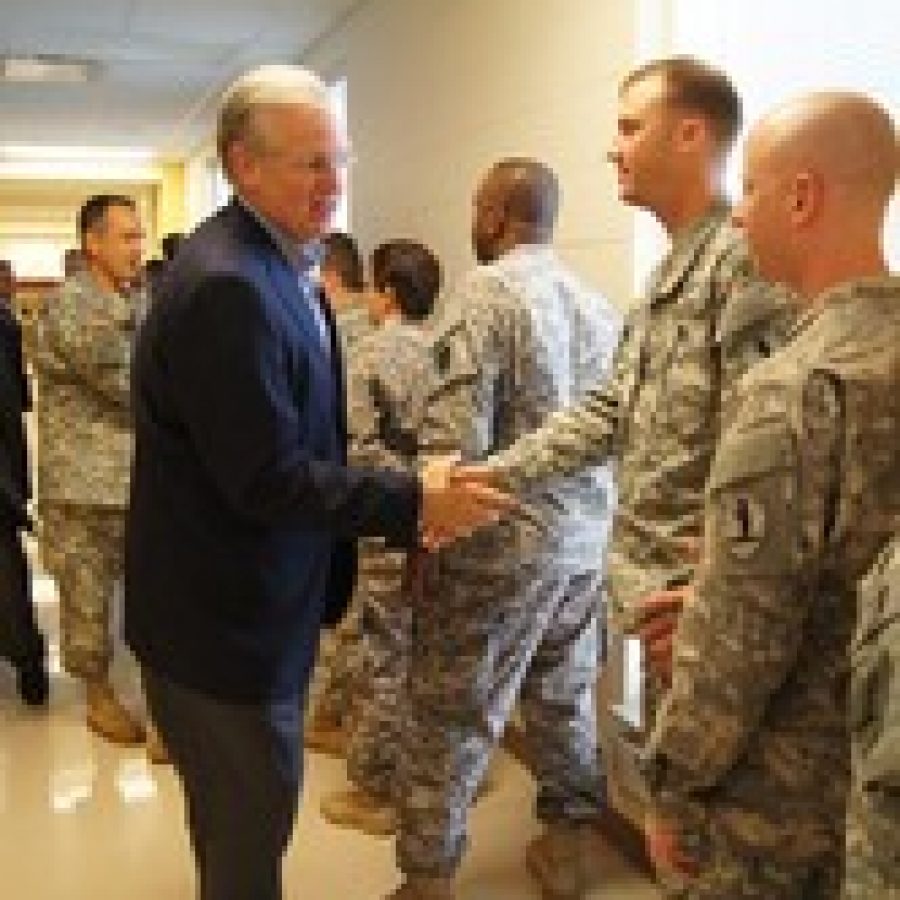 Hundreds of family, friends and well-wishers crowded the Joint Armed Forces Reserve Center at Jefferson Barracks Saturday to welcome home a St. Louis-based National Guard unit from a Middle East deployment.
More than 130 members of the 3175th Chemical Company recently completed a year-long base security mission in Qatar, a central staging and recreation site for all U.S. troops in the region. While deployed, the 3175th fell under the command and control of the 175th Military Police Battalion, headquartered in Columbia. In all, about 450 Missouri National Guardsmen from four units were part of the deployment in support of Operation Enduring Freedom.
Normally a chemical/radiological detection and decontamination unit, the 3175th was deployed in a military police role, providing security at Camp As Sayliyah, just outside the capital city of Doha. The mission proved challenging, according to the unit commander, 1st Lt. Gregory Stueve, of Waynesville.
"As a chemical unit we're not usually versed in security and force protection but it was good that we get to put another feather in our caps as far as our unit's versatility," he stated in a news release. "That will serve Missouri well in event of a future state emergency."
Stueve also noted that the 3175th serves as part of the Region 7 Homeland Response Force, trained for victim search and extraction in the event of a large-scale disaster.
Among those attending Saturday's ceremony were representatives of U.S. Sens. Claire McCaskill and Roy Blunt, as well as Maj. Gen. Stephen L. Danner, adjutant general of the Missouri National Guard. Gov. Jay Nixon took a break from his campaign tour to stop by briefly and shake the hand of each returning soldier. Danner later read a letter from Nixon praising the performance of the 3175th.
"The training and skills you brought as part of our military efforts in the Middle East were invaluable," Nixon wrote. "Our success in this part of the world depends upon, in part, the high level of security maintained at our bases throughout the region. You met and exceeded that challenge. The people of Missouri are proud of your accomplishments."
Anxiously awaiting her husband's return was Michelle Stueve and her two, young sons, Mason and Miles, ages 4 and 2, respectively.
"I've been in the military so this isn't so hard on me," she stated in the release, "but having Greg gone is a little harder on the boys. I told them that daddy had to go keep us safe and protect us from the bad guys and they understand that."
Married just over a year before deployment of the 3175th, Sarah Cutshall, of Lake St. Louis, was understandably happy to reconnect with her husband, Sgt. Noah L. Cutshall.
"It was definitely difficult trying to go from being married and together to being married and separate," she added. "Now we get to be together again."
Those who deployed with the 3175th now will undergo the National Guard's Yellow Ribbon Reintegration Program, which helps soldiers make the transition from active duty back to citizen-soldiers of the Guard.
The 3175th is based at Lambert-St. Louis Airport and is a subordinate unit of the 835th Combat Sustainment Support Battalion, headquartered in Jefferson City.