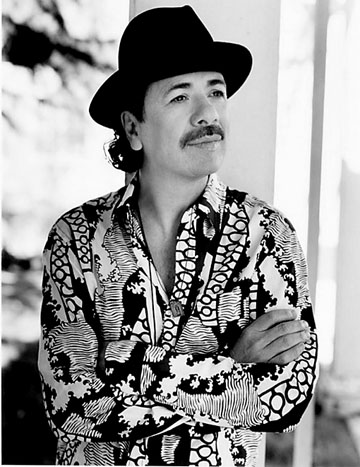 By ALAN SCULLEY
For the Call
Plenty of musicians will say that writing, recording or performing music is a spiritual experience.
And while most artists undoubtedly are sincere in describing their feelings for music, few artists seem to display the genuine passion that Carlos Santana shows when he expresses how deeply he is touched by music or how intensely he believes that the creative process has a higher purpose.
"I'm very careful to complement. That's the main goal of music is to complement life and people," Santana said. "If you aren't doing that, you shouldn't even be a musician. You should be working with flowers, washing dishes or shining shoes. But to me I always was trained that music was to complement life. That's what I learned from Miles Davis and Bob Marley because life is not so nice on this planet most of the time, so you need to create music to make people say: 'Oh my God, every time I hear that song I'm just so happy to be alive, regardless of what's happening to me.'"
The 55-year-old San Francisco-based guitarist, who blasted onto the scene in the late 1960s with a landmark performance at the Woodstock music festival and a trio of albums — "Santana," "Santana II" and "Abraxas" — that offered a trailblazing mix of rock, blues and Afro-Cuban music, has been one of the major stories in music over the past four years.
After going seven years without a new CD, Santana made a monumental return in 1999 with the CD "Supernatural." Featuring collaborations with a host of contemporary artists, the CD took off behind the hit singles "Smooth" — featuring Rob Thomas of Matchbox Twenty — and "Maria Maria" — a collaboration with Wyclef Jean. At last count, "Supernatural" has sold 25 million copies worldwide and earned Santana a rec-ord nine Grammy Awards.
His followup CD, "Shaman," has surpassed 2 million in sales behind the lead single, "The Game of Love." The song, which features lead vocals by Michelle Branch, remains a multi-format hit more than six months after its release. One reason Santana went so long without a CD before "Supernatural" was because he was waiting to find the right record company to release his next CD.
"I say this with humility. I don't say this with arrogance," Santana said. "I knew I had a masterpiece in my belly. I just knew that. And I didn't want to just give it to anybody. A musician, you need two wings in order to fly, radio airplay and distribution. If you don't have those things, you shouldn't even be with a record company."
Santana found what he was looking for when Clive Davis — the record executive who first signed him to Columbia Records 30 years earlier — signed him to Arista.
Davis since has left Arista and is now president of J Records. Despite this, Da-vis, along with current Arista President An-tonio "L.A." Reid, remained actively in-volved with the "Shaman" project.
It was Davis who came up with the concept for "Supernatural" to mix several tunes that would reflect Santana's classic Afro-Cuban blues-rock sound with poppier outside songs that would pair the guitarist with a number of well-known stars.
"Shaman" follows a similar blueprint to "Supernatural." Once again, Santana collaborates with a variety of stars. The aforementioned "The Game of Love" gives the new CD a pop counterpart to "Superna-tural's" "Smooth." Meanwhile, Musiq and Seal lend their vocal talents to "Nothing at All" and "You Are My Kind" respectively, bringing a soulful slant to "Shaman."
Santana, though, also delivers some standout moments operating on his own. "Foo Foo" is a festive word-beat romp that borders on giddy. "Aye Aye Aye" is a smooth Latin-flavored track that reunites the guitarist with original Santana drummer Michael Shrieve.
Today, it's not just his career that is in a much better place for Santana. His life in general is more harmonious. Married for nearly 30 years and the father of three children, Santana said he also has rededicated himself to his family. A key factor in his emotional turnaround, he said, was a decision to enter therapy in the mid-90s to confront a variety of personal demons that he admits had left him angry and disillusioned.
One episode he faced came to light in a March 16, 2000, cover story in Rolling Stone magazine, in which Santana revealed he had been sexually molested when he was between the age of 10 and 12 by a man who would take him over the Mexican border into California. Therapy, Santana said, helped him overcome his anger and shame and created a newfound sense of peace and joy that was essential to finding the musical spark he needed to make "Supernatural" and "Shaman."
"You can't create beauty if all you see is ugliness and resentment and rancor and angriness and that kind of stuff," Santana said. "So I accepted the challenge of getting inside the bull ring and meeting the bull full on. And I came out in a way like a butterfly. I felt like I learned to forgive and forget and say to myself I am beautiful and I am pure and I am not what happened to me. And that, that took me to the next level of existence where all of a sudden I wasn't walking around carrying a stinky cadaver …"
Santana plays July 6 at UMB Bank Pavilion. Reserved seats for the show, which also features Angelique Kidjo cost $55, $45 and $33. Lawn tickets cost $19.50.