Mr. and Mrs. Bagy celebrate 60th wedding anniversary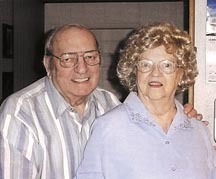 Ruth and Albert Bagy celebrated their 60th wedding anniversary March 19 with a dinner at Old Country Buffet on South Lindbergh Boulevard.
Mr. Bagy and the former Ruth Schmitt were married March 19, 1942, in Am-arillo, Texas, before his deployment in the Army Air Corps. A decorated World War II veteran, he was assigned to the 463rd Bomber Squadron.
Mr. Bagy is retired from Anheuser-Busch where he worked for 38 years. Mrs. Bagy is retired from White Rogers.
They are parents of four: sons and daughters-in-law, Dennis and Sandra Bagy of Concord, Gary Bagy of Oak-ville, and Rick and Cindy Bagy of Flor-ida; and daughter and son-in-law, Carol and Ronald Clevlen of St. Louis.
They have six grandchildren: Robert Clevlen, Greg Clevlen, Dennis (Julie) Bagy, Kevin (Kim) Bagy, James Bagy and Eric Bagy; and four great-grandchildren: Danielle Bagy, Katelyn Bagy, Brendan Bagy and Abigail Bagy.